U.K. Royal Family Wins French Ruling on Kate Photos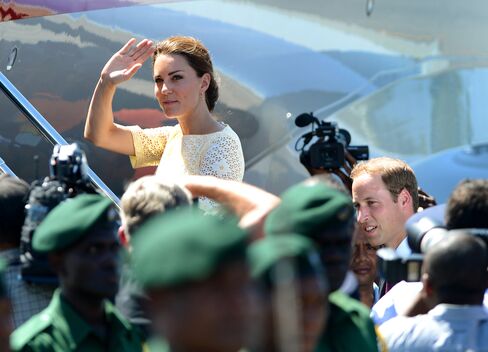 The French magazine Closer, which published topless photos of the Duchess of Cambridge, must hand over the original pictures and pay a 10,000-euro ($13,000) fine each time the images are published again, a French court ruled.
The duchess, Kate, and her husband Prince William had an expectation of privacy because the photos were taken during their vacation and they were "surrounded by gardens and several hundred meters from a public road," Judge Jean-Michel Hayat said in the ruling today in Nanterre, France.
The magazine, owned by the Berlusconi family's Arnoldo Mondadori Editore Spa, was sued after it printed a series of photos of the royal couple sunbathing on a private French estate. The tabloid was ordered to pay Kate 2,000 euros in expenses and an additional 10,000 euros each day it fails to turn over the original images.
"The royal family will feel they won the legal ruling, but in terms of damage to their reputation, the harm has been done," said Christopher Mesnooh, a privacy lawyer with Field Fisher Waterhouse France LLP in Paris who isn't involved in the case. "This is not going to stop magazines publishing these sorts of photographs."
Royal Wedding
The couple, whose wedding on April 29, 2011, was viewed by 2 billion people on television, could continue the lawsuit in France and seek damages. They may also file additional lawsuits in Italy and Ireland, where other publications used the photos.
"The Duke and Duchess of Cambridge welcome the judge's ruling," representatives of the royal family in London said in an e-mailed statement.
British and French lawyers have said the countries don't have sufficient damage awards in privacy cases, making it unlikely that lawsuits will discourage violations. Most awards in tabloid cases in France are between 1,000 euros and 15,000 euros, Christophe Bigot, a Paris media lawyer, said last week.
Closer published the images on Sept. 14. Lawmakers in Parliament called for legal action and British Prime Minister David Cameron, through his spokesman, said he believed the royal couple "are entitled to their privacy."
The royal family has also asked for a criminal case to be started against the unidentified photographer.
The dispute comes three weeks after News Corp.'s Sun tabloid in Britain broke with traditional practice by publishing images of Prince Harry, William's brother, naked at a party in Las Vegas. Those photos, initially published online by the U.S. website TMZ.com, may have inspired Closer, lawyers including Caroline Jan, a media specialist at Kingsley Napley in London, have said.
The princes' mother, Diana Princess of Wales, died in a Paris car crash 15 years ago while being pursued by French tabloid paparazzi on motorbikes.
Before it's here, it's on the Bloomberg Terminal.
LEARN MORE