Spain Floats Bailout Prospect as Pressure for Rescue Builds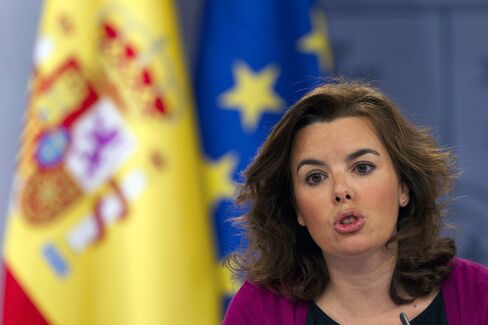 Spain will consider seeking a bailout if the conditions imposed are acceptable, Deputy Prime Minister Soraya Saenz de Santamaria said, the strongest signal from the government that it's positioning to reach for the financial lifeline.
Pressure built as the Madrid-based Bank of Spain reported today that bad loans in the banking system rose to a record 9.86 percent in July and lending fell 4.53 percent from the year-earlier period. Spain sold 4.6 billion euros ($6 billion) of 12-and 18-month bills with the 1-year notes yielding 2.835 percent, compared with 3.07 percent when they were last auctioned on Aug. 21.
"If we manage to bring those borrowing costs down to acceptable levels and that doesn't imply an intolerable sacrifice for Spaniards, we will have to analyze it," Saenz said today in an interview with Telecinco. "If we get our borrowing costs to fall, so we pay less, and if we manage to do that by doing reforms and without new sacrifices," a rescue may be an option.
Prime Minister Mariano Rajoy has said since the European Central Bank announced its mechanism for buying government debt that he will request support should he judge it to be in the best interests of the country. Saenz's comments suggest for the first time that may be the result. The government is also preparing a package of reforms for the end of the month that may allow Rajoy to preempt European demands.
Developing Arguments
"She's developing her rhetoric to eventually say this has advantages and means no new sacrifices," said Ismael Crespo, a political scientist at the Fundacion Ortega-Maranon research institute in Madrid. "They need to hold out a bit longer to do the reforms the EU will ask for so they can tell voters that they aren't making any new concessions."
In October, the government faces 29 billion euros of debt redemptions as well as two regional elections that may shape Rajoy's thinking on a bailout request.
Still, rising bond yields may force the prime minister's hand because investors would prefer Spain to seek a rescue, European Central Bank Governing Council member Luc Coene said in London yesterday. The impact of ECB President Mario Draghi's proposal to buy bonds of countries that submit to rescue programs is dissipating as Rajoy mulls triggering the aid. Ten-year yields returned to more than 6 percent yesterday.
Spread Threat
If "markets see that Spain will not" ask for aid, "then it will not last long before spreads will rise again, and then Spain will be somewhat forced to come back on its decision and submit to the conditionality program," said Coene, who is governor of the Belgian central bank.
On Sept. 20, Spain will sell as much as 4.5 billion euros of its benchmark 10-year bond and securities due in October 2015. The Treasury said Sept. 6 it had sold 76.8 percent of the medium- and long-term debt it plans to sell this year. It hasn't given data on the progress of bill sales.
The Treasury said demand for the 12-month bills was 2.03 times the amount sold, compared with 1.91 last month, and 3.56 for the longer-dated bills, compared with 3.98. The yield on the 18-month notes fell to 3.072 percent, compared with 3.335 percent in August.
Spanish 10-year bond yields climbed past 6 percent yesterday for the first time since Sept. 7, the day after Draghi said policy makers agreed to an unlimited debt-purchase program to regain control of interest rates in the euro area. The bonds rose for the first session in four today with the yield falling three basis points 5.94 percent at 12:20 a.m. in Madrid.
"Paying these interest costs is like throwing money out of the window," Saenz said.
Ben Sills in Madrid at bsills@bloomberg.net
Before it's here, it's on the Bloomberg Terminal.
LEARN MORE