Pakistan, Bangladesh Block YouTube; Saudis May Follow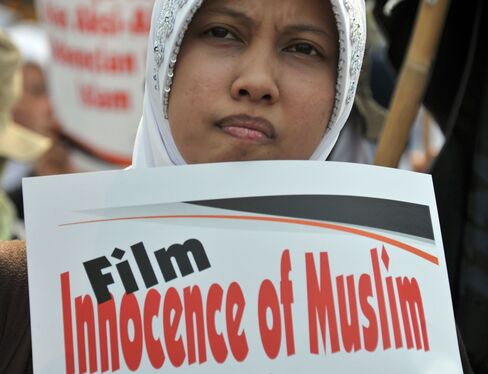 Pakistan and Bangladesh blocked Google Inc.'s video-sharing website YouTube to prevent people watching an anti-Islam film that has sparked deadly protests from the Middle East to Southeast Asia.
Saudi Arabia, home to the holy city of Mecca, will block the video unless it's removed, the official Saudi Press Agency said yesterday.
Pakistani Prime Minister Raja Pervez Ashraf said in a statement late yesterday that YouTube had ignored a request to remove the video and the website will remain inaccessible until it does so. Bangladesh also blocked the site last night, Mir Mohammed Morshed, a spokesman for Bangladesh Telecommunications Co. Ltd., the country's largest Internet company, said.
Pakistan's premier said in his statement that "blasphemous material would not be tolerated." Both countries have seen protests against the movie in recent days.
The film, which depicts the Prophet Muhammad as a womanizer, triggered a series of violent demonstrations and attacks on U.S. and European-linked targets across the Muslim world. U.S. ambassador to Libya Chris Stevens and three colleagues were killed in an attack in Benghazi last week, while Muslim protesters in Tunis and elsewhere were killed in clashes with government security forces.
Attempts to access YouTube in Islamabad and Dhaka were unsuccessful, with users in Pakistan receiving a message that the service was unavailable. Google said in a statement that the company had "received information from users that they are unable to access YouTube in Pakistan and Bangladesh. We have checked our networks" and found no problems, it said.
Video Protests
In Pakistan, protesters and police clashed outside U.S. consulates in Lahore, Karachi and Peshawar in the latest surge in demonstrations yesterday against the film. Local media reported one person was killed in Dir, a tribal region in the northwest, as attackers tried to burn a local police station and a magistrate's office.
In Afghanistan, where the U.S. have been fighting an 11-year war against the Taliban, about 400 people threw stones and burned cars outside a military base yesterday, according to Sediq Siddiqui, a spokesman for the Interior Ministry.
At the end of last week, Google said it was restricting access to the film in India and Indonesia in order to comply with local laws. The YouTube website, which has more than 2 billion views a day, has also blocked the video in Libya and Egypt.
The 14-minute trailer posted on YouTube, which the U.S. has described as "very offensive," also shows a fictional attack by Muslims on a Christian family, followed by an account of the origins of Islam.
YouTube lets users easily upload videos to its servers around the world. A valid court order or official government notification is required to remove illegal content, Google said. The operator of the world's largest search engine said last week that the decision to restrict access was consistent with its principles.
Before it's here, it's on the Bloomberg Terminal.
LEARN MORE