Hidden U.S. Software Billionaire Ragon Surfaces in Boston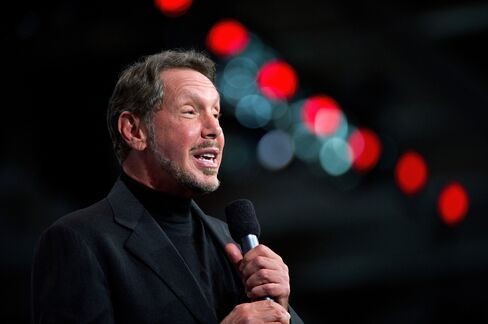 The push to digitize medical records in the U.S. has created a new software billionaire who built his fortune 3,000 miles away from Silicon Valley.
Phillip Ragon, who goes by Terry, is the founder and sole owner of Cambridge, Massachusetts-based InterSystems Corp., the biggest provider of database management services in the health-care industry. With 80,000 customers and $385 million in annual revenue, closely held InterSystems is worth more than $2 billion, according to the Bloomberg Billionaires Index.
"InterSystems provides a very strong integration engine platform widely used in the health-care market space," said Lynne Dunbrack, program director of connected health strategies at market research company IDC Health Insights, in a phone call from its Framingham, Massachusetts, headquarters. "Their customers continually praise them for their development team and their support staff."
While Ragon, 62, keeps a lower profile than other database billionaires, including Larry Ellison, chairman of Redwood City, California-based Oracle Corp., he has engaged in the kind of jostling -- feuding with Microsoft Corp., taking private equity company Blackstone Group LP to court -- that Ellison is known for. He is also demonstrating some of his peers' largesse, pledging $100 million to fight AIDS.
Catherine Marenghi, a spokeswoman for Ragon, said he declined to comment on his net worth.
Veterans Breakthrough
Ragon is poised to seize on the expanding market for converting paper medical records into electronic files, Dunbrack said. Only 18 percent of the nation's hospitals and 34 percent of private practitioners have a basic electronic health-record system, according to a September report by the Washington, D.C.- based non-profit Institute of Medicine. Funding provided by the U.S. government, including an electronics records earmark in the Affordable Care Act, should also encourage hospitals and doctors to go digital, Dunbrack said.
The growing electronic medical records business led Ellison's Oracle to acquire health-care technology firms such as Phase Forward Inc. and ClearTrial LLC. As those database companies vie for position, they face an entrenched adversary in InterSystems.
Armed with a physics degree from the Massachusetts Institute of Technology, Ragon founded database company Interpretive Data Services in Brighton, Massachusetts, in 1978, according to articles of incorporation filed with the Massachusetts Secretary of State. In the years that followed, Ragon built applications for local medical organizations, such as Massachusetts General Hospital. He changed the company's name to InterSystems in 1980.
'In Tears'
In 1994, Ragon acquired the health-care database division of struggling Digital Equipment Corp., a purchase that almost doubled annual sales to $33 million. In 2003, the company created an electronic health-record database for the U.S. Department of Veterans Affairs, integrating 130 different platforms being used throughout the VA system.
The result was so successful for the VA that Ragon was called to testify before a Senate committee researching electronic health records in 2006.
"I had people come up to me in tears, telling me they called their family members who were veterans of the Vietnam War, and they were just in tears because of the unbelievable improvement that's occurred," he told the committee.
A provision in the American Recovery and Reinvestment Act of 2009 provided $26 billion in financial incentives for using digital health records. Outpatient physicians, for instance, could receive as much as $63,000 from Medicaid over five years if they prove they are using the technology.
Fighting Microsoft
The Affordable Care Act, passed in 2010, provides additional inducements for doctors and health-care facilities to use electronic records, and encourages states to create medical databases. The bill requires all states to establish electronic health-care exchanges by 2014 to make it easier for consumers to purchase health insurance.
So far, InterSystems has won contracts to build such systems in New York, Missouri, Rhode Island and Illinois.
InterSystems's biggest battle with Redmond, Washington-based Microsoft, the world's largest software maker, was over real estate. In 2007, Microsoft signed an agreement to lease additional space in the 17-story building it shares with InterSystems on the bank of the Charles River in Cambridge, Massachusetts.
Ragon sued the landlord, New York-based Blackstone's Equity Office Properties unit, claiming his company had the right of first refusal on the space, and that EOP and Microsoft conspired to raise rents in the building, according to court documents. The matter was settled out of court in 2009.
Skyline Wars
When Microsoft secured a zoning waiver to put its lighted logo at the top of the building's facade, Ragon formed a coalition, Save Our Skyline, to lobby the city council to repeal the amendment. The organization painted Bill Gates's company as a villain. "Once Microsoft sets the precedent, how many more signs will follow?" the group's website said.
Ragon's group gathered 7,554 voters, 12 percent of Cambridge's electorate, and got the city council to rescind the permission in 2010. Microsoft later put its logo atop a nearby office building not subject to zoning restrictions.
Ragon has been active in giving to national politicians. In 2004, he and his wife, Susan, donated $3 million to America Coming Together, a political action committee backed that year by George Soros that sought to defeat George W. Bush in the U.S. presidential election. Since then, the couple has donated almost $700,000 to Democratic Party candidates, according to Washington, D.C.-based Center for Responsive Politics.
AIDS Pledge
Donations in this year's election have been to support Elizabeth Warren, the Democratic challenger to incumbent Republican Massachusetts Senator Scott Brown, and American Bridge 21st Century, a PAC that focuses on fact checking Republican candidate campaign statements.
Ragon's biggest charitable gift has been to fight AIDS. In 2009, he pledged $100 million to Massachusetts General Hospital -- the hospital's largest gift ever -- to form the Ragon Institute of MGH, MIT and Harvard. The cross-institution organization is dedicated to developing an AIDS vaccine.
According to a rare interview Ragon gave to the Boston Globe in conjunction with the gift, it was a 2007 trip to South Africa arranged by Bruce Walker, an AIDS researcher who now heads the institute, that convinced Ragon he could make a difference.
"You might say back in Newton's time, you could be a solo physicist conducting research," the newspaper quoted Ragon as saying. "But today, you need projects where large groups of people come together to focus on advancing the state of science."
----With assistance from John Lauerman in Boston. Editors: Peter Newcomb, Matthew G. Miller
Before it's here, it's on the Bloomberg Terminal.
LEARN MORE