French S&P Downgrade Was Upgrade in Investor Repudiation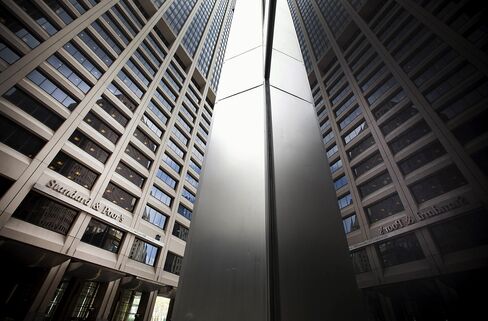 By almost any measure France is a more creditworthy borrower eight months after Standard & Poor's said it no longer merits a AAA rating.
The nation's 1.07 trillion euros ($1.4 trillion) of debt maturing in a year or more rallied 7.4 percent since it was downgraded to AA+ on Jan. 13, more than double the gains for the rest of the global government bond market, and beating AAA rated Germany, the U.K. and Australia, according to Bank of America Merrill Lynch indexes. Instead of rising, French 10-year yields have fallen at a faster pace than those of bunds or Treasuries, the historic havens in times of turmoil.
France's performance shows investors have determined the analysis done by ratings firms on the world's biggest nations to be irrelevant. U.S. borrowing costs tumbled after the biggest economy was stripped of its AAA credit grade 13 months ago. About half the time, government bond yields move in the opposite direction suggested by new ratings, according to data compiled by Bloomberg on 314 upgrades, downgrades and outlook changes going back to 1974.
"Ratings companies are losing credibility," Shinji Kunibe, chief portfolio manager for fixed-income investment in Tokyo at Nissay Asset Management Corp., which oversees the equivalent of $66 billion, said in a Sept. 12 phone interview. "Nations like France that are rated AA are regarded as totally safe."
Rating Cuts
When S&P cut the rating of France in January, along with eight of its euro-region peers, it said policy makers were failing to stem Europe's debt crisis and that refinancing costs for certain countries might remain elevated.
That hasn't happened in France. President Francois Hollande, who was elected in May advocating a shift from deficit-cutting to growth policies, has seen the cost of servicing the nation's debt fall since he took office.
Yields on 10-year French bonds plunged to a record-low 2.002 percent on Aug. 3, from 3.08 percent at the time of the downgrade. The drop is greater than German 10-year bund yields, which fell to as low as 1.25 percent on Aug. 3 from 1.77 percent on Jan. 13, and yields on 10-year Treasuries, which fell less than 40 basis points, or 0.4 percentage point, in the period.
"The state borrows on the market at rates that are historically low," Hollande said in an interview on TF1 Television on Sept. 9. "I'm proud that France is among countries that has the capacity to borrow at such low rates, but we can't just bank on this situation."
Lower borrowing costs will cut debt-service payments to 47.4 billion euros this year, down from a Finance Ministry estimate of 48.8 billion euros made in September 2011. That compares with 46.3 billion euros last year.
French Yields
Hollande plans to freeze government spending in 2013. For now he is hiring 60,000 school teachers, is preparing a tax of 75 percent on earnings over 1 million euros and has increased the minimum wage by 2 percent.
French 10-year bonds yields were at 2.30 percent as of 9:03 a.m. London time, after rising six basis points last week. Debt markets slid after Germany's constitutional court said Sept. 12 the country can provide money to the 500 billion-euro European Stability Mechanism, a rescue fund for the region's most-indebted nations.
Benchmark 10-year Treasuries yields have risen to 1.88 percent from 1.67 percent on Sept. 7 after the Federal Reserve said it would purchase $40 billion a month in mortgage debt until the labor market improves and hold interest rates near zero until at least mid-2015.
Long View
The extra yield investors demand to hold French debt over bunds, a way the market measures risk, is 60 basis points compared with 131 on Jan. 13. Credit-default swaps on French debt touched 96 basis points today, the lowest since July 22, 2011, and down from as high as 223 on the day of the downgrade.
"Ratings should be evaluated on the basis of their correlation over time with defaults, not with short-run movements in market prices," Sharon Beach, a London-based spokeswoman for S&P, wrote in a Sept. 12 e-mail. "Ratings and market indicators of creditworthiness often diverge, because they are generated by fundamentally different processes and can be driven by very different factors, particularly in the short run. They cannot be directly compared."
No Trust
Eleanor Childs, a spokeswoman for Moody's Investors Service in London, said "while we're aware that our ratings and research might have a market impact, our ratings serve market participants by reflecting our view of issuer creditworthiness based on a range of fundamental credit indicators. In the case of sovereigns, for example, we focus our analysis on an issuer's economic strength, institutional strength, financial strength and its susceptibility to event risk."
Ratings companies, whose judgments have in part determined the cost of money for governments and businesses for more than a century, are no longer trusted by the biggest investors after helping ignite the worst financial crisis since the Great Depression by inflating grades on securities backed by subprime mortgages, according to the former head of structured finance at S&P.
U.S. Downgrade
"They're there because people have to have them, not because people believe in them," David Jacob, who was fired in December, said in a June interview at Bloomberg headquarters in New York.
Predicting the consequences of a rating change by S&P or Moody's may be little different from flipping a coin, with yields moving in the opposite direction than suggested 47 percent of the time, according to data compiled by Bloomberg. Yields were measured after a month relative to U.S. Treasury debt, the global benchmark.
S&P cut the credit grade of the U.S. one step to AA+ in August 2011, criticizing lawmakers for failing to curb spending or raise revenue enough to reduce record budget deficits. After the Treasury Department said S&P made a $2 trillion error in its calculations, the ratings company switched the budget projections it was using and proceeded with the downgrade. S&P denied it made a mistake and said using the government's preferred fiscal scenario didn't affect the credit rating.
Warren Buffett, chairman of Berkshire Hathaway Inc., said after the S&P decision that the U.S. should be "quadruple-A" rated. Buffett is the biggest shareholder of Moody's.
Treasury Rally
There has been the "mother of all Treasury rallies" since the downgrade, Michael Riddell, a London-based fund manager at M&G Group Plc, which oversees about $324 billion, said in a Sept. 12 phone interview.
Treasuries have gained about 5.5 percent since Aug. 5, 2011, according to Bank of America indexes, with 10-year yields tumbling to an all-time low of 1.379 percent on July 25.
Moody's said on Sept. 11 it may join S&P in downgrading the U.S. to Aa1 from Aaa unless Congress next year reduces the percentage of debt-to-gross-domestic-product during budget negotiations.
"The agencies are responding to information that is already in the marketplace," Craig Veysey, head of fixed income at Principal Investment Management Ltd. in London, part of Sanlam Group, which oversees $72 billion, said in a Sept. 13 phone interview. "Market moves have already happened, which is why you see the perhaps surprising changes in the behavior in the bond price after the decision."
Record Deficit
France, whose top credit grade has a negative outlook at Moody's and Fitch Ratings, had a record trade deficit of 70 billion euros last year and unemployment is at a 13-year high. The government hasn't balanced its budget in three decades and total debt will reach a postwar record of 89 percent of GDP this year, according to the Washington-based International Monetary Fund.
Germany, rated AAA, has a surplus of exports over imports and its debt ratio will drop to 79 percent from 82 percent, according to IMF estimates in April.
PSA Peugeot Citroen, Europe's second biggest carmaker, said in July that it would close a car factory in France for the first time in 20 years, and eliminates 14,000 jobs. Drug maker Sanofi SA may cut between 1,200 and 2,500 jobs in France, according to estimates by the CFDT union. The company hasn't confirmed these figures.
'Largely Symbolic'
"AAA is the absolute top benchmark and France does not meet that criteria," Stuart Thomson, a fixed-income fund manager at Ignis Asset Management in Glasgow, Scotland, which oversees about $119 billion, said in a Sept. 12 phone interview. "S&P were saying France is not a AAA economy and so we should downgrade it. The fact that market didn't sell off does not invalidate the decision itself."
Austria's bonds have also outperformed its AAA rated peers after being cut in January. Its debt due in a year or more returned 8.4 percent between Jan. 13 and Sept. 14, according to the Bank of America indexes. In the same period bunds advanced 1.2 percent, U.K. gilts rose 1 percent and Australian debt returned 5.3 percent. Global sovereign bonds have gained 2.8 percent since Jan. 13, according to the indexes.
"The movements of ratings at the very high end of the scale are largely symbolic and don't really tell investors anything they don't know already," Mark Dowding, a senior fixed-income portfolio manager at BlueBay Asset Management Ltd. in London, which oversees $41 billion, said in Sept. 11 phone interview. "Although the headline announcement of a ratings change may have short-term impact on price action it doesn't really have any meaningful effect."
Rating Curbs
European policy makers are taking steps to curb credit-rating companies amid concern that some of their decisions exacerbated the debt crisis. In June, European Parliament lawmakers called for the European Union to start its own assessments of governments' creditworthiness, an idea Hollande has advocated.
Moody's and S&P adjusted the way they graded securities after Goldman Sachs Group Inc., UBS AG and at least six more banks pressured them, according to a U.S. Senate report last year.
The companies made exceptions to rules when bankers asked for higher ratings on some mortgage-backed securities, the Senate Permanent Subcommittee on Investigations said on April 13, 2011. When Moody's and S&P downgraded hundreds of those bonds in July 2007, it helped trigger the financial crisis, the panel said.
Inconsistent Ratings
The lack of transparency and reaction time has prompted Union Investment GmbH, a Frankfurt-based fund that oversees about $237 billion, to formulate its own internal system of ratings.
Union's UniInstitutional Global Government Bonds fund will start using the system on Nov. 1 for allocating funds. It rates France as A, the sixth-highest level, along with the U.K. Switzerland, Singapore, Abu Dhabi and Hong Kong have the top grade of AAA. Germany is AA and the U.S. gets the eighth-highest rating of BBB+.
"When ratings changes from the big three come out, you don't know what's behind them," Mauricio Vargas, an economist at Union Investment who helped devise the system, said in a Sept. 12 phone interview. "The decisions aren't necessarily wrong, they just aren't always consistent with other calls they are making. In the last few years they didn't always fulfill the task of a credit-rating agency."
Before it's here, it's on the Bloomberg Terminal.
LEARN MORE