China Warns Against Violence as Japan Protests Are Broken Up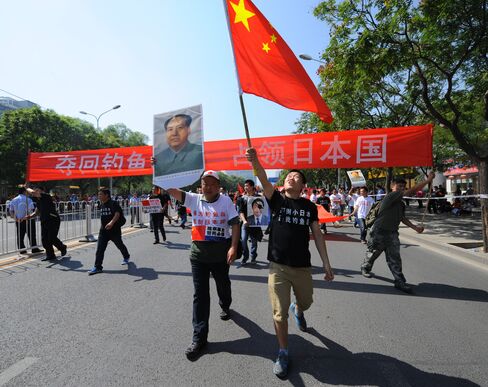 China banned some protests in the city of Xian and detained suspects accused of vandalizing billboards and a storefront amid a territorial dispute with Japan, after two Japanese car dealerships were set on fire and police used water cannons to break up demonstrations.
U.S. Defense Secretary Leon Panetta said on a visit to Tokyo he was "very concerned" after demonstrators took to the streets yesterday in a dozen cities across China, in the biggest protests since 2005. In Shenzhen, police used tear gas and water cannons to stop protesters from reaching a Japanese department store, Radio Television Hong Kong reported.
The protests have further strained ties between Asia's largest economies and may hurt the two countries' ability to fight a global economic slowdown. The dispute is playing out amid China's once-a-decade leadership transition, conducted behind closed doors, and the political fallout from the ouster of Chongqing Party Secretary Bo Xilai earlier this year.
"The government has to be extremely careful," Zheng Yongnian, director of the East Asian Institute in Singapore, said by phone. "One day they are against the Japanese, and the next day they could be against the government."
Tokyo Governor Shintaro Ishihara triggered the latest tensions in April when he said he may use public funds to buy disputed islands known as Diaoyu in Chinese and Senkaku in Japanese. Tensions escalated after Japan's cabinet approved the purchase of the islands for 2.05 billion yen ($26 million) on Sept. 11. China, which has said it doesn't accept the move, dispatched government vessels to the area.
Illegal Protests
The northern Chinese city of Xian will ban "illegal" protests in some areas of the city, according to a statement on the local public security bureau's website. Any vandalism justified by "national interest" won't be allowed, it said.
In the southern Chinese city of Guangzhou, seven suspects were detained yesterday for vandalizing a Japanese-brand car, according to a statement posted on the local public security bureau's website. Three other people were detained for smashing a storefront and destroying two billboards, according to the statement.
"China is a law-abiding country, and protects foreign citizens and their property," Foreign Ministry spokesman Hong Lei said at a briefing in Beijing today. "China also urges Chinese citizens to be rational and legally express relevant requests."
Return Diaoyu
In Shanghai yesterday, hundreds of riot police watched over groups of protesters as they gathered outside the Japanese consulate chanting, "down with Japan devils, boycott Japanese goods, give back Diaoyu." There were no reports of injuries in the largely peaceful demonstrations.
Hundreds of protesters in Beijing threw plastic bottles and eggs at the Japanese embassy a day earlier as riot police stood guard at the gates. In Guangzhou, more than 10,000 people marched in protest, the official Xinhua News Agency reported yesterday.
The protests come as China faces its own political upheaval ahead of a once-a-decade leadership transition set to take place at a party congress later this year. Former Chongqing Police Chief Wang Lijun goes on trial tomorrow over his alleged link to the murder of a British businessman in November -- a case that resulted in the ouster of Chongqing Party Secretary Bo Xilai, once considered a candidate for the Politburo Standing Committee.
Xi's Absence
A two-week absence by Vice President Xi Jinping, who is set to replace Hu Jintao as China's leader, prompted speculation over his health and whether someone would be needed to replace him. Xi reappeared over the weekend, tamping speculation of new trouble among the Chinese leadership.
"Violence cannot be tolerated simply because the protests are aimed at Japan," the state-run Global Times newspaper said today. "Violence can only weaken the current campaign against Japan."
Prime Minister Yoshihiko Noda said yesterday he'll demand the Chinese government ensure the safety of Japanese citizens. Japan's Kyodo News said Sept. 15 that more than 40,000 people joined the demonstrations in 20 Chinese cities.
"I intend to strongly demand that the Chinese government ensure security" of Japanese citizens, Noda said yesterday on public broadcaster NHK's "Sunday Debate" program.
Damaged Dealership
A Toyota Motor Corp. dealership was damaged by fire in the Chinese city of Qingdao and the company is checking for losses in other locations, spokesman Keisuke Kirimoto said yesterday. Smoke and flames were also reported coming from a Panasonic electronics parts plant in the same city after demonstrations, Tokyo-based spokesman Atsushi Hinoki said, while a Honda Motor Co. dealership was also set on fire Sept. 15, Natsuno Asanuma, general manager at Honda's China unit in Beijing, said today.
Sales of Japanese-branded passenger cars fell last month in China, compared with gains of more than 10 percent for German, American and South Korean vehicles. China is the world's largest car market.
"Japan is becoming more and more arrogant and the feelings of Chinese are increasingly being oppressed," said Xiao Feng, 26, an office worker protesting at the Japanese consulate in Shanghai yesterday after traveling to the city from Jiangxi province. "We need to step up and make our feelings known that they can't just have their way."
— With assistance by Kongho Chua
Before it's here, it's on the Bloomberg Terminal.
LEARN MORE