UnitedHealth Replaces Kraft in Dow Jones Industrial Average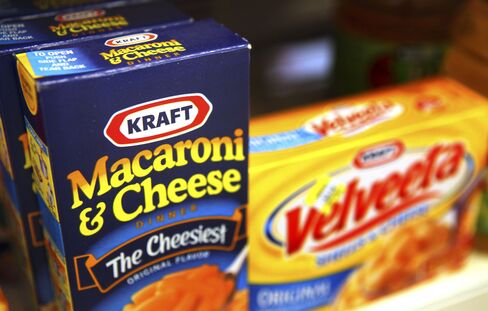 UnitedHealth Group Inc. will replace Kraft Foods Inc. in the Dow Jones Industrial Average, the first change to the 116-year-old stock benchmark since 2009.
Kraft, the world's second-largest food company, will be removed from the Dow average after deciding to spin off its North American grocery business, according to S&P Dow Jones Indices. UnitedHealth, the biggest U.S. health insurer, was chosen because it represents the growing importance of health-care spending to the U.S. economy, according to the index provider. The change goes into effect at the open of trading on Sept. 24, S&P Dow Jones Indices said.
"Putting UnitedHealth there makes a lot of sense," said Peter Jankovskis, who helps manage more than $3 billion at Oakbrook Investments in Lisle, Illinois. "Health-care expenditures have become such a large part of the economy and particularly health insurance."
About $27.5 billion is directly indexed to the Dow Jones Industrial Average in the form of products such as exchange-traded funds, according to data from S&P Dow Jones Indices as of last year. Changes in the index prompt managers of those funds to buy or sell stocks to match the benchmark's adjustments.
UnitedHealth shares were little changed $53.90 as of 12:10 p.m. in New York. Kraft slipped 0.3 percent to $40.
Index Changes
Kraft has been in the Dow since September 2008, when it replaced American International Group Inc. after the insurer's 97 percent plunge that year spurred a federal bailout amid the U.S. subprime-mortgage crisis. The company's spinoff reduces its market share and makes it less representative of large U.S. companies, according to S&P Dow Jones Indices.
Northfield, Illinois-based Kraft will complete the spinoff of its Kraft Foods Group Inc. unit at 5 p.m. New York time on Oct. 1. At that point, each Kraft Foods shareholder will get one share of the new entity for every three Kraft Foods shares held. The new company will begin trading on the Nasdaq Stock Market the following day under the KRFT ticker. The parent is changing its name to Mondelez International Inc. and will trade under the MDLZ ticker.
"We remain focused on maintaining strong business momentum, driving solid growth for our shareholders and making foods people love," Valérie Moens, a spokeswoman for Kraft said in an e-mail.
Insurance Plans
UnitedHealth insurance covers about 36 million people for large employers as well as in government-backed plans. The Minnetonka, Minnesota-based company is the biggest private provider of policies for the Medicare program for the elderly as well as Medicaid plans for low-income patients.
"We believe health-care insurance is an industry that really needs to be represented in the Dow Jones Industrial Average," said David Blitzer, a New York-based managing director and chairman of the S&P Index Committee responsible for security selections, said on a conference call today. "UnitedHealth is part of a significant growing industry."
Donald Nathan, a UnitedHealth spokesman, said he couldn't immediately comment.
The proportion of people in the country without insurance has risen since the turn of the century, a major impetus for President Barack Obama's effort to overhaul the health system. About 48.6 million people were uninsured last year, compared with 49.9 million in 2010, the largest numerical drop since at least 1999, according to Census Bureau data this week.
Affordable Care
The health law, called the Affordable Care Act, will expand Medicaid, the state-run program for the poor, and open new government-run insurance exchanges that may expand coverage to about 30 million people starting in 2014.
Health-care stocks in the S&P 500 have climbed 14 percent this year, the sixth-biggest advance among the 10 main industries in the S&P 500. Companies that produce consumer staples have gained 9.9 percent in 2012.
The Dow average was devised by Charles H. Dow, co-founder of Wall Street Journal publisher Dow Jones & Co., which is now owned by News Corp. Originally containing 12 stocks, it expanded to 20 companies in 1916 and to 30 in 1928. The stocks in the average must have an "excellent" reputation and show sustained growth, according to the S&P Dow Jones Indices Web site.
"It also marks a difference when you see a name in one market sector go out to be replaced by a name in another sector," Peter Sorrentino, a money manager at Huntington Asset Advisors in Cincinnati who helps oversee $14 billion of assets, said in a phone interview. "People mistake all these benchmarks as passive. They're steered towards whatever is working. Right now, there's this move on the health-care side because those names have had huge rebounds."
Before it's here, it's on the Bloomberg Terminal.
LEARN MORE