Enders Arms EADS With BAE to Wrestle Aerospace Crown From Boeing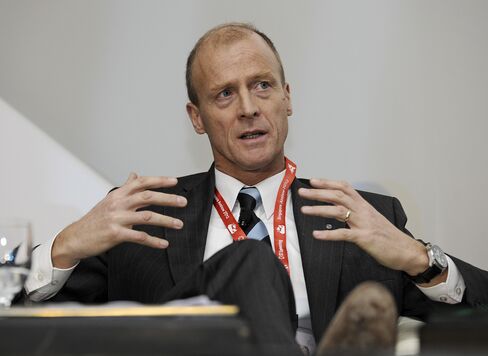 European Aeronautic, Defence & Space Co. Chief Executive Tom Enders, who beat his counterpart at Boeing Co. three years ago in a horse race in Wyoming, now has his eyes on a bigger prize: supremacy in global aerospace.
The 53-year-old German former paratrooper is seeking to combine EADS with British defense company BAE Systems Plc to marry the largest maker of civil aircraft with Europe's biggest defense contractor. EADS would own 60 percent and BAE the rest of a group that would topple Boeing from its pinnacle.
Melding civil aviation and defense would let Enders fulfill a 15-year-old aspiration to consolidate the European aerospace industry and loosen the shackles of political interference. Enders, who plotted the merger even before becoming CEO in June, must appease governments and sell the merger to investors who drove EADS down 10 percent yesterday.
"People have been trying for decades to create a unified European aerospace powerhouse," said Richard Aboulafia, vice president of Teal Group, a Fairfax, Virginia-based aviation forecaster. "If he pulls this off, he earns a place in history and may finally sidestep the issue of national control."
Since its creation in 2000 from the aerospace assets of France, Germany and Spain, EADS has been the subject of government meddling, pitting French against German executives in battles for control of the company and its assets. Passports trumped industrial logic.
Reluctant Shareholders
It also saddled EADS with reluctant shareholders in the form of German carmaker Daimler AG and French media conglomerate Lagardere SCA, whose CEO, Arnauld Lagardere, made headlines posing with his supermodel girlfriend in a video shoot. Some 50 percent of company shares are tied up with the core shareholders with veto power over major decisions.
Enders has been an outspoken critic of the shareholder structure, saying a plan by Daimler to move shares under German government control is a "step in the wrong direction." The proposed BAE merger would dissolve the agreement, freeing the shareholders and creating a company with a true free float.
"He's a tough customer for most politicians, knows what he wants and isn't afraid to ruffle feathers," said Michael Fuchs, the economic-policy spokesman for Chancellor Angela Merkel's party. "This is a tremendous coup for Enders who has just broken the mold of political influence at the company that was such a thorn in his side."
U.S. Springboard
Combining with BAE would hand Enders a powerful springboard into the U.S. market, the world's largest for military sales, where EADS now ranks as the 100th largest supplier to the Pentagon. By contrast, BAE is No. 4 and generates 50 percent of sales in North America.
Enders, a pilot who knows how to shear sheep after growing up as the son of a shepherd, has endured setbacks in his quest to win U.S. business. Airbus won a $35 billion contract in 2008 to provide refueling tankers to the U.S. Air Force, in a major upset for Boeing, which later managed to successfully challenge the victory and win a rematch.
On the civil aviation side, Enders has fared better in the U.S. Airbus won a contract to supply single-aisle jets to American Airlines last year, prying an exclusive Boeing customer from its arch-rival's hands. In June, Airbus announced plans for an assembly line in Alabama for single-aisle jets, advancing Enders's quest to derive more business from the U.S.
Fueling Change
The rapprochement with BAE comes just three months into Enders's tenure as EADS CEO. Enders made clear from the get-go that he would shake up EADS, telling employees in a memo that he'd travel the company to "fuel changes in strategy, structure and organization."
Even before Enders took the top job, EADS and BAE were plotting a combination, seeking to overcome two decades of frustrated ambition to create a European champion. Preliminary talks took place in April, and by early June the two had engaged in more serious discussions about a merger, people with knowledge of the negotiations said.
Enders's career in the industry spans more than two decades, rising through the ranks of Germany's Deutsche Aerospace to become head of strategy under CEO Juergen Schrempp, the former Daimler CEO and Enders's mentor.
In 1998, Schrempp sought to merge his company with BAE-forerunner British Aerospace. While the two were already partners within Airbus and on the Eurofighter combat jet, British Aerospace ditched Dasa and eloped with Britain's GEC Marconi, driving the Germans into the arms of the French.
Superjumbo Woes
The Anglo-German split in the European industry along civil and defense lines became final in 2006, when BAE sold its 20 percent stake in Airbus back to EADS. BAE used the proceeds to beef up operations in the U.S., while EADS battled cost overruns on its A380 superjumbo and management upheavals.
Attempting another marriage half a decade later underscores Enders's willingness to seize a chance, said John Leahy, the Airbus sales chief who has been instrumental in the manufacturer's rise to the top.
"Tom is very focused but not afraid to move quickly when he sees an opportunity," said Leahy, who was elevated to the executive board of EADS by Enders last week.
One thing Enders is famous for besides his drive is his temper. Disapproval of Germany's abstention from the Libyan liberation campaign last year led him to quit Angela Merkel's political party in a public split. Enders rattled politicians on the other side of the negotiation table with his take-no-prisoners demand for more funding on the A400M troop transporter, eventually getting his way.
Guns, Knives
Much of his energy is poured into sports. At past Wyoming gatherings, Enders has distinguished himself at knife-throwing contests and horse races that left Boeing CEO Jim McNerney in the dust, according to people who attended the private events.
Enders's sporting prowess has on occasion left him worse for wear. At this week's Berlin Air show, Enders had to greet German Chancellor Angela Merkel with his arm in a sling following a hang-glider accident. The incident also forced him to scrap a trip to meet Chinese Premier Wen Jiabao.
When not in business attire, Enders comes across as a hands-on aviator, sporting leather flight jackets and shades. Behind the macho persona is a pragmatist and thoughtful listener, according to Gerard Blanc, a former head of operations and programs at Airbus. Blanc said Enders, a defense expert, accepted an invitation to hear his views on commercial aerospace even after Blanc had left the organization.
"He was really listening, not just pretending," Blanc said. "I think this very much helped him build a career within EADS."
Enders had briefly held the EADS CEO title before, when he shared the role with a French counterpart. He stepped down in 2007 to lead Airbus, as part of a wider shakeup aimed to defuse Franco-German tensions over the distribution of power.
"Many people would see that as demotion, but he had a long-term plan," said Zafar Khan, a London-based analyst at Societe Generale SA. "The irony is that back in 1998, when he was negotiating for Dasa with British Aerospace, his side was the junior partner. Now that's turned around."