Ryan Returns From Campaign for Vote He'd Rather Avoid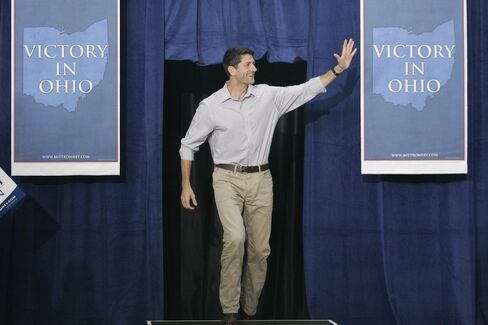 Republican vice presidential nominee Paul Ryan is returning to the U.S. Congress today to cast a vote that goes against what he has sought as House budget chairman since 2011.
Ryan, chosen as Mitt Romney's running mate Aug. 11, will endorse federal spending at higher levels than the stripped-down government he has been advocating. The House this afternoon is set to adopt the stopgap measure to keep the government operating in the fiscal year that begins Oct. 1.
The Senate plans to clear the measure next week for President Barack Obama's signature before Congress adjourns until after the Nov. 6 election.
As he accepted the vice presidential nomination on Aug. 29 in Tampa, Florida, Ryan pledged to "not duck the tough issues" on fiscal matters. Still, to avoid any perception that Republicans may again flirt with a government shutdown, Ryan and other anti-spending party members have abandoned for now their demands for $19 billion in spending cuts.
"It does kind of deconstruct the narrative that House Republicans are just a bunch of crazies who are heck-bent on shutting down government," South Carolina Representative Trey Gowdy, a Tea-Party-backed Republican freshman, said of Ryan and other Republicans' support for the funding legislation.
Republican Star
Ryan, whose aggressive approach to cutting the U.S. budget has made him a star in the Republican Party, is being required to adjust his positions on issues such as spending to fit the views of the candidate at the top of the ticket. It is unfamiliar territory for Ryan, who has said Congress has a "moral obligation" to cut spending if lawmakers want to avert a "debt crisis" that is as little as two years away.
Democrats accused Ryan, of Wisconsin, of playing politics with the budget.
"This is not what they want to do, this is what they think politically is feasible to do," House Democratic Whip Steny Hoyer of Maryland told reporters on Sept. 11, referring to Republicans including Ryan. They "came to the conclusion it would politically hurt them" if they insisted on the lower spending level for the stopgap measure, Hoyer said.
During the financial crisis in October 2008, then-presidential rivals Obama and John McCain both returned to the U.S. Senate to vote for a $700 billion financial rescue bill.
The stopgap measure that House leaders agreed to pass today, H.J. Res. 117, sets discretionary funding through March 27 at a level agreed upon in the 2011 law raising the federal debt ceiling. The amount is $19 billion more for the year than Ryan proposed in his budget blueprint passed by the House in March. Current funding for government operations expires Sept. 30.
House Leadership
Ryan, who as budget chairman is a member of the House leadership, voted for the 2011 debt limit increase and also supported stopgap funding measures and a catchall spending bill late last year.
It's a smart strategy for Ryan to return to Congress for the vote, said John Pitney, a political scientist and professor at Claremont McKenna College in Claremont, California.
"He wants to send a message that Republicans are trying to keep the government operating," Pitney said in an interview. "It's tailored to the final 4 percent of the electorate that Romney needs to get over 50 percent."
Ryan will be going against the anti-tax Club for Growth, which urged lawmakers yesterday to oppose the measure, saying it would be included in its annual legislative scorecard.
Gowdy said Ryan is in a tough position.
'Either Way'
"If he didn't come, they'd ask him why he missed such an important vote, and if he does come, he'll be criticized either way he votes," Gowdy said in an interview.
Brendan Buck, a Romney campaign spokesman, confirmed in an e-mail that Ryan would attend the House vote today. Smythe Anderson, a Ryan spokesman, said yesterday that Ryan would vote for the spending measure.
Florida Representative Allen West, one of 87 freshman Republicans elected with Tea Party movement support for steep spending cuts, said he too would support the legislation because there are no alternatives.
"Do you sit around and cry like a baby over spilled milk or do you try to come up with solutions? That's what we are doing," West said in an interview.
If Obama wins a second term in November, Ryan would return to the House with an even greater status among his fellow Republicans, lawmakers say.
'Really a Hero'
"He'll come back as really a hero to us," Representative Lynn Westmoreland, a Georgia Republican, said in an interview, adding that Ryan's selection as Romney's running mate was a "pretty high compliment for everybody in the House."
House Republican leaders today invited their members to attend an informal meet-and-greet session with Ryan before the vote.
Gowdy said he would like to see Ryan "lead the charge for us on tax reform" if Romney isn't elected president because "Paul Ryan is Elvis among House Republicans."
Wisconsin law allows Ryan to seek an eighth House term even as he runs for vice president.
Ryan's district leans heavily Republican so he's favored to beat his Democratic opponent Rob Zerban, a former county supervisor in Kenosha.
Re-Election Ads
Still, Ryan is airing House re-election ads in his district, according to a contract with Milwaukee's NBC affiliate that was posted on the website of the Federal Communications Commission. Ryan had more than $5.4 million in his House campaign account on July 25, Federal Election Commission records show.
"We don't want a government-controlled society," Ryan said in the ad, which shows him addressing a small group of voters at a lunch counter. "We want limited government that is both efficient and effective. This is our chance to restore real faith and real opportunity in America."
The House also will vote today on legislation to replace $1.2 trillion in automatic spending cuts, set to take effect in January, with other reductions called for in Ryan's budget, and require Obama to submit a plan to replace the across-the-board cuts.
In an interview that aired Sept. 9 on NBC's "Meet the Press," Romney said it was a "mistake" for congressional Republicans to go along with the administration's proposal to include defense programs in the automatic cuts.
Automatic Cuts
Ryan voted for the automatic cuts in 2011 and then tried to undo them this year. The Republican-led House in May passed a bill to avert $500 billion in defense cuts.
"The goal was never that these defense cuts actually occur," Ryan said in an interview that aired Sept. 9 on CBS's "Face the Nation." "The goal is that we get to work and cut spending so that we prevent those defense cuts. We've done that. The president hasn't."
House Minority Leader Nancy Pelosi, a California Democrat, today unveiled a web video crafted to coincide with Ryan's return, emphasizing his support for the measure that put the automatic cuts in place as well as Ryan's proposed cuts to Medicare and his tax-cut proposals.
Ryan said in a July 12 interview that he saw no prospect before the election for a deal with Democrats, who control the Senate, to avert the automatic cuts unless Congress agrees on revenue and spending reductions to finance that amount.
"Before the election? You got to pass a budget to do that" and Senate Democrats "are not passing a budget," Ryan said. "You can't fix this without passing a budget."
Before it's here, it's on the Bloomberg Terminal.
LEARN MORE