Romney Broadens Criticism of Obama on Middle East Violence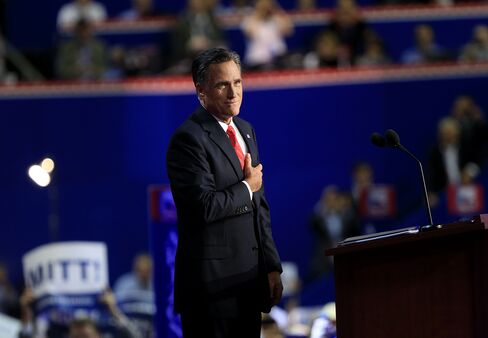 Mitt Romney broadened his criticism of President Barack Obama's handling of attacks in the Middle East, saying the killing of four U.S. personnel in Libya shows the failure of the administration's foreign policy across the globe.
"There have been over the years, confusing messages sent by the president of the United States to the world," Romney told campaign donors in New York today.
The Republican presidential candidate offered a series of criticisms, attacking Obama for refusing a meeting with Israeli Prime Minister Benjamin Netanyahu, backing a "pro-Marxist" leader in Honduras, failing to support protesters in Iran and mismanaging the alliance with Egypt.
After a fundraising swing in New York that took in $7.5 million for his campaign, Romney is flying to the swing state of Ohio for a campaign rally.
The former Massachusetts governor came under bipartisan criticism for his response to Sept. 11 attacks on U.S. embassies in Egypt and Libya that led to the death of an ambassador and three other Americans.
Obama, wrapping up a two-day campaign trip to Nevada and Colorado, yesterday reiterated his vow to avenge the deaths.
Punishing Terrorism
"We are going to bring those who killed our fellow Americans to justice," Obama said at a rally in Golden, Colorado. "I want people around the world to hear me: To all those who would do us harm, no act of terror will go unpunished."
He returned to Washington last night and planned to meet with Olympic and Paralympic athletes today. Romney has made his work managing the 2002 Salt Lake City Olympics a major theme of his campaign, citing that experience to demonstrate his leadership abilities.
Protests fueled in part by an anti-Muslim film are spreading across the Middle East, turning the U.S. political conversation to national security and instability in the region. Hundreds of protesters yesterday stormed the U.S. embassy compound in Yemen's capital, chanting "death to America" and "death to Israel."
The administration anticipates additional protests in the region, White House spokesman Jay Carney told reporters. The Pentagon has dispatched two warships to the Libyan coast, putting them in place to respond to unrest.
At a campaign rally in the battleground state of Virginia yesterday, Romney mentioned the crisis only briefly, focusing his remarks on the need for more assertive American leadership and charging Obama with undercutting the strength of the U.S. military.
'Mercy of Events'
"As we watch the world today, sometimes it seems that we are at the mercy of events instead of shaping events," he said. "A strong America is essential to shape events."
Romney's running mate, Representative Paul Ryan of Wisconsin, today criticized the Obama administration for treating Israel "with indifference bordering on contempt.
In a speech to the Family Research Council's voter summit in Washington, he called for a U.S. foreign policy based on "moral clarity and firmness of purpose."
"Only by the confident exercise of American influence are evil and violence overcome," he said.
Intelligence Briefings
Romney and Ryan will begin receiving regular intelligence briefings next week, according to campaign spokeswoman Andrea Saul. Presidential candidates traditionally start receiving those briefings after their nominating convention and after undergoing security clearances.
Public opinion polls have shown voters giving Obama higher marks on dealing with foreign policy than Romney. In a CNN/ORC International survey released this week, Obama was favored on the issue over Romney, 54 percent to 42 percent.
Romney has been on the defensive for accusing the Obama administration of apologizing to Egyptian protesters. He had referred to a statement issued by the U.S. embassy in Cairo intended to calm the situation that was released hours before the attacks occurred there and in Libya. In Benghazi, Libya, U.S. Ambassador Chris Stevens and three others were killed.
Free Speech
Romney stood by his criticism of the embassy statement, which condemned "the actions by those who abuse the universal right of free speech to hurt the religious beliefs of others."
"The statement was an inappropriate statement," he said, in an interview with ABC News's George Stephanopoulos broadcast this morning. "It was not directly applicable and appropriate for the setting."
Campaign aides say Romney's remarks are consistent with his view on foreign policy and the positions he described in his 2010 book, "No Apology." Romney, they say, thinks that Obama and his team have focused on trying to forge relationships with countries that pose a threat to the U.S., such as Iran, at the expense of longstanding allies, including Israel.
Democrats seized on Romney's response to argue that he is reckless and lacks the foreign policy experience needed for the presidency. Reacting to Romney's comments on the Cairo embassy's statement, Obama, in an interview with CBS News two days ago, said his opponent has "a tendency to shoot first and aim later."
'American Leadership'
Romney, at yesterday's rally in the Washington suburb of Fairfax, Virginia, said that as president he would heighten the U.S. presence on the foreign stage.
"The world needs American leadership," he said. "The Middle East needs American leadership."
He criticized Obama for automatic cuts to the defense budget that will take effect if Congress and the White House fail to reach agreement on a deal forestalling such reductions.
Romney and his campaign also worked to connect the international unrest to the central message of his campaign: that he has the credentials to fix an economy after Obama has failed.
His campaign released a television ad that charges Obama with "failing American workers" by not standing up to China. Romney aides wouldn't say in what states the spot is running.
Currency Manipulation
At his rally yesterday, Romney reiterated his pledge to declare China a currency manipulator on his first day in office if he wins the presidency.
Romney also criticized yesterday's Federal Reserve decision to spend $40 billion a month to buy mortgage bonds until the economy recovers. He said the move for a third round of so-called quantitative easing, or QE3, shows the economy isn't recovering.
Referring to Fed Chairman Ben Bernanke, Romney said on ABC that "what Bernanke's doing is saying that what the president's saying is wrong. The president's saying the economy's making progress, coming back. Bernanke's saying, 'No, it's not. I've got to print more money.'"
Carney said the administration wouldn't comment on the action by the central bank.
Romney told donors in New York this morning that his policies would restart the economy and avoid the need for another round of action by the central bank.
No 'Sugar High'
"We're not going to have to look for the sugar high that comes with QE3 or QE4 or QE5 or QE6," he said. "The real course ahead for America is to encourage the growth of our economy."
Romney spent last night fundraising in the wealthy areas of Long Island, bringing in $3.5 million for his campaign from events at the homes of hedge fund manager Lee Ainslie and Robert Rosenthal, chairman of an investment banking firm. Almost 1,000 people attended the fundraising breakfast in New York this morning, the last such event the campaign will host in the city, according to New York finance chairman Woody Johnson.
"This is a bittersweet moment because I know this is the last of these events we get to do," Romney said. "A number of you have joined me time and time again."
Over the course of the campaign, Romney has raised roughly $70 million from the New York City area, finance aide Spencer Zwick told donors this morning.