U.S. Embassy in Tunisia Stormed as Egypt Tensions Ease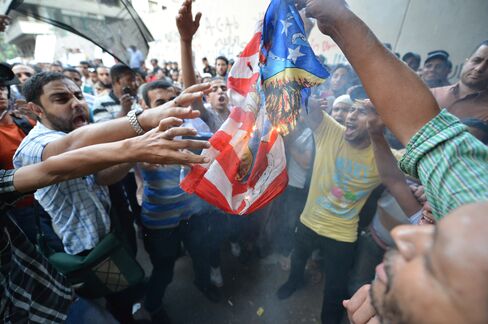 Protesters against an anti-Muslim film stormed the American Embassy compound in Tunisia and targeted diplomatic missions in Sudan and Yemen, while in Egypt the main Islamist groups sought to ease tensions with the U.S.
Protesters penetrated the embassy grounds in Tunis after scaling the walls, and a cloud of smoke hung over the compound. Tunisian security forces fired shots and entered the embassy compound chasing the demonstrators, who didn't get into the main embassy building. Authorities worked to extinguish a fire set by protesters at the American school near the embassy.
In Sudan's capital, Khartoum, Germany's embassy was set afire and crowds also gathered outside U.S. and British missions. Police used water cannons and fired warning shots into the air to disburse hundreds of protesters who rallied for a second day at the U.S. Embassy in Yemen's capital.
In Cairo, where calls for a mass rally today had raised concerns that violence would escalate, more than 1,000 people, including members of President Mohamed Mursi's Muslim Brotherhood, headed toward the U.S. embassy after Friday prayers, seeking to pacify the conflict. They chanted slogans urging an end to four days of fighting between demonstrators and police.
"We will get justice for the prophet, but without blood," Mazhar Shahine, a prominent cleric, told the crowd.
U.S. Tensions
Mursi and the Brotherhood are seeking to avert an escalation of tensions with the U.S. that could undermine his efforts to repair the economy and restore Egypt's regional status.
Protests at U.S. missions sparked by the film have spread since the U.S. ambassador to Libya and three colleagues were killed in an attack in Benghazi on Sept. 11.
President Barack Obama and Secretary of State Hillary Clinton attended the arrival ceremony at Andrews Air Force Base, outside Washington, for the remains of the slain ambassador, Christopher Stevens, and the three other Americans.
"Even as voices of suspicion and mistrust seek to divide countries and cultures from one another, the United States of America will never retreat from the world," Obama told an audience of more than 200 in an open hangar. "We will never stop working for the dignity and freedom that every person deserves, whatever their creed, whatever their faith. That's the essence of American leadership."
Clinton said "reasonable people and responsible leaders" in Arab and Muslim nations need to restore security and hold accountable those who commit violent acts.
Mob 'Tyranny'
"The people of Egypt, Libya, Yemen and Tunisia did not trade the tyranny of a dictator for the tyranny of a mob," Clinton said.
In Berlin, German Foreign Minister Guido Westerwelle said all personnel at the embassy in Sudan were safe. He called the film ridiculing the Prophet Muhammad "shameful" but said it "isn't a justification for violence."
Thousands of protesters chanted anti-U.S. and pro-Islamic slogans before storming the German embassy in Khartoum and trying to enter the British embassy, said Abdullah, a 19-year-old student who lives in the area. They tore down the German flag and replaced it with an Islamist one, he said.
Three protesters were killed near the U.S. embassy in Khartoum when police vehicles ran over them, Al Jazeera television reported.
Rubber Bullets
The Tunisian protesters broke through the embassy's main gate and burned vehicles in the courtyard, as police initially fired rubber bullets and tear gas before switching to live rounds. Three people were killed and 28 wounded in the clashes, state television reported.
In Lebanon, protesters clashed with police in the northern city of Tripoli and one of the demonstrators was killed, the Beirut-based Daily Star reported on its website.
Israeli police used stun grenades to stop about 500 Muslims trying to make their way to the U.S. Consulate in Jerusalem, police spokesman Micky Rosenfeld said.
Four protesters were killed attempting to storm the U.S. Embassy in Yemen's capital Sana'a yesterday, according to the Interior Ministry. Clashes resumed today as police used water cannons and fired in the air.
An anti-terrorism security team of about 50 U.S. Marines arrived in Sana'a today to bolster defenses, Pentagon spokesman George Little told reporters.
Iranian Reaction
In Tehran, Iran's Supreme Leader Ayatollah Ali Khamenei denounced the film and said the U.S. must punish "elements behind this huge crime." Turkish Prime Minister Recep Tayyip Erdogan told reporters in Crimea, Ukraine, that "insulting the prophet cannot be considered as freedom of expression," while also condemning the attack on U.S. diplomats in Libya.
The Muslim Brotherhood, one of the main groups calling for rallies in Egypt to denounce the film, said it decided to have only a "symbolic" presence in Cairo's central Tahrir Square to avoid violence, focusing their presence on the country's main mosques. Mursi told reporters in Rome that attacks on embassies or consulates are "absolutely unacceptable and we have the obligation" to defend them.
Egypt is seeking a $4.8 billion loan from the International Monetary Fund, in which the U.S. is the biggest shareholder, and pushing for more influence on issues such as the conflict in Syria.
Obama said after the embassy attacks that he considered Egypt, which has received more than $1 billion a year in U.S. military aid for three decades in return for maintaining a peace treaty with Israel, neither an ally nor an enemy.
Salafi Islamists
Egypt's credit default swaps declined 15 basis points to a one-year low of 398 as of 8 a.m. in New York. Yields on Egypt's dollar bonds due April 2020 were little changed at 5.25 percent. Local markets are closed today.
Mursi "successfully dodged a bullet" as the situation was calmed by the Brotherhood and other groups, yet the incidents may hurt him in the longer term, said Hani Sabra, an analyst at the Eurasia Group. He said Mursi's belated response to the embassy attacks has clouded the image he was building with trips to Iran and China and his assertion of power over the military.
Salafi Islamists, who follow an austere form of the religion, also called for calm. Yosri Hamad, a spokesman for the Salafi Nour party that was runner-up to the Brotherhood in parliamentary elections last year, urged Muslims to temper their response to the film and "abide by the teaching of the prophet."
Police Injured
Salafis were among those who headed to the embassy today to call for peace, many carrying their signature black banners with Koranic inscriptions.
The Interior Ministry said 44 police have been injured during the Cairo clashes, and 94 people arrested. Two Egyptian protesters died due to suffocation, Al Jazeera television reported.
Prime Minister Hisham Qandil visited the site of the clashes today, the state-run Middle East News Agency said.
Elsewhere in the capital, crowds ranging from a few hundred to about 1,000 collected in front of major mosques to protest the movie. A group of Coptic Christians also gathered outside a church to distance themselves from the film, after reports that Copts living in the U.S. were involved in its making.
Before it's here, it's on the Bloomberg Terminal.
LEARN MORE