BAE Deal With EADS Offers Brother-in-Arms to Chase Weapons Work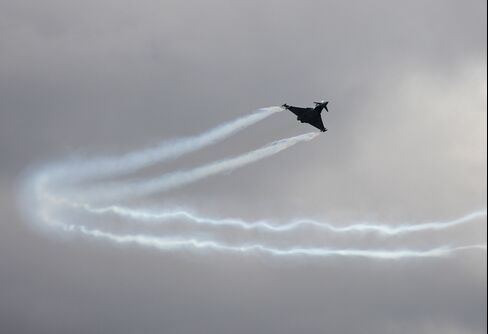 BAE Systems Plc's planned merger with European Aeronautic, Defence & Space Co. would create a force for the pursuit of military exports as western weapons-makers struggle with declining budgets in home markets.
A combination of BAE and EADS would have defense revenue of about $45.9 billion, putting it on equal footing with Lockheed Martin Corp., the world's largest military contractor with sales of $46.5 billion, data compiled by Bloomberg Industries shows.
"Joining forces speeds up their global ambitions," said John Kenkel, managing partner at Renaissance Strategic Advisors in Arlington, Virginia.
BAE offers export ties to India, Saudi Arabia and Australia, while EADS has had success in markets including Brazil and can provide a global network via airliner unit Airbus SAS. European and U.S. weapons makers are targeting overseas growth as austerity programs eat into home budgets, with the Pentagon alone slashing its outlay by almost $500 billion.
Many emerging economies are still boosting spending, with Asia likely to surpass Europe this year, according to a report from the International Institute for Strategic Studies in London.
Lockheed Martin spokeswoman Jennifer Whitlow declined to comment on the impact of an all-European deal on its business.
BAE generated about 28 percent of its 8.3 billion pounds ($13 billion) in first-half sales outside of the U.K. and the U.S., its two main markets, with 31 percent of the 2.2 billion euros in sales at EADS's Cassidian defense unit from exports.
Eurofighter Untangled
Even before announcing the merger plan Sept. 12, EADS Chief Executive Officer Tom Enders had said Cassidian would become more internationally focused under new head Bernhard Gerwert.
A merger could also untangle equipment partnerships within Europe, including MBDA, the world's second-largest missile-maker, and the Eurofighter Typhoon warplane venture, said Douglas Harned, senior analyst at Bernstein Research.
Streamlining Eurofighter has become a priority for BAE, EADS and Finmeccanica SpA, the program's third industrial partner. Company representatives have partly blamed the complex shareholding structure for losses in overseas competitions including a victory for Saab AB's Gripen in Switzerland and the Dassault Aviation SA Rafale in a 126-plane contest in India.
Eurofighter also lost out in Japan, where it always faced an uphill battle, given that country's long-standing defense links with the U.S. Lockheed Martin won the 42-plane order with its F-35 Joint Strike Fighter, beating out a bid from Boeing Co.
Strengthening Bids
A merger might strengthen bids in markets such as Malaysia, South Korea and Oman by helping to cut costs and boost political leverage by uniting the British, French and German arms.
"You might be able to bring down Typhoon costs by taking out duplication," said Douglas Barrie, an analyst at the IISS in London. "It also becomes more of a coherent European pitch."
In other areas, though, a merger might muddle aspects of the global dogfight for combat aircraft sales.
BAE is a major partner on the Lockheed F-35, the largest U.S. military procurement program, and the involvement of EADS, which stands outside the project and also has a stake in Paris-based Dassault, could raise concerns at both the Bethesda, Maryland-based company and the Pentagon.
Before it's here, it's on the Bloomberg Terminal.
LEARN MORE