France Said to Press Spain to Seek Aid Over German Concerns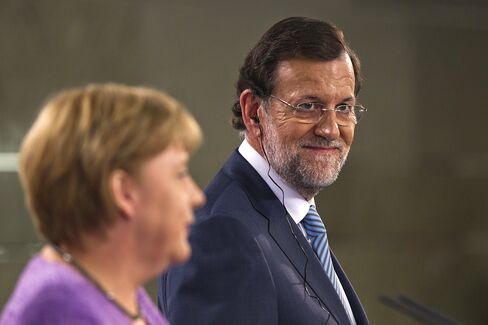 France is pressing Spain to snub German concerns and request help from the European Union to contain the euro-area financial crisis, according to three people familiar with negotiations.
French officials want Spain to ask the EU's bailout fund for help to consolidate gains in southern European bonds since European Central Bank President Mario Draghi said the ECB will back up the rescue package by buying unlimited amounts of debt in the secondary market, said the people, who asked not to be named because the lobbying effort is private.
"This is a way for the rest of the Europe to make sure there is no risk of Spain doing what they did in January -- to backtrack on their reforms as soon as deals are done," said Ricardo Santos, economist BNP Paribas SA in London. "This is constructive tension to make sure Spain will in the end ask for support."
Spanish Prime Minister Mariano Rajoy, who has been calling for the ECB to buy government bonds since taking office in December, has spent six weeks hesitating since Draghi said Aug. 2 that any aid would have conditions attached. Rajoy yesterday said he may not need a second bailout because the ECB's pledge already cut borrowing costs. German policy makers say they would force Spain to accept conditions in exchange for support.
"I don't know if it's necessary for Spain to ask for it, let's see how the risk premium evolves in the coming period," Rajoy told lawmakers in Parliament in Madrid. He will take the decision to protect "Spaniards' interests" after assessing the conditions, he said.
Court Ruling
With Germany's highest court yesterday clearing the way for the bailout fund, the European Stability Mechanism, to start operating, talks may accelerate. Rajoy is trying to avoid surrendering more control over the economy after handing power over the financial system to the EU in return for a 100 billion-euro ($129 billion) bank rescue. He said this week he won't allow European officials to dictate spending limits on individual policy areas such as pensions or health care.
"The situation in Spain is not improving, there is really absolutely no benefit in waiting," Nobel laureate Christopher Pissarides, an economics professor at the London School of Economics, said in an interview with Bloomberg Television yesterday. "There isn't anything in the pipeline that will ease the situation."
Aid Firebreak
The French view deeper European aid to Spain as a firebreak that will show investors the effectiveness of the new crisis-fighting plan before markets turn, with Italy and France the next potential targets, the people said. French President Francois Hollande's rebuff of Germany contrasts with the pro-Merkel line of his predecessor, Nicolas Sarkozy.
Spanish stocks and bonds extended gains yesterday that sent the yield of the 10-year benchmark bond to as low as 5.58 percent. That compares with 7.17 percent before Draghi said on Aug. 3 the bank would buy bonds to stem the crisis and 6.41 percent the day before Draghi detailed the plan on Sept. 6.
European finance chiefs will meet tomorrow in Cyprus with Spain's view toward aid on the agenda alongside Greece's ability to qualify for the next installment of its second bailout. Hollande said in Madrid on Aug. 30 that "long-lasting decisions" would be made at an EU summit Oct. 18-19.
Spain's Decision
France's position is that any aid request is Spain's sovereign decision. "It is not up to me to judge," Hollande said at a joint press conference with Rajoy last month. With Rajoy pushing through austerity measures, "results are already there, but interest rates remain too high on sovereign debt," said the French leader.
No one is putting pressure on Spain, said an official at the Economy Ministry in Madrid. She asked not to be identified in line with government policy.
French and Italian officials will likely support Spanish arguments that they shouldn't be forced to take additional measures to lower borrowing and boost growth because their austerity program is already at the limit of what the country can bear, two of the people said.
Rajoy is in the midst of a diplomatic offensive that has seen him meet Hollande, German Chancellor Angela Merkel and Finnish Prime Minster Jyrki Katainen as well as EU President Herman Van Rompuy in the past three weeks. He also plans summit meetings with France and Italy in October.
Tax Increases
The Spanish premier has announced more than 100 billion euros of tax increases and spending cuts to meet a budget-deficit target of 6.3 percent of gross domestic product this year. Spain will likely miss its targets as a deepening recession undermines tax revenue, analysts Jaime Becerril and Axel J. Finsterbusch at JPMorgan Chase & Co. wrote last month.
One proposal under discussion would see Spain submitting to regular monitoring of its existing commitments on deficit reduction and economic reforms in order to trigger the aid package, said one of the people and a separate official who had been briefed on the talks.
"The important thing is that when whatever assistance that is needed is requested that it should be well received in the markets," Spanish Deputy Economy Minister Fernando Jimenez Latorre said at a press conference in Madrid yesterday.
The EU July 10 recommendations for Spain suggest the outline of a more punishing set of conditions. That document sets out measures in eight specific policy areas that include raising the retirement age, tackling struggling banks and boosting high school graduation rates.
Rajoy's 'No'
"I won't accept them telling us which are the specific policies where we have to cut or not," Rajoy said in a Sept. 10 television interview.
German Finance Minister Wolfgang Schaeuble this week told his party's lawmakers that Spain won't need a full sovereign bailout because of the progress Rajoy has already made in reforming the economy.
More aid for Spain would also require Merkel, gearing up for re-election in 2013, to face a fractious parliamentary debate months after forcing through ratification of the European Stability Mechanism.
Rajoy will have to accept conditions even to receive a partial bailout from the 500 billion-euro ESM, German lawmaker Michael Meister, a senior member of Merkel's Christian Democrats, said in an interview after the country's constitutional court rejected efforts to block the fund.
Germany's has "no preference" should Spain require a full program or precautionary assistance, Meister said. A Spanish proposal would need to be feasible and undergo scrutiny of the German parliament in either case, he said.
"What's crystal clear: if Spain asks for further help it cannot escape conditionality entirely," Meister said.
Before it's here, it's on the Bloomberg Terminal.
LEARN MORE