Chesapeake to Sell $6.9 Billion of Assets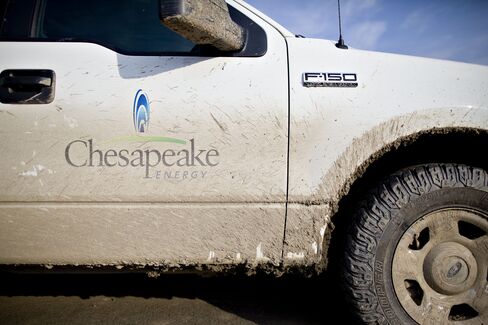 Chesapeake Energy Corp. agreed to sell oil and natural-gas assets for $6.9 billion in a series of transactions that will narrow a cash-flow shortfall threatening to crimp the company's drilling and production goals.
Royal Dutch Shell Plc, Chevron Corp. and EnerVest Ltd. will buy oil and gas fields in the Permian Basin of Texas and New Mexico for $3.3 billion, Chesapeake said in a statement today. Closely held Global Infrastructure Partners will acquire most of Chesapeake's pipeline and processing assets for $2.7 billion.
The Permian Basin holdings were the most valuable of several assets Chesapeake Chief Executive Officer Aubrey McClendon put up for sale this year to raise cash to avoid a credit-rating downgrade and maintain debt covenants amid slumping gas prices. The Permian sales announced today fell short of a $5 billion target set by McClendon in a March interview, because some acreage in the basin failed to attract bidders.
"It's positive," Tim Rezvan, an analyst for Sterne, Agee & Leach Inc. in New York who rates the shares at neutral, equivalent to a hold, and owns none, said today in a telephone interview. "The Permian Basin figure was lower than we expected, but they haven't sold everything."
Chesapeake said today that it will retain 470,000 acres in the eastern portion of the Permian Basin, which may be re-marketed or drilled at a later date.
Shell Sales
Chesapeake fell 1 percent to $19.89 at the close in New York, trimming the year-to-date decline to 11 percent from as much as 39 percent in May.
Chesapeake's $1.3 billion of 9.5 percent debt due February 2015 rose 2.50 cents to 113.63 cents on the dollar to yield 3.6 percent as the close in New York, according to Trace, the bond-price reporting system of the Financial Industry Regulatory Authority.
Shell will account for more than half of Chesapeake's Permian Basin sales proceeds after agreeing to pay $1.94 billion in exchange for drilling rights in 618,000 acres, The Hague-based company said in a statement today. The fields currently produce the equivalent of 26,000 barrels of crude daily, according to the statement.
Chevron's Holdings
Chevron will increase its holdings in a section of the Permian known as the Delaware Basin by 246,000 acres, or 35 percent, and add the equivalent of 7,000 barrels of oil a day of production, the San Ramon, California-based company said in a separate statement. Neither Chevron nor Chesapeake disclosed the sales price. The EnerVest transaction originally was announced on Aug. 6.
Major international energy explorers including Chevron and Exxon Mobil Corp., the largest U.S. gas producer, have been amassing drilling rights in onshore North American prospects they previously ignored as marginal. During the past decade, domestic explorers such as Devon Energy Corp. and Chesapeake perfected intensive drilling techniques to crack shale formations, triggering a land rush from Texas to Ohio. Demand for oil fields also has been spurred as crude more than tripled to $90 a barrel during that period.
"It's a positive sign that there are proven counterparties that want to do business with Chesapeake," Rezvan said. McClendon and Archie Dunham, who replaced him as chairman in June, have "delivered" on a promise to accelerate asset sales and narrow the cash gap, Rezvan said.
Midstream Sales
Chesapeake has sold or agreed to sell $11.6 billion of assets this year, toward a goal of $13 billion to $14 billion, McClendon said in today's statement. The Permian divestitures accounted for 5.7 percent of second-quarter output, including 21,000 barrels of oil per day and 90 million cubic feet a day of gas, the company said.
Global Infrastructure's $2.7 billion purchase includes most of Chesapeake's pipeline and processing operations, according to the statement. Unnamed companies will buy additional oil gathering pipelines in Texas' Eagle Ford and the midcontinent region for about $300 million. Global Infrastructure agreed in June to buy Chesapeake's share of a publicly traded pipeline and processing partnership now called Access Midstream Partners LP.
Chesapeake is also selling acreage in the Utica shale and other areas it doesn't want to develop for $600 million in four separate transactions, according to the statement.
Cash Crunch
Chesapeake, the second-largest U.S. gas producer, lost as much as 60 percent of its market value in the past year as a glut-driven slump in gas prices squeezed the company's cash flow and forced McClendon to accelerate the pace of asset sales. Investors also battered the stock amid two federal probes of potential conflicts between the CEO's personal financial transactions and corporate duties.
McClendon, 53, was deposed from the chairman's post in June and more than half the board was replaced as Chesapeake's largest shareholders, Southeastern Asset Management Inc. and Carl Icahn, agitated for governance reforms. McClendon also is losing access to a corporate perk that allowed him to buy personal stakes in almost every well the company drilled.
Quitting Permian
McClendon has been shifting drilling rigs from money-losing gas fields to prospects that hold crude and gas liquids such as propane, which command higher prices. On June 1, the company announced the largest oil discovery in Chesapeake's 23-year history in a formation near the Texas-Oklahoma border known as Hogshooter.
Chesapeake has no plans to put its 30,000 acres of Hogshooter leaseholds up for sale, Jim Gipson, a spokesman for the company, said during a June 1 interview.
McClendon considered quitting the Permian Basin once before, when he announced plans in September 2002 to pursue lower-cost prospects in the U.S. Midwest instead. Fifteen months later, he changed course with a $420 million acquisition including wells in the Permian from closely-held Concho Resources Inc.
Jefferies & Co. Inc. and Goldman Sachs Group Inc. advised Chesapeake on the sale of Permian and midstream assets.
The company will have no comment on the deals today beyond the statement, Michael Kehs, a Chesapeake spokesman, said in an e-mail.
Before it's here, it's on the Bloomberg Terminal.
LEARN MORE