AU Optronics Shares Drop Most in Six Weeks on U.S. Fine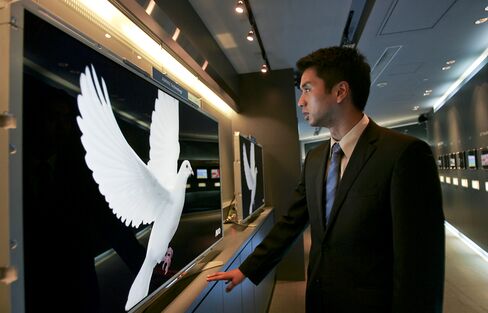 AU Optronics Corp. dropped the most in six weeks after U.S. antitrust authorities said Taiwan's second-largest maker of liquid-crystal displays should be fined $1 billion for price fixing.
The stock lost as much as 6.6 percent in Taipei trading, poised for the biggest decline since Aug. 3. Shares declined 4.9 percent to NT$10.75 as of 11:45 a.m., while the benchmark Taiex index advanced 0.2 percent.
"Investors see this as a negative news, view this as a final ruling and started selling," Peter Liao, an analyst at Nomura Holdings Inc., said by telephone in Taipei. "The sell-off shouldn't be long term, it's a one-day impact." Liao has a neutral rating on the company, meaning investors should hold the same proportion of the flat panel maker's stocks.
U.S. attorneys prosecuting the criminal case in San Francisco also recommended in Sept. 11 filings that company Vice Chairman H.B. Chen and former Executive Vice President Hui Hsiung pay $1 million in fines and serve 10 years in jail.
"Only these sentences could possibly reflect the seriousness of this offense or provide adequate deterrence," and they're "lenient," regional Assistant Chief U.S. Attorney Peter K. Huston wrote.
The government charged AUO in 2009, and a jury in March found the company and two executives guilty of colluding with rivals to fix prices through secret meetings in hotel rooms, karaoke bars and tea rooms.
The $1 billion fine recommendation is based on inaccurate data, AU Optronics said in a statement to the Taiwan stock exchange today. The company said it will continue providing data and information for the court to determine the fine.
The case is U.S. v. Lin, 3:09-cr-00110, U.S. District Court, Northern District of California (San Francisco).
Before it's here, it's on the Bloomberg Terminal.
LEARN MORE