Apple Unveils IPhone 5 to Extend Lead in Smartphone Marke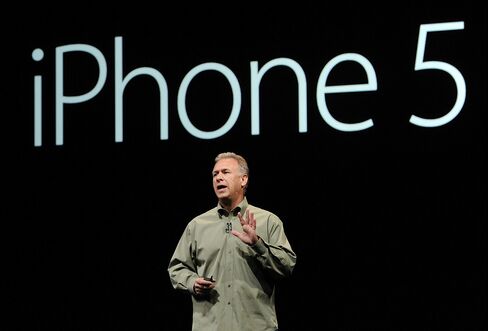 Apple Inc. unveiled a new version of the iPhone that boasts a bigger screen, faster chip and access to speedier wireless networks, an overhaul aimed at gaining share in the $219.1 billion smartphone market.
The thinner, lighter handset is called iPhone 5 and costs $199 to $399. It features a casing made of glass and aluminum, a chip that can process commands more swiftly and a 4-inch screen -- compared with 3.5 inches on the earlier models. Apple also revamped its mobile software, adding three-dimensional mapping, closer integration with Facebook Inc. and improvements on the Siri voice-recognition tool.
Coming almost a year after the death of Apple co-founder Steve Jobs, the next iPhone is the first hardware redesign of the product since 2010. After popularizing handheld touch-screen devices that offer swift Web downloads and a range of games, entertainment and productivity tools, Apple is seeking to gain an advantage over competitors including Samsung Electronics Co., Google Inc., Microsoft Corp. and Nokia Oyj in a market that surged 78 percent last year.
"It's a beautifully crafted device," said Chris Jones, an analyst at Canalys. "They enhanced everything about the iPhone."
Even so, the announcement contained few surprises, "given all the speculation" about the iPhone before today, said Shaw Wu, an analyst at Sterne Agee & Leach Inc.
Shares gained 1.4 percent to $669.79 as of the close in New York, extending this year's surge in Apple's stock to 65 percent.
Faster Networks
Because Apple only introduces one new iPhone a year, each unveiling is critical. Apple has sold more than 244 million units since its 2007 debut, and the handset now accounts for about two-thirds of profit. Its popularity has led investors to catapult Apple's market value to above $620 billion, making it the world's most valuable company.
"They have built a juggernaut," said Matt Murphy, a partner at Kleiner Perkins Caufield & Byers, a venture capital firm that invests in iPhone application companies. "This is going to be an absolutely blowout, home-run product."
While Google's Android commands a bigger share of the mobile-software market and Samsung has more share of phone hardware globally, the iPhone is the single best-selling line of smartphones.
Faster Networks
The new iPhone, Apple's sixth since 2007, works with so-called long-term evolution, or LTE, data networks being introduced by companies including AT&T Inc. and Verizon Wireless. Samsung and Google's Motorola Mobility are among the manufacturers that have already introduced handsets that run on LTE, which carriers say enables quicker video, music and other content downloads, compared with the existing wireless networks.
By adding a bigger screen, Apple also is following a trend started by other handset makers, including Samsung, HTC Corp. and Motorola Mobility.
The event highlighted how the level of interest in Apple has made it almost impossible for the company to keep products secret. Pictures and features of the new iPhone had leaked out in the weeks ahead of the event.
"There's more attention than ever on Apple," Phil Schiller, Apple senior vice president for worldwide marketing, said after the event. "That's a great thing."
The new iPhone software will feature tighter integration with Facebook, letting users quickly post pictures, links and other content to the largest social network. The partnership is similar to one announced last year with Twitter Inc.
10 Million
Apple also enhanced the speech-command service Siri, adding features that let users search for sports scores and make dinner reservations by speaking to the smartphone.
IPhone 5 goes on sale Sept. 21 and is available for pre-orders on Sept. 14. Apple may sell 10 million iPhones by the end of September, according to Gene Munster, an analyst at Piper Jaffray Cos. The company may sell 48.2 million through December, the average estimate of analysts surveyed by Bloomberg.
During the iPhone event, Apple also announced a new version of its iPod Touch wireless music player.
Today's event highlighted Apple's growing rivalry with Google, the maker of the Android operating system that powers about half the world's smartphones. Apple introduced its own mapping software to replace Google and also removed Google's online video service, YouTube, from the batch of applications pre-installed on the iPhone.
Suppliers Benefit
With thousands of developers writing programs for Apple's App Store, today's announcement is among the most highly anticipated technology events of the year. At TechCrunch's Disrupt technology conference under way in San Francisco this week, a whole panel was dedicated to digesting Apple's news.
The iPhone introduction also can benefit the network of suppliers that make iPhone components. Samsung manufactures the microprocessor that is the main brain of the device, while Qualcomm Inc. is the maker of the chip that connects it to wireless networks. The iPhone, like other Apple products, is assembled in China by Foxconn Technology Co.
Before it's here, it's on the Bloomberg Terminal.
LEARN MORE