Q&A: 'Arbitrage' Director Nicholas Jarecki on Making His Hero a Banker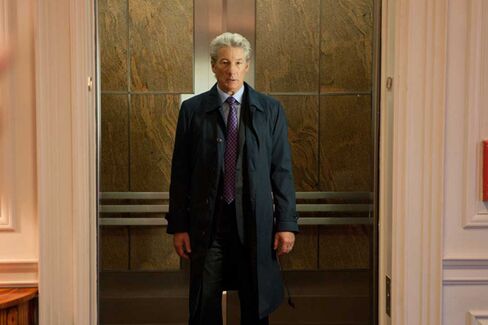 At long last, Arbitrage, one of the more surprising films to make a splash at Sundance, has its theatrical and video-on-demand release this weekend. Why surprising? Well, despite the festival's anti-establishment indie rep, Arbitrage thrilled the NPR/hipster audiences by making them sympathize with the ultimate establishment insider—a morally compromised hedge fund manager who artfully weaves his way through a collapsing universe of which he was formerly the master. A well-crafted, impeccably acted first feature from writer-director Nicholas Jarecki (brother of filmmakers Eugene and Andrew), the movie is a throwback to those sexy power thrillers of the 90s that always seemed to star Richard Gere. In Arbitrage, Gere delivers a delicious performance as the aforementioned hedge-fund honcho, Robert Miller. I chatted on the phone with Jarecki about how and why one makes a movie with a bad boy banker as its hero when so many moviegoers would like to see money managers of all stripes guest star on Game of Thrones as impaled heads. Excerpts below:
Was Richard Gere the first person who came to mind when you sat down to make a movie about banking?
He had so many of the ideal qualities I thought this character could have: the physical charm and grace. When I wrote it originally, I was thinking the main character was attractive to people because he had some black box trading system or some specialized cloud computing nonsense. Richard's nature is to charm. We saw why people were following him, why he was a natural leader. Ultimately, you do business based on personal relationships, so it's not all about numbers, and I think really Richard took that in the performance to a special level.
It's brave to make a movie about a banker behaving badly when the social climate right now seems to be 'Let's tar and feather them all.'
All these guys were being vilified in the papers, so what I thought would be nice for the audience is if you could put yourself in this guy's shoes. So I made him a bit more of a noble character who'd become corrupt through a life of success, who'd had one too many things to work out, started to forget the random nature of the universe and believe a little too much in his own press releases. It's that sense of invincibility—the hubris—that leads to his downfall.
Wow, a banker as classic Greek tragic hero—that is brave!
This is no apology for anything that happened. I think terrible sins occurred, but what I wanted to understand was why. I feel like it's got to be that the viewer can watch and say, "Oh yeah, I can see myself in that situation, but no, don't do that!" That's the great enjoyment. It is entertainment after all; we're not changing the world. But for a sophisticated viewer, I think that's the entertaining trick. Then you put Richard in, and his incredible gifts and natural movie star ability only amp that up.
It's funny, even as you sympathize, you see the shark in his eyes, especially in that pivotal scene with Graydon Carter [who plays the head of a major investment bank].
Wait a sec, I got to tell you this—I'm not making this up—I'm walking down the street and there's a telephone box here on the corner of 19th Street and 2nd Avenue and scrawled in graffiti it says, "bankers eat s—."
There's that social climate I was talking about.
Yup. Anyway, to your point, I love that scene in the film because I wanted to show why he was good at what he does. Not only is he a charmer and an operator, he's also a cutthroat shark. In that scene, he's desperate—he has to unload his company to this guy. Every ounce of his DNA, when the guy lowballs him, has taught him to walk out of that restaurant. The only way he can win is to risk it all because that's the cutthroat dog-eat-dog world that he lived in.
How did Gere pull that off? Did he shadow hedge-fund managers, or did he just pick it up from his agent?
Certainly not from his agent because his agent, Andrew Finkelstein, who also represents me, is a wonderful guy. But Richard and I would meet every day for four weeks and we'd go through the script, line by line. Then we went on a bunch of adventures together: We went to the New York Stock Exchange, we met with hedge fund managers. What I loved about Richard's approach was that instead of asking about derivatives and currencies, he would ask about their personal lives: How do you talk to your wife, how do you talk to your kids? He was always about making that human connection. And I think you see that in his performance. The theme we tried to imbue in all the performances was: Will you give up the power that you love to hang on to your last shred of humanity? And I felt that in today's environment, we're dealing with shreds.
Do you think any erstwhile Masters of the Universe who watch this might take anything of that away from it?
About a month ago, I went to East Hampton and screened the film in a private screening. We had some of the top hedge fund managers in that room, about $20 billion in combined personal wealth. [Afterward] many of these guys came up to me and said, "We want to tell you we really like the film but … what you put up there is our worst nightmare—it really affected us."
It must be fun to scare $20 billion worth of money managers.
Well, when you're dealing with a subject like this, authenticity is so important. All the time we were making it, I would constantly say to the guys I was working with: "I want the 1,000 people who know about this particular world to say this movie is authentic so when it comes out, we can say we weren't making it up."

Before it's here, it's on the Bloomberg Terminal.
LEARN MORE