Lowest Dollar Yields in Year Ease Pain of Indian Refiners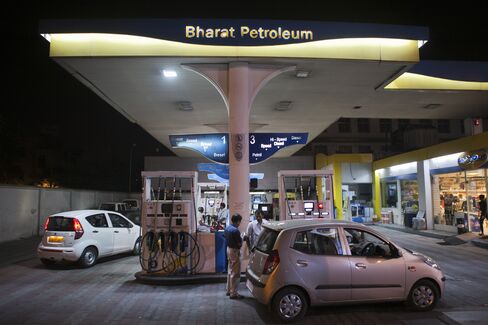 The lowest dollar borrowing costs in more than a year are helping India's biggest refiners keep their plants running as government-set fuel pricing causes record losses.
Indian Oil Corp. plans to raise $450 million in the year to March 31 after having borrowed $300 million, Finance Director P.K. Goyal said Sept. 7. Bharat Petroleum Corp. is seeking a $600 million loan to ease a cash squeeze from selling fuels below cost. India's refiners have added a record $2.43 billion of overseas debt since April 1, data compiled by Bloomberg show.
"We definitely need to borrow more because we haven't been compensated by the government," R.S. Butola, chairman of the state-owned Indian Oil, said in a Sept. 7 interview in New Delhi. "Our declining bond yields mean interest rates on new loans overseas may not be very much higher than they are now. That's a big relief."
Petroleum Minister S. Jaipal Reddy said Sept. 7 "painful" decisions are needed to avoid an unprecedented crisis in the nation, which has the highest inflation rate among the largest emerging markets. The yield on Indian Oil's dollar debt fell to a record low after average borrowing costs for companies touched 4.97 percent, the lowest level since May 2011, versus 4.28 percent in China, HSBC Holdings Plc indexes show.
"Indian Oil is backed by the government and is always bailed out, which makes it a safe bet," Hemant Dharnidharka, head of credit research at SJS Markets Ltd. in Bangalore said in a Sept. 10 interview. "Investors will buy their bonds. Central banks around the world are making more liquidity available. Bond prices in India and China have moved up as a result."
Bond Yields
The yield on Indian Oil's 5.625 percent dollar notes due August 2021 has declined 45 basis points, or 0.45 percentage point, this quarter to a record low of 4.93 percent today. Similar-maturity debt of China National Petroleum Corp. dropped 35 basis points in the period to 3.09 percent.
The yield on India's benchmark 10-year government bond slid 40 basis points this year, data compiled by Bloomberg show, as economic growth slumped. The notes offer an extra yield of 652 basis points over U.S. Treasuries compared with a 181 basis-point premium for Chinese debt, the data show.
Gross domestic product rose 5.5 percent in the three months ended June 30, the government said Aug. 31. The $1.8 trillion economy expanded 5.3 percent in the previous quarter, the least in three years. Consumer prices rose 9.86 percent in July, faster than the 1.8 percent in China, 5.2 percent in Brazil and 5.6 percent in Russia, data compiled by Bloomberg show.
Record Loss
Indian Oil posted a loss of 224.5 billion rupees ($4 billion) in the quarter ended June 30, the biggest in the nation's corporate history, as the government failed to compensate it. Bharat Petroleum Corp. and Hindustan Petroleum Corp. also posted record quarterly losses.
The state companies were paid 835 billion rupees in the year ended March 31 as compensation, the petroleum ministry said in a May 22 statement. That's 60 percent of the 1.38 trillion-rupee revenue loss from fuel sales in the period. No payment has been made since then.
Borrowings by the three refiners climbed 23 percent to 1.57 trillion rupees as of June 30 from 1.28 trillion rupees on March 31, junior oil minister R.P.N. Singh told Parliament on Sept. 4. Indian Oil's debt increased 21 percent to 909.2 billion rupees, he said.
The companies may lose 2 trillion rupees from selling fuels below cost this fiscal year if prices aren't increased, oil minister Reddy said Sept. 7. That amounts to 39 percent of the government's budget deficit target of 5.14 trillion rupees for the year ending March 31. The gap in the four months through July was 51.5 percent of the full-year goal.
Deficit Target
Delays in increasing fuel prices may prevent Prime Minister Manmohan Singh from meeting his target of reducing the deficit to 5.1 percent of gross domestic product. India plans to limit subsidies to 1.9 trillion rupees, or 2 percent of GDP, this fiscal year, according to budget documents.
Failure to cut the deficit has increased India's bond risk. Credit-default swaps on State Bank of India, which some investors consider a proxy for the sovereign, climbed 26 basis points in the past year to 319 in New York, according to data provider CMA. The contracts pay the buyer face value in exchange for the underlying securities or the cash equivalent should the borrower fail to adhere to its debt agreements.
'Complicated'
"The subsidy is complicated in India because, on one side the government needs to control the budget deficit, and on the other refiners need to be compensated," said Takahide Irimura, the Tokyo-based head of emerging-market research at Kokusai Asset Management Co., which oversees about $43 billion, including Indian Oil's dollar debt. "Controlled prices lead to higher demand. For that refiners need to borrow more as compensation comes with a lag," he said Sept. 10 by telephone.
State refiners are free to set gasoline prices, while the government regulates rates for diesel, cooking gas and kerosene that account for more than 50 percent of Indian Oil's sales volume. Gasoline makes up about 10 percent.
The nation's biggest refiner raised gasoline rates July 23 for the first time in two months to reduce losses after crude climbed and a weaker rupee made oil imports more expensive. Diesel, kerosene and cooking gas rates were last increased on June 25, 2011.
Brent crude has climbed 6.8 percent in 2012 raising costs for Indian refiners, which import more than 80 percent their requirements. The rupee has slumped 4.3 percent in the same period, the second-worst performance among major currencies in Asia. It fell 0.1 percent to 55.445 a dollar yesterday.
Government Backing
The state refiners are able to raise additional debt even with high borrowings because they are backed by the government, Moody's Investors Service said Sept. 6, maintaining Indian Oil's ratings at Baa3 with a stable outlook.
The company's borrowings may rise to a record 1.1 trillion rupees this fiscal year if the government doesn't pay compensation on time, according to Moody's statement.
"The government needs to not just increase fuel prices, but liberalize the sector," said Dorothea Froehlich, a Zurich-based fund manager at MainFirst Schweiz AG, which also holds Indian corporate debt. "Else, Indian Oil's borrowings will continue to increase and that will put investors away."
Before it's here, it's on the Bloomberg Terminal.
LEARN MORE