European Ministers Urge Global Emissions Rule to Help Airbus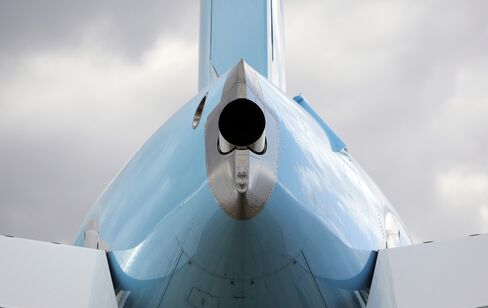 Europe should strive for a global solution on airline carbon emissions to avoid a trade dispute with China that already threatens to undermine aircraft sales, said senior politicians representing the four countries where Airbus SAS has its main production sites.
The European Commission must craft a compromise as soon as possible, the politicians from France, Germany, Spain and the U.K. said at a briefing at the Berlin air show today after a meeting with Airbus management. The group didn't provide a concrete plan of action before an October 2013 meeting of the International Civil Aviation Organization.
"The clock is ticking," U.K. Business Minister Michael Fallon said. "The threat of retaliatory action is a clear and present danger and we're bound to take account of that."
The 27-nation EU decided in 2008 to include flights to and from Europe within its greenhouse gas-reduction system from 2012 after airline emissions in the region doubled over two decades. Carriers get free permits comprising 85 percent of the industry cap in 2012 and will have to buy or trade the remainder. Airlines have to surrender EU or United Nations emission permits against their 2012 emissions in April 2013.
Airbus Chief Executive Fabrice Bregier said China is withholding signing 35 to 45 orders for wide-body A330 planes as it awaits a signal from the EU that plans to include global airlines in the emissions trading scheme will be suspended.
Airbus is making 9.5 twin-engine A330s a month with the aim of reaching 10 by the second quarter of 2013. Airbus can't proceed with plans to increase the rate to 11 by 2014 without getting approvals from the Chinese state for 35 to 45 planes that local airlines have already said they want.
Sales Chief Leahy, who was in China two weeks ago to meet with airlines and government officials, said China was "adamantly refusing" to discuss wide-body purchases in the absence of signs from Europe that it would step down on the plan.
Before it's here, it's on the Bloomberg Terminal.
LEARN MORE