Qatar Holds Out on Glencore as Davis Heads for Exit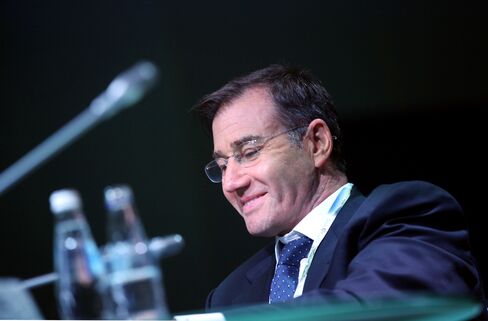 Glencore International Plc Chief Executive Officer Ivan Glasenberg is still waiting for a decision from Qatar on whether it will support this year's largest takeover, five days after a late-night meeting with the emirate's prime minister bought more time for the deal.
Sovereign wealth fund Qatar Holding LLC hasn't reached a conclusion on Glencore's revised 22 billion-pound ($35 billion) offer for Xstrata Plc, the fund confirmed today.
Qatar Holding, owner of 12 percent of Xstrata, is commodity trader Glencore's largest obstacle to completing a takeover first announced in February. Glencore yesterday reiterated it will raise its all-share bid by 9 percent and said Xstrata CEO Mick Davis will lead the combined group for as long as six months. That's a change from Sept. 7, when Glencore said Glasenberg would take the top job, tearing up a February agreement for Davis to have the role.
The Qataris "have not publicly given their consent, but we believe it unlikely that Glencore would have made a full and final offer without having sought their consent," Jason Fairclough, an analyst at Bank of America Corp., wrote in a note today. The analyst said he expects the Qataris "are waiting for Xstrata's board recommendation before showing their hand."
Qatar Considers
Qatar Holding said it has made no decision on whether to accept Glencore's revised proposal. The fund "will make its decision in due course after giving careful consideration to the implications of the proposed management changes, the other elements of the revised proposal and the views of Xstrata's board," it said in a statement.
A spokesman for Glencore, the largest publicly traded commodities supplier, declined to comment. Xstrata is starting to talk to investors, a process that will form an important part of the company's response to Glencore that's due by Sept. 24, a person with knowledge of the matter said.
The Qataris "will find a solution because if the deal falls apart, then that's not good for everyone" because Glencore and Xstrata shares will drop, John Meyer, an analyst at Fairfax IS Plc in London, said by phone. "The Qataris could have been quite cross about the proposal to change the management structure. But Glencore have backtracked on that."
The terms of Glencore's offer were changed after a negotiating session in a London hotel on the evening of Sept. 6 between Glasenberg and Qatari Prime Minister Sheikh Hamad Bin Jasim Bin Al-Thani, mediated by former U.K. Prime Minister Tony Blair, according to a person with knowledge of the discussions.
11th-Hour
The meeting took place hours before Xstrata investors were due to meet in Zug, Switzerland, to vote on the deal. The meeting was postponed after the 11th-hour move by Glencore to increase its offer.
Qatar, while broadly supportive of the new terms, was unaware that Glencore would seek to drop a plan for Davis to be CEO of what would be the world's fourth-biggest mining company, the person said.
Qatar Holding, the largest shareholder in Xstrata after Glencore, said Aug. 30 it intended to vote against Glencore's earlier proposal of 2.8 shares for each Xstrata share. Glencore said Sept. 7 it plans to raise its bid to 3.05 shares. Qatar said June 26 that an offer of 3.25 would be "more appropriate."
Xstrata fell 1.5 percent to close at 1,011.5 pence in London trading. It yesterday closed at the highest since May 11. Glencore declined 1.5 percent to 364.35 pence. Xstrata stock traded at 2.78 times that of Baar, Switzerland-based Glencore, little changed from yesterday.
80% Likelihood
There's now an 80 percent chance of the bid being successful, Liberum Capital Ltd. said yesterday. Jefferies Group Inc. analysts Christopher Lafemina and Seth Rosenfeld said they expect the deal to be completed based on the new terms.
Davis, 54, is ready to step down provided shareholders get the right price, a person familiar with the situation said Sept. 9. Xstrata, which is based in Zug, just two miles (3.2 kilometers) from Glencore's headquarters, has as many as 20 senior executives who may leave after the transaction is complete, the person said.
The proposal for Glencore's Glasenberg to be CEO of the combined group "represents significant risk" for the retention of Xstrata's management team and goes against the merger-of-equals agreement made in February, Xstrata said Sept. 7.
Under the original deal, Xstrata proposed retention payments totaling 172.8 million pounds for Davis and 72 other executives. Those payments were criticized as excessive by investors including Standard Life Investments.
European Filing
Knight Vinke Asset Management LLC rejected Glencore's latest proposal and urged Xstrata's independent board members "to seek the highest possible price and invite third-party offers," it said in a Sept. 9 statement.
Glencore expects to make a filing with the European Commission this month should the revised terms win Xstrata's approval, said a person familiar with the plan, who declined to be identified because the talks are private. That would allow the transaction to be completed in the fourth quarter, the person said.
Glencore is working with Citigroup Inc. and Morgan Stanley as financial advisers. Xstrata has hired Goldman Sachs Group Inc., JPMorgan Chase & Co., Deutsche Bank AG and Nomura Bank International Plc. Qatar Holding is working with Lazard Ltd.
Before it's here, it's on the Bloomberg Terminal.
LEARN MORE