Euro Crisis Faces Tests in German Court, Greek Infighting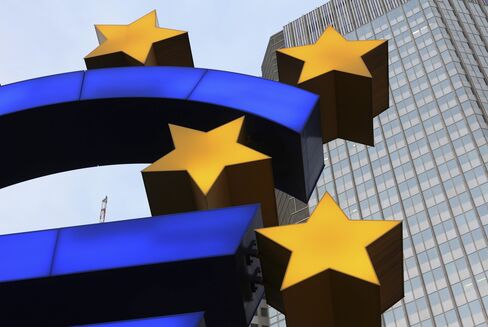 A German high court decision on bailout funding and Greek coalition infighting this week threaten to derail the European Central Bank's bid to wrest control over the euro area's three-year-old crisis.
Germany's Federal Constitutional Court in Karlsruhe will decide whether to suspend the 500 billion-euro ($639 billion) European Stability Mechanism on Sept. 12. In Athens, Prime Minister Antonis Samaras's governing partners balked at budget cuts demanded by the country's so-called troika of creditors.
In a week of activity that may determine the course of the crisis, the court's decision comes on the same day as Dutch voters decide whether to back parties questioning an expansion of European powers and as the European Commission issues a proposal for an integrated banking system.
"The ECB is saying I'm here to support you but I can only build a bridge for you," Mohamed El-Erian, chief executive officer and co-chief investment officer of Pacific Investment Management Co., said in a Sept. 7 Bloomberg Television interview. "You have to do your job as well."
ECB President Mario Draghi's bond-purchase plan sent Spanish 10-year yields down the most in a week since the euro's inception and prompted a euro rally of almost 2 percent to the highest level since May. Spain's 10-year yield extended its slide, dropping 5 basis points to 5.58 percent as of 11:55 a.m. in Madrid. The euro slipped 0.3 percent to $1.2780.
German Judges
The German judges heard oral arguments on July 10 from groups challenging the viability of the euro's fiscal pact and the ESM, which both houses of parliament approved with two-thirds majorities on June 29. The complaints by a group of lawmakers, academics and political groups sought an injunction against the law while the court reviews the cases in detail.
The challengers argue that the crisis-fighting legislation transfers constitutionally mandated authority from German lawmakers to Brussels and undermines democratic rule.
"I think the court will say this is something that Germany can manage," Clemens Fuest, an economist at Oxford University's Said Business School, said in a phone interview. Still, the court will likely take an interest in parliamentary involvement and "impose some conditions" on the ESM.
One plaintiff, Peter Gauweiler, a Bavarian lawmaker in Chancellor Angela Merkel's ruling bloc, issued a fast-track request for an injunction with the court to delay the ESM decision, calling on the ECB to revoke its "hyper-rescue fund," according to his website. While the court said it will consider the emergency bid, German lawyers said it probably won't succeed.
Outcome Predictions
Merkel and German Finance Minister Wolfgang Schaeuble have expressed their confidence that the ESM will survive the constitutional test. Officials voiced greater concern over the details of the court's ruling rather than the possibility of an outright rejection of the permanent bailout fund.
"There will be also conditionalities for us politicians," Michael Fuchs, a deputy parliamentary leader in Merkel's bloc, told Bloomberg Television Sept. 5. "They will give us some conditions under which we can form the ESM."
In Greece, Samaras failed to secure an agreement from his two coalition partners on 11.5 billion euros in spending cuts required by the troika -- the Commission, the ECB and the International Monetary Fund. The troika's approval is required for the country to receive its next tranche of funds.
Greek Doubts
Greece's Democratic Left leader Fotis Kouvelis, one of Samaras's governing partners, said that poorer Greeks must be protected from more austerity. The three coalition leaders agreed to meet again on Sept. 12, two days before euro-area finance ministers gather in Cyprus to be briefed on progress.
"The recession is deep and if these measures aren't accompanied by growth measures, they will be ineffective," Kouvelis said after the meeting with Samaras and Pasok leader Evangelos Venizelos. "Our European partners need to know that Greeks can't take anymore. Nothing can be taken for granted."
Much in the crisis hinges on the permanent ESM, which is designed to go into operation as the temporary European Financial Stability Facility is phased out through next year. The bailout fund would work in tandem with the ECB in buying bonds to lower yields for states such as Spain and Italy.
Those two countries maintained their resistance to requesting bailout aid last week, though Italian Prime Minister Mario Monti showcased the new ECB operation as easing the stigma of seeking help. His Spanish counterpart, Mariano Rajoy, said he wanted to study the details of the program.
Spain Bid
Spain is likely to seek assistance in the coming weeks, Der Spiegel reported, citing unidentified officials in the European Commission. The ECB's plan foresees conditions on countries that want to participate in the bond operations.
ECB policy makers agreed to unlimited buying as a way to ease rising borrowing costs driven by speculation that the currency could split up. Only Germany's Bundesbank dissented, issuing a statement after the decision that the plan was "tantamount to financing governments by printing banknotes."
The program also sparked outrage in the German media, with Bild calling it a "black day" for the currency and the Frankfurter Allgemeine Zeitung declaring the end of the separation between fiscal and monetary policy.
In the Netherlands, politicians were jostling for position as polls showed that the five parties that signed an austerity agreement under caretaker Prime Minister Mark Rutte won't get enough backing for a majority. The Dutch Labor Party, which wants more time for the country to meet budget targets, has caught up with Rutte's Liberal Party ahead of this week's election, according to a poll taken by Ipsos Synovate.
Monti's Concern
Public skepticism about deeper European integration is undermining the progress leaders have made fighting the debt crisis, Monti told reporters over the weekend in Cernobbio, Italy. He said the push to strengthen ties in the 27-nation EU is threatened by insulting stereotypes and nationalist rhetoric.
"One can't help note a growing and dangerous sentiment of antagonism in member states," Monti said. "It's paradoxical and sad."
Meanwhile, billionaire George Soros took aim at Germany's political establishment.
"The best course of action is to persuade Germany to choose between becoming a more benevolent hegemon, or leading nation, or leaving the euro," Soros wrote in the New York Review of Books. "In other words, Germany must lead or leave."
Before it's here, it's on the Bloomberg Terminal.
LEARN MORE