Hong Kong's Pro-Democracy Parties Fail to Expand Minority Seats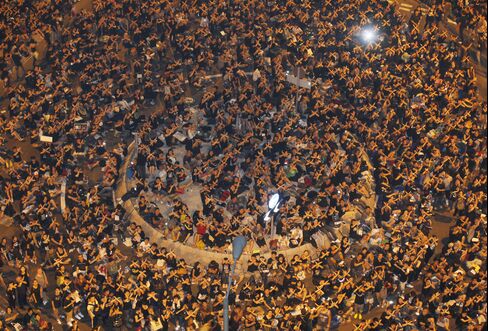 Hong Kong's pro-democracy parties failed to win a higher proportion of seats in the legislature, as Chief Executive Leung Chun-ying sought to quell discontent about China's growing influence with last-minute policy changes.
Pro-democracy groups won 27 seats in the 70-member Legislative Council, similar in proportion to the 2008 election. Democratic Party Chairman Albert Ho, who competed with Leung to be the city's top official in March, said he will resign after the party lost seats.
The election followed a weekend decision by Leung to scrap a three-year deadline for the introduction of Chinese identity lessons after black-clad protesters besieged government headquarters for 10 days. Pro-democracy parties, which don't support Leung, were unable to capitalize on growing disquiet with China as the chief executive put in place polices to limit Chinese tourists and provide housing only for local residents.
The pro-democracy parties "would've had sheer disaster if it hadn't been for the national education issue," Michael DeGolyer, political scientist at Hong Kong Baptist University, said by telephone today. "They were too divided among themselves."
Parties that support Leung, including the Democratic Alliance for the Betterment and Progress of Hong Kong and the Federation of Trade Unions, added seats. Leung, who took office July 1, has promised to narrow the city's wealth gap and provide affordable housing.
Having one-third of the legislature's seats means that the pro-democracy parties can veto major laws including constitutional changes.
Policy Reversal
Leung's reversal on national education classes marked his third policy announcement in just as many days, after he abandoned a trip to the Asia-Pacific Economic Cooperation summit last week.
On Sept. 7, he said a policy which would have seen neighboring Shenzhen relax visa rules to make it easier for more than 4 million non-permanent residents to visit the city would be suspended. The day before, he announced plans for the sale of two land sites on which homes will be built only for locals.
Home prices have soared by about 88 percent since the start of 2009, driven by record low-interest rates and purchases by mainland buyers. Chinese mothers taking up hospital beds has also spurred dissatisfaction in Hong Kong.
"The mainland has no intention of assimilating Hong Kong," the Global Times, a publication of the Chinese Communist Party, wrote in an editorial today. "But people from the mainland want to see Hong Kong society accept its return. They are quite uncomfortable with a few Hong Kong people's nostalgia for its colonial past and sense of superiority against mainlanders."
Party Politics
Half of the seats in the Legislative Council are elected based on geography, and five are chosen in a city-wide ballot. The remaining seats are picked by professional groups including finance, lawyers and accountants.
Pro-democracy parties saw a reduction in the number of seats won in the geographical elections, and were only able to keep the one-third minority with seats from the industry ballots. The Democratic Party won 6 seats, down from 8 seats previously.
"Pro-establishment parties have been very good at mobilizing supporters, and they have far more resources than pro-democracy parties," said Ma Ngok, a political scientist at the Chinese University of Hong Kong.
China has promised to introduce universal suffrage by 2017, meaning Leung will be the last chief executive to be chosen by a 1,193 member-committee comprising of billionaires, lawmakers and representatives from industries. Dissatisfaction at the way the government deals with China has risen to the highest level in eight years, according to a survey by the Hong Kong Transition Project, which has tracked changes in the city since its return to China in 1997.
Student Protesters
Students have camped out at government headquarters since Aug. 30 demanding it drop plans for national education classes that they said paint an overly favorable picture of Communist Party rule in China.
Schools will now decide when and how they want to introduce the subject, Leung said. Protesters headed home after Leung's Sept. 8 announcement.
Pro-democracy parties have backed the students' call to stop the national education classes, while the DAB supported the introduction of the curriculum.
"Caving in to public opinion about national education shows a very disturbing weakness of the two-month old Leung administration," said Willy Wo-Lap Lam, an adjunct professor of history at the Chinese University of Hong Kong. "This will continue to divide Hong Kong society and remain a controversial issue."
Before it's here, it's on the Bloomberg Terminal.
LEARN MORE