News Corp. Agrees to Buy Consolidated for A$1.9 Billion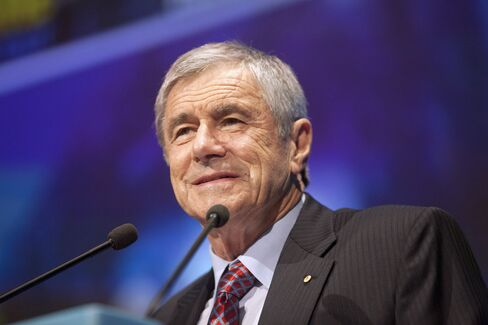 News Corp. agreed to buy Consolidated Media Holdings Ltd. for A$1.94 billion ($2 billion) to boost its stake in Australian pay television as billionaire Kerry Stokes weighs making a counter-offer.
News Corp., the media company controlled by Rupert Murdoch, agreed to pay A$3.45 a share and investors will also get a six Australian cents a share dividend from the target, Sydney-based Consolidated said in a filing today. Stokes's Seven Group Holdings Ltd., with a 25.3 percent stake, has asked for regulatory clearance to make its own bid.
A completed deal would give Murdoch full ownership of the Fox Sports network in Australia and half of pay-television operator Foxtel, while freeing cash for Consolidated's 50-percent owner James Packer to expand his gambling investments. Stokes may block News Corp. to maintain his position in the nation's largest pay-TV business, analyst Mark McDonnell said.
"One way or another Consolidated is going to get sold," McDonnell, an analyst at BBY Ltd. in Sydney, said by phone. "We just have to work out if it's a one-horse or a two-horse race."
Consolidated Media shares declined 0.6 percent to A$3.42 in Sydney, their lowest close in five weeks. The bid is about 1.4 percent below the initial A$3.50 a share indicative offer that New York-based News Corp. made June 20.
News Corp. currently owns 25 percent of Foxtel and 50 percent of Fox Sports, matching the stakes held by Consolidated.
'Near Monopoly'
A successful takeover would put Foxtel at the heart of the newspaper and book publishing company which Murdoch is considering separating from News Corp.'s entertainment assets.
Foxtel, in which Australia's largest phone company Telstra Corp. holds the other 50 percent, has a "near-monopoly" on the country's pay-television market, according to the nation's antitrust regulator.
While News Corp.'s offer has already gained regulatory approval, it remains subject to the support of 75 percent of votes cast at a meeting scheduled for Oct. 31. Stokes could block it if Seven votes all its shares against News Corp.
"This has got to the point now where Stokes will have to play his hand," Jason Beddow, chief executive officer of Argo Investments Ltd., said by phone from Sydney. The fund is Consolidated's third-largest shareholder with a 0.3 percent stake, according to data compiled by Bloomberg.
'Reasonable' Price
The price is reasonable, Beddow said. "At the end of the day whatever James Packer was going to agree with News was going to be the price," he said. "If you're a Consolidated shareholder you know you're not going to be a player."
Stokes, who controls Australia's largest free-to-air television broadcaster, will want benefits in return for giving up a foothold in pay-TV, analyst Fraser McLeish said.
"Seven Group will try to use its position to extract some concessions," McLeish, an analyst at Royal Bank of Scotland Group Plc., wrote in an Aug. 21 note to clients. Stokes "is unlikely to simply want a higher price. We still see a risk that Seven Group will not be willing to sell," he wrote.
Simon Francis, a Sydney-based spokesman for Seven Group, didn't respond to two phone messages and an e-mail seeking comment.
Seven Group's investments in construction, mining equipment, and banking give it scope to make a competing offer, BBY's McDonnell said.
"The capacity's there, the question is whether the appetite will be sharpened enough," he said. "At A$3.45, all Seven would have to do is offer A$3.50 to make a better offer."
Board Split
Stokes's son Ryan and Seven Group Chief Executive Officer Peter Gammell, who are both board members at Consolidated, didn't make a recommendation on News Corp.'s bid, according to the target company's statement.
Kerry Stokes may face regulatory issues if he tries to make a rival bid, according to Jarrod McDonald, an analyst at JPMorgan Chase & Co. The billionaire controls Seven Group through a 67 percent stake, according to data compiled by Bloomberg.
Seven Group has a 33 percent stake in Seven West Media Ltd., Australia's largest free-to-air broadcaster. A combination of the country's dominant free-to-air and subscription broadcasters would be a "potential issue" for the ACCC, McDonald wrote in an Aug. 2 note to clients.
The regulator said July 31 that it had no objections to News Corp. taking over Consolidated. It plans to decide on Seven Group's application Sept. 13.
Casino Deals
The proposed News Corp. takeover would also release about A$970 million to Packer to help his casino company Crown Ltd. lift its stake in Echo Entertainment Group Ltd. Packer will support today's bid, Consolidated said.
"This is a great outcome for CMH shareholders and for News and it reflects a fair price," Packer said in a statement.
Crown has applied for permission to buy a further 15 percent of Echo, worth about A$528 million at current prices, in addition to the 10 percent it already owns.
The Melbourne-based company wants to build a second casino complex on Sydney Harbour and has been blocked by Echo's monopoly license in the city. A 25 percent stake in Echo would raise Crown's leverage with management, who haven't backed the casino plans.
Before it's here, it's on the Bloomberg Terminal.
LEARN MORE