MF Global Holdings Amends Agreement to Use JPMorgan Cash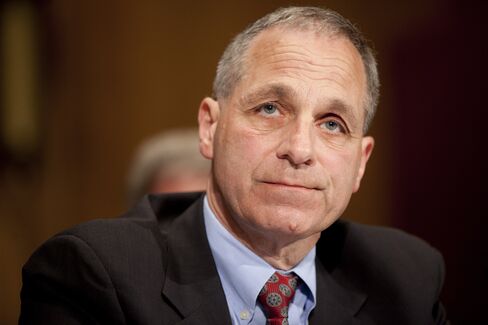 MF Global Holdings Inc. agreed on new terms to use cash collateral of its largest lender, JPMorgan Chase & Co., and seeks court permission to extend its use of the money until March 31.
An agreement between the company's Chapter 11 trustee, Louis Freeh, and the New York-based bank would extend a prior deadline of Sept. 30, according to papers filed today in U.S. Bankruptcy Court in Manhattan. It would also increase to $750,000 from $500,000 the fees and expenses for which JPMorgan is entitled to be reimbursed.
In addition, JPMorgan would receive a payment of $606,062 to reduce the bank's claim within five days of the agreement's approval by the court.
"No other terms of the Final Cash Collateral Order shall be deemed amended, waived, or otherwise modified," lawyers for MF Global wrote in the filing.
In December, when U.S. Bankruptcy Judge Martin Glenn in Manhattan first approved the company's request to use about $21 million in JPMorgan's cash collateral, he overruled objections from customers who said the money might be part of th funds missing from their segregated accounts.
Asset Lien
JPMorgan, agent to a $1.2 billion pre-bankruptcy loan to MF Global, agreed at the outset of the bankruptcy case to let it use $26 million under an agreement that gives the bank a lien on all of MF Global's assets. Freeh said in court papers that the money, exactly $25.3 million, is presumed to be that of the company, not that of customers. About $4 million is set aside to cover fees.
MF Global Holdings, once run by former New Jersey Governor and Goldman Sachs Group Inc. Co-Chairman Jon Corzine, filed the eighth-largest U.S. bankruptcy after a wrong-way $6.3 billion trade on its own behalf on bonds of some of Europe's most indebted nations.
Customers may face a $1.6 billion gap, according to James Giddens, the trustee liquidating the company's brokerage.
MF Global Holdings' Oct. 31 bankruptcy filing listed assets of $41 billion and debt of $39.7 billion.
The brokerage case is Securities Investor Protection Corp. v. MF Global Inc., 11-02790, U.S. District Court, Southern District of New York (Manhattan). The parent's bankruptcy case is MF Global Holdings Ltd., 11-bk-15059, U.S. Bankruptcy Court, Southern District of New York (Manhattan).