Lufthansa Cabin Crew Union Agrees to Mediation Following Strike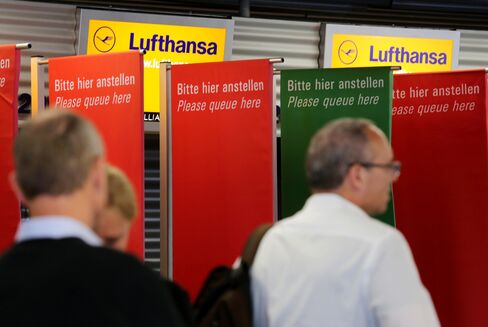 Sept. 8 (Bloomberg) -- Deutsche Lufthansa AG, Europe's second-biggest airline, will work with a mediator to end a dispute with its main cabin crew after a third strike yesterday forced the carrier to cancel more than half its flights.
The Unabhaengige Flugbegleiter Organisation union has agreed to halt further strikes while the mediation process is ongoing, Dirk Vogelsang, the union's chief negotiator, said in a phone interview. Lufthansa spokesman Christoph Meier confirmed the carrier had agreed to the mediation yesterday.
"We have to appoint a mediator early next week and want to start the process as early as possible," Vogelsang said late yesterday. "The mediation will focus solely on wage issues -- those which were the subject of the strikes -- but other issues will be separately negotiated in parallel."
Lufthansa canceled more than 1,000 flights yesterday as cabin crew walked out across Germany, the biggest labor disruption at the airline since a February 2010 pilot strike. The Cologne-based carrier is seeking to trim 1.5 billion euros from its costs by 2015, with a third coming from staff savings.
Action across Lufthansa's German bases costs the company 20 million euros ($25 million) a day, according to Peter Oppitzhauser, a Zurich-based analyst at Credit Agricole.
Lufthansa shares rose 15 cents, or 1.5 percent, to 10.13 euros in Frankfurt trading yesterday. The stock has climbed 8.6 percent this year as analysts said management needs to stand its ground against union demands in order to push through cost cuts.
Wage Demands
The UFO union wants a 5 percent raise on a one-year contract backdated to April 1, and contends that Lufthansa's most-recent pay proposal amounts to a 1.5 percent annual increase that would erode wages by 1,300 euros a month after inflation. Lufthansa said Sept. 5 that its raise totals 3.5 percent over time and that all flight attendants would get higher pay.
The union also opposes the use of temporary workers, and says it's seeking guarantees that staff will not be transferred to new low-cost divisions on less lucrative contracts.
The airline said yesterday that it would stop employing Berlin crews on temporary contracts as it seeks to encourage the resumption of talks.
To contact the reporter on this story: Alex Webb in Frankfurt at awebb25@bloomberg.net
To contact the editor responsible for this story: Chad Thomas at cthomas16@bloomberg.net