Ireland Said Likely to Miss October Target to Ease Bank Debt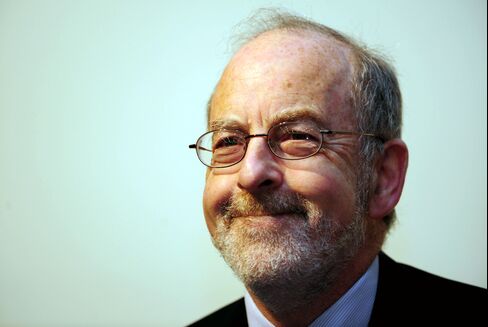 Ireland's government will probably fail in its bid to secure an accord to reduce its legacy banking debt by the end of October, two people with direct knowledge of the talks said.
European Economic and Monetary Affairs Commissioner Olli Rehn said in July that concrete proposals on the Irish question would be presented to euro-area finance ministers in September before a final decision in October. The details are unlikely to be on the agenda when ministers meet in Cyprus next week, said one of the people, who asked not to be identified because the talks are private.
European leaders are focusing primarily on bringing down Spanish borrowing costs before turning attention to Ireland, the people said. Finance Minister Michael Noonan will tour key European capitals next week as part of his campaign to lower the 64 billion-euro ($81.4 billion) cost of bailing out Ireland's financial system.
Irish Central Bank Governor Patrick Honohan said today that he was sure "something would be done" on the 30 billion-euro cost of saving the former Anglo Irish Bank Corp., though the timing was unimportant.
Brian Hayes, a junior minister at the Finance Ministry in Dublin, said in an interview yesterday that while a deal by the end of next month is the government's "stated ambition," it isn't putting an "arbitrary" deadline on it.
'Very Important'
The ministry said today that officials and ministers are continuing to work on the issue. "Upcoming eurogroup meetings in autumn are very important as we seek to meet the timeline of October set by Commissioner Rehn," it said.
Irish bond yields have fallen since European Union leaders agreed on June 29 to examine the Irish financial sector "with a view to further improving the sustainability of the well-performing adjustment program." They also opened the door to the permanent euro-area bailout fund, the European Stability Mechanism, directly recapitalizing banks, subject to a single banking regulator being set up.
Prime Minister Enda Kenny hailed that as a "seismic shift" in policy, which had the potential to ease the burden on taxpayers if a retrospective deal could be reached for Ireland.
Among the possibilities sketched out by analysts at Goodbody Stockbrokers in Dublin is the government being granted more time to repay borrowings used to prop up the former Anglo Irish Bank. Goodbody said Europe probably wouldn't take over Ireland's existing stakes in banks and may only meet any future capital needs. Since the crisis broke in 2008, five of the six biggest domestic banks have been taken over by the government.
'Disappointed'
The yield on the benchmark October 2020 bond stood at 5.72 percent today, having fallen from 7.13 percent just before the June gathering of euro-area leaders.
"The markets will be disappointed by both the timing and scale of the deal when it's done," said Juliet Tennent, an economist at Dublin-based Goodbody. The government may have problems "optically and politically" as it unveils another round of budget cuts in December if a deal isn't agreed and it can't point to "a win" before then, she said.