ECB Collateral Moves Reopen 'Soup Kitchen' for Struggling Banks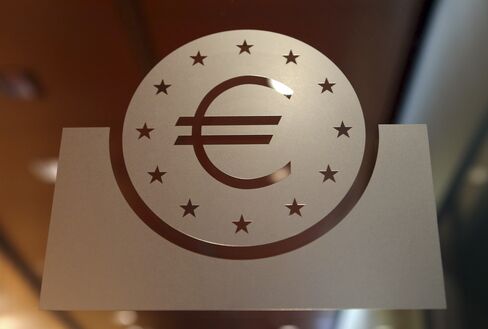 The European Central Bank's decision to relax bank funding rules to mirror conditions last seen after Lehman Brothers Holdings Inc.'s collapse signals hard times for lenders.
"The soup kitchen for impoverished euro-zone banks is re-opening," said Simon Maughan, a strategist at Olivetree Securities Ltd. in London. The easing shows "some peripheral banks have run out of collateral and so we need to widen the bounds of acceptability to accommodate them."
ECB President Mario Draghi said yesterday the central bank will lend against assets in dollars, pounds and Japanese yen, as well as in euros, reopening a program that ran for two years following the September 2008 bankruptcy of the U.S. investment bank. The ECB also eased borrowing against government-issued or guaranteed assets by dropping rating requirements.
Investors' reluctance to lend to banks in countries where bond yields soared has forced those banks to fund at the ECB. Spanish banks borrowed 375.5 billion euros ($476 billion) from the central bank as of the end of July, sucking collateral out of a government bond market that totals about 690 billion euros, according to data compiled by Bloomberg.
The ECB's 1 trillion-euro longer-term refinancing operations in December and February took collateral out of the market, in particular in Spain and Italy, whose banks were the biggest borrowers. ECB bond buying as part of its new Outright Monetary Transactions program will pile more pressure onto a market that is already "highly illiquid," said Chris Clark, a strategist at ICAP Plc, the largest broker of transactions between banks.
Significant Premium
"There's so little Spanish paper that hasn't been lodged at the ECB that pretty much every single bond has gained a very significant premium to borrow," he said. "If the ECB buys more bonds, it may dry up liquidity in the Spanish government bond market even more. These looser collateral rules will help."
Policy makers agreed to an unlimited bond-purchase program to combat speculation the currency union may break up, Draghi said yesterday at a press conference in Frankfurt.
Accepting foreign currency bonds as collateral may free up "a few hundred billion euros," according to Maughan, based on ECB calculations in a paper published in December 2009.
Before it's here, it's on the Bloomberg Terminal.
LEARN MORE