Wall Street CEOs Strut Amid Suffering, Warren Says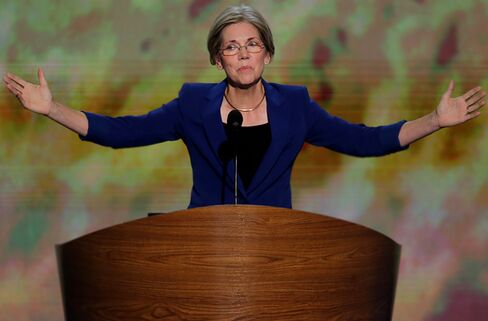 U.S. Senate candidate Elizabeth Warren, in a high-profile speech at the Democratic National Convention, intensified her criticism of Wall Street, saying CEOs who wrecked the U.S. economy with risky bets "still strut around Congress" and demand favors from lawmakers.
In a blistering address to delegates in Charlotte, North Carolina and to a national television audience, Warren described a broken government that is stacked against the middle class, as the cheering crowd chanted her name.
"People feel like the system is rigged against them," Warren, of Massachusetts, said last night. "And here's the painful part: They're right. The system is rigged. Look around. Oil companies guzzle down billions in profits. Billionaires pay lower tax rates than secretaries."
Warren, who helped President Barack Obama create the Consumer Financial Protection Bureau, drew repeated contrasts between the president and Republicans. Mitt Romney would help billionaires and big corporations and perpetuate the problems that allow companies to have too much influence, she said.
"Republicans say they don't believe in government," she said. "Sure they do. They believe in government to help themselves and their powerful friends."
Senate Majority
Warren, 63, is a one-time adviser to Obama who is running against Republican incumbent Scott Brown, and her critiques of business have made her a lightning rod for Republicans. The outcome of the race might help determine which party controls the Senate, where Democrats have a 53-47 majority and are defending seats in Republican-leaning states including North Dakota, Nebraska and Missouri.
"She's a smooth deliverer but it was too much of one attitude, which is anger," said Clark S. Judge, managing director at the White House Writers Group Inc. in Washington and a former speechwriter for President Ronald Reagan and Vice President George H.W. Bush. "It was too angry for somebody, certainly, who doesn't share the anger, and that that would by definition be somebody who's not already a partisan."
Other former speechwriters said it was an effective address. The speech was concrete without an angry tone, said Robert Lehrman, who teaches communications at American University in Washington and is a former speechwriter for Vice President Al Gore. He described her criticism that Wall Street discriminates against the middle class and poor as "militant," which he said will help her with Massachusetts voters.
Targeted Audience
"This was not a speech aimed at national audience -- it was aimed to help her in a very tight race in Massachusetts, and that's appropriate" because Democrats want to maintain control of the Senate with her help, he said. The party gave her the prime-time slot to help "not just with voters in Massachusetts but also with people in other states who are looking to donate to key Senate races."
Brown's campaign sent an e-mail today citing articles and Twitter traffic from media outlets saying that Warren "stumbled" and was "no Deval Patrick" -- a reference to the governor of Massachusetts, a Democrat, who spoke earlier at the convention.
Alleigh Marre, a Brown spokeswoman, didn't return requests for a statement directly from the campaign.
MoveOn.org said today that it raised more than $100,000 for Warren's campaign after the speech. The group favors policies that benefit middle and lower-income Americans.
Many Democrats were pleased with the speech.
"She stuck it, it was perfect," John Walsh, chairman of the Massachusetts Democratic Party, said after the speech. He said he expects a close race that will come down to grassroots campaigning in the final weeks. Warren was the most prominent woman speaker on the second night of the Democrats' convention.
Kennedy's Seat
In a state where Democrats far outnumber Republicans, Warren, a professor at Harvard Law School, is her party's hope to recapture the seat long held by Ted Kennedy, who died in 2009. Criticizing Wall Street and big banks has been her calling card.
"Corporations are not people," Warren said, speaking rhetorically and directly to Romney. "People have hearts, they have kids, they get jobs, they get sick, they cry, they dance."
National Stature
Warren is the Democratic equivalent of Republican Governor Chris Christie of New Jersey -- someone with the star power and national stature who represents the future of the party, said Michael Goldman. He has consulted on campaigns for Democrats since the 1960s, including for U.S. Representative Thomas P. "Tip" O'Neill, the late House speaker from Massachusetts.
Warren offered Democrats something Christie couldn't for his party -- a personal and professional testimonial about their nominee based on her experience working with him in the trenches, Goldman said.
"Part of the whole idea of the convention is that the president wanted to make things work even with the Republicans blocking his path at every turn, and yet despite that there were successes," Goldman said.
Brown, 52, is trying to win re-election by focusing on a bipartisan record in Congress while characterizing Warren as an ideologue who will further polarize politics in Washington.
Before it's here, it's on the Bloomberg Terminal.
LEARN MORE