Hong Kong Chief Least Popular as Protests Rise: Chart of the Day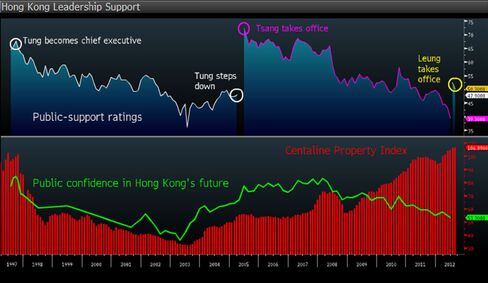 Hong Kong's Chief Executive Leung Chun-ying, who took office on July 1, has the lowest public-support rating for a new leader since the handover to China in 1997, amid residents' concerns about new patriotism classes in schools and a surge of visitors from the mainland.
The CHART OF THE DAY tracks monthly support figures for Leung with his predecessors Donald Tsang and Tung Chee-hwa, according to the University of Hong Kong's Public Opinion Programme. Leung's rating fell to 50.3 out of 100 last month, based on surveys of about 1,000 residents. The lower panel shows the Centaline Property Agency Ltd.'s home-price gauge is at a record high, while the university's quarterly index of public confidence in the city's future is at the lowest since 2003.
"He's got the biggest challenges of any person who's ever been in the office of chief executive," Michael DeGolyer, professor at the Hong Kong Baptist University, said by phone.
Leung canceled a trip to the Asia-Pacific Economic Cooperation summit on Sept. 5 to focus on domestic issues as a protest outside the government's headquarters entered a seventh day. Students, parents and teachers rallying outside the building are demanding the withdrawal of national education lessons introduced from this week, which they said portrays a one-sided view of Chinese Communist Party rule. Concerns that the subject would amount to "brainwashing" were unfounded, Leung wrote in an article run by local newspapers this week.
An influx of mainland Chinese has also spurred protests as the city's 7.1 million residents face increasing competition for property and schooling. There were 3.3 million visitors from China in July, the most on record. Last week, neighboring Shenzhen relaxed visa rules to make it easier for more than 4 million non-permanent residents to visit the city. Leung said today the new policy will be suspended as Hong Kong studies whether it can support the extra visitors.
Street demonstrations helped trigger Tung's resignation in 2005. Tsang, just before he left office, was forced to apologize for accepting private-jet and yacht trips from property moguls. Hong Kong faces "deep-seated problems" and needs to work harder to promote social harmony and stability, President Hu Jintao said during a visit to the city on July 1, the 15th anniversary of the handover from the U.K.