Growth in U.S. Service Industries Probably Eased in August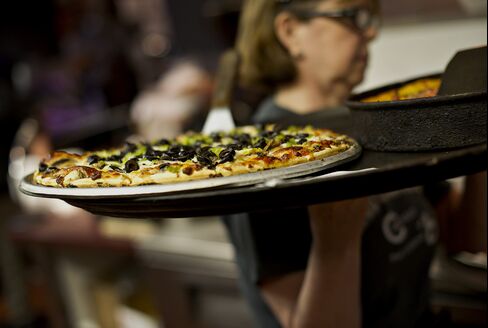 The pace of expansion in U.S. service industries probably eased in August, showing the biggest part of the economy is having trouble gaining traction, economists said before a report today.
The Institute for Supply Management's non-manufacturing index, which covers about 90 percent of the economy, is projected at 52.5 last month following July's 52.6, according to the median forecast of 76 economists in a Bloomberg survey. A reading greater than 50 signals expansion. Another report may show companies took on the fewest workers in three months in August.
Limited momentum in service industries and three straight months of contraction in manufacturing explain why the expansion is struggling to accelerate and create more employment opportunities. FedEx Corp. is among service providers seeing waning demand as rising gas prices, cooling global economies and diminished business investment hold back U.S. growth.
"The U.S. services industry is in kind of a ho-hum state at the moment with not a lot of inspiration for future growth in sales," said Guy LeBas, fixed-income strategist at Janney Montgomery Scott LLC in Philadelphia.
The Tempe, Arizona-based ISM's index, which covers industries ranging from utilities and retailing to health care, housing and finance, is due at 10 a.m. Bloomberg survey estimates ranged from 51 to 53.5.
The group's manufacturing index, released Sept. 4, showed the industry contracted for a third month in August, the longest such stretch since the recession ended in 2009.
Retail Sales
Stronger retail sales, along with a pickup in the housing market, have helped sustain growth in the services industry. In July, retail purchases advanced 0.8 percent, the most since February, Commerce Department data show. Auto demand has also fared well, with sales of cars and light trucks rising to an annual rate of 14.5 million in August, the best in three years.
Lower borrowing costs and cheaper properties have spurred residential construction. Housing starts ran at a 746,000 annual rate in July, close to June's 754,000 pace that was the strongest in more than three years, according to the Commerce Department.
At the same time, the services industry may be held back by a struggling labor market. The jobless rate has exceeded 8 percent for more than three years.
August Employment
Figures at 8:15 a.m. today from the ADP Employer Services may show private employers hired 140,000 workers in August after 163,000 the prior month, according to economists' median estimate.
Higher gasoline prices could also keep consumer spending in check. The average price of a gallon of regular gas has risen 50 cents since July 1, reaching $3.83 at the end of August, according to AAA, the nation's largest auto club.
FedEx is among U.S. companies saying slowing economic growth is hurting demand. The operator of the world's biggest cargo airline this week projected its first earnings decline since 2009 for the three-month period that ended Aug. 31.
"Weakness in the global economy constrained revenue growth at FedEx Express more than expected in the earlier guidance," the company said in a Sept. 4 statement. Express packages provide most of FedEx's sales, and the Memphis-based shipper is considered an economic bellwether because it moves goods ranging from financial documents to pharmaceuticals.
                    Bloomberg Survey

====================================================
                               ADP  Initial ISM Non-
                           Payroll   Claims     Manu
                            ,000's   ,000's    Index
====================================================

Date of Release              09/06    09/06    09/06
Observation Period            Aug.    1-Sep     Aug.
----------------------------------------------------
Median                         140      370     52.5
Average                        137      372     52.6
High Forecast                  170      380     53.5
Low Forecast                    90      363     51.0
Number of Participants          41       48       76
Previous                       163      374     52.6
----------------------------------------------------
4CAST                          165      375     53.5
ABN Amro                       140      370     53.0
Action Economics               155      365     53.0
Aletti Gestielle              ---      ---      53.0
Ameriprise Financial           130      375     52.5
Banca Aletti                  ---       370     53.0
Bank of the West               152     ---      52.7
Bank of Tokyo-Mitsubishi      ---       372     ---
Banorte-IXE                   ---      ---      52.8
Bantleon Bank AG              ---      ---      52.7
Barclays                      ---       370     52.0
Bayerische Landesbank          145     ---      52.8
BBVA                           135      370     53.0
BMO Capital Markets            130     ---      ---
BNP Paribas                    110      373     53.0
BofA Merrill Lynch            ---       370     52.5
Briefing.com                   150      375     51.0
Capital Economics             ---      ---      53.0
Citi                          ---       375     52.5
ClearView Economics           ---      ---      52.3
Comerica                      ---      ---      52.0
Commerzbank AG                 140      374     52.7
Credit Agricole CIB           ---      ---      52.1
Credit Suisse                 ---       370     53.0
Daiwa Securities America      ---      ---      53.0
DekaBank                      ---      ---      51.5
Desjardins Group              ---       375     52.3
Deutsche Bank Securities       160      375     53.0
Deutsche Postbank AG          ---      ---      52.8
DZ Bank                        115     ---      52.3
Exane                         ---      ---      52.6
First Trust Advisors          ---       370     53.2
FTN Financial                 ---      ---      53.5
Goldman, Sachs & Co.          ---      ---      52.0
Helaba                        ---       370     52.5
High Frequency Economics       110      370     53.0
HSBC Markets                   145      370     51.5
Hugh Johnson Advisors           95      370     51.8
IDEAglobal                     150      370     53.0
IHS Global Insight            ---      ---      52.4
Informa Global Markets         125      375     51.8
ING Financial Markets          145      370     52.3
Intesa Sanpaulo               ---      ---      53.0
Iur Capital                    130     ---      ---
J.P. Morgan Chase             ---       370     53.0
Janney Montgomery Scott        127     ---      52.4
Jefferies & Co.                110      365     52.0
John Hancock Financial         167      363     ---
Landesbank Berlin             ---       365     52.0
Landesbank BW                  110     ---      52.5
Lloyds Bank                    150      375     52.5
Maria Fiorini Ramirez         ---      ---      53.5
Market Securities             ---      ---      52.2
Mizuho Securities              150      380     51.0
Moody's Analytics              155      370     51.9
Morgan Stanley & Co.          ---       370     ---
National Bank Financial       ---      ---      52.0
Natixis                        130     ---      52.0
Newedge                       ---      ---      52.8
Nomura Securities             ---      ---      52.5
Nord/LB                        130      370     52.0
OSK Group/DMG                 ---      ---      52.2
Pierpont Securities           ---       370     52.0
PineBridge Investments        ---       370     53.0
PNC Bank                      ---      ---      53.5
Prestige Economics            ---      ---      52.8
Raiffeisenbank International   145     ---      ---
Raymond James                  140      370     52.5
RBC Capital Markets           ---       368     52.0
RBS Securities                ---       370     52.3
Renaissance Macro Research     125     ---      52.5
Scotiabank                     170      370     52.5
SMBC Nikko Securities          150     ---      53.5
Societe Generale               155      380     53.5
Southern Polytechnic State    ---       377     ---
Standard Chartered             145      369     53.0
Stone & McCarthy              ---       375     53.5
TD Securities                  125      377     52.0
UBS                           ---       370     53.5
Union Investment               120     ---      ---
University of Maryland         145      375     53.0
Wells Fargo & Co.             ---      ---      52.9
Westpac Banking Co.             90      380     52.0
Wrightson ICAP                 150      380     52.5
====================================================