Eurocopter Rides U.S. Chopper Market Recovery to Record Revenue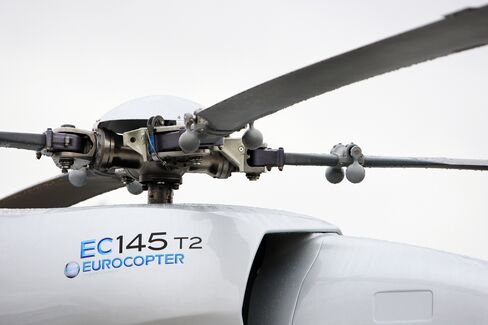 Eurocopter SAS, the world's largest helicopter maker, said it stands to benefit from a recovery in demand in the U.S. that will help push sales to a record.
Replacement of aging single-engine and light twin-engine helicopters in the U.S. and demand from law-enforcement agencies and emergency medical services are driving output, Chief Executive Officer Lutz Bertling said in an interview. Sales may rise to about 6 billion euros ($7.6 billion) this year from 5.4 billion euros, he said by telephone.
Helicopter manufacturers have had to rely on demand from the oil and gas industry and government customers to offset a drop in orders from commercial customers that began in 2009 as economic conditions deteriorated. Bertling forecast Eurocopter will exceed 500 deliveries this year, as oil prices above $80 per barrel maintain demand for offshore exploration.
"The surprise is a bit on the small commercial segment," Bertling said. "On oil and gas we had expected it to be as strong as it is."
Revenue growth may fall short of the 12.5 percent year-on-year increase seen last year, with Bertling anticipating it at "somewhere between 8 percent to 12 percent."
Marignane, France-based Eurocopter is a unit of European Aeronautic, Defence & Space Co., also the parent company if Airbus SAS. The company builds a wide range of helicopters, from the 5-seat EC120 Colibri to the 29-seat EC725 military troop transport.
China Bet
In Asia, Eurocopter is making a big bet on China where it expects sales volumes to grow as the government loosens airspace restrictions. By 2015, the number of helicopters in China should grow to 500 from 300 today, Bertling said. Asia is contributing to the rebound with higher growth rates in small helicopter sales, albeit from a small base so the total numbers are not as significant as U.S. demand, Bertling said.
To cement its presence, Eurocopter last week announced plans to establish a customization facility in Tianjin, China, collocated with Airbus's final assembly facility. The site offers free-trade-zone benefits and will allow logistics savings by cooperating with Airbus, Bertling said.
"In 10 years, what we are starting in China will reach the size of American Eurocopter," Bertling said.
The site, which is slated to start operations next year, will initially serve as a completion center for AS350 Ecureuils. Work on a second helicopter type will also be placed there, although Bertling would not identify the model.
EC175 Certification
The company is already cooperating with Avic's Harbin Aircraft Manufacturing Corp. on the small EC120 helicopter and is co-developing the 7-metric-ton EC175 with Avicopter, which calls its version the Z-15. The helicopter targets the oil and gas industries, as well as search-and-rescue services.
Key certification flights for the EC175 have been completed, Bertling said, with four production aircraft being assembled. The first helicopters will be handed to customers this year. Initial pilot and maintenance training will take place at the Marignane facility in southern France to smooth the introduction into service, with commercial operations to begin next year, Bertling said
Overseas demand is helping Eurocopter weather weak sales in its European home markets. In Germany, Eurocopter is in talks with the government to scale back production of the Tiger attack helicopter and NH90 transport, and negotiations are progressing well, with a possible agreement this year, Bertling said.
"The amount of exports outside the eurozone have helped us a lot," he said. "Therefore, the European debt crisis is not affecting us that much."
U.S. Campaigns
In the U.S. military market, Eurocopter recently reached a milestone on its UH-72A Lakota light utility helicopter program with $2 billion in orders booked, Bertling said. The deal is Eurocopter's single-largest order and represents a major victory for EADS in its quest to build up Pentagon business.
Eurocopter now has its eye on a potential U.S. Army program for a new armed reconnaissance helicopter. It will demonstrate two version of its EC145 to showcase the types' ability to operate in difficult hot weather and high altitude environments where thin air can pose a challenge for helicopters, Bertling said.
The Pentagon is set to decide in several months whether to upgrade an existing helicopter or buy new equipment.
Eurocopter won't participate in a U.S. effort to field a presidential helicopter because the costs of such a campaign are high and the chances of success limited, Bertling said.
"I prefer to save my money," he said.
Before it's here, it's on the Bloomberg Terminal.
LEARN MORE