ABN Amro Markets Debt as Asia Bond Risk Falls Before ECB Meeting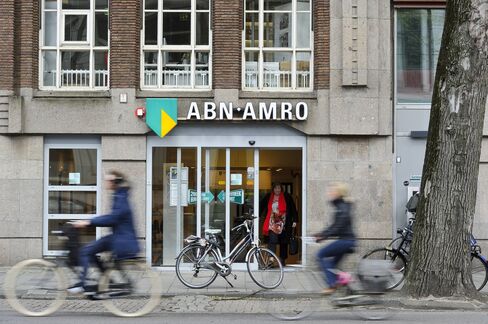 ABN Amro Bank NV is marketing subordinated dollar-denominated notes as sales of debt in the currency across the Asia-Pacific region rise to an eight-week high before the European Central Bank's meeting today.
The Dutch state-backed lender is offering the notes, which will count as Tier 2 capital, at a yield of 6.5 percent, a person familiar with the matter said today. An index that shows the cost of insuring bonds against default in Asia headed for the first weekly decline in four, according to traders of credit-default swaps.
Japan Finance Organization for Municipalities and Korea Development Bank led dollar debt sales yesterday, pushing issuance from the region to $8.4 billion this week, the most since the second week of July, according to data compiled by Bloomberg. ECB President Mario Draghi told the European Parliament this week that the central bank should buy bonds to regain control of interest rates in the euro-area.
"The markets expect some concerted central-bank action tonight from the ECB," said Glenn Hodgeman, Sydney-based global head of credit trading at Westpac Banking Corp. "This is all contributing to a more positive risk tone."
Japan Finance Organization, which provides funding to local governments, priced $1 billion of five-year notes, data compiled by Bloomberg show.
KDB, SP PowerAssets
Seoul-based KDB raised $750 million from a sale of 10-year bonds that priced to yield 155 basis points more than similar-maturity Treasuries, the data show. The South Korean lender's sale attracted about 150 investors, a person with knowledge of that transaction said.
SP PowerAssets Ltd. sold $500 million of 10-year securities, its first U.S. currency offering in more than two years, according to data compiled by Bloomberg. Investors bid for more than four times as many notes as the Singaporean borrower sold, according to a person familiar with the deal.
The Markit iTraxx Asia index of 40 investment-grade borrowers outside Japan dropped 2 basis points to 149 as of 8:21 a.m. in Hong Kong, Credit Agricole SA prices show. The gauge is headed for its first weekly decline since the five days ending Aug. 10, according to data provider CMA. It ended last week at 153 basis points, CMA prices show. A basis point is 0.01 percentage point.
The Markit iTraxx Australia index fell 3.5 basis points to 164.5 as of 10:14 a.m. in Sydney, according to Westpac. The index is set for its lowest close since Aug. 29, according to CMA, which is owned by McGraw-Hill Cos. and compiles prices quoted by dealers in the privately negotiated market. The Markit iTraxx Japan index declined 1 basis point to 210 as of 9:13 a.m. in Tokyo, Citigroup Inc. prices show.
Credit-default swap indexes are benchmarks for protecting bonds against default and traders use them to speculate on credit quality. A drop signals improving perceptions of creditworthiness. The swap contracts pay the buyer face value in exchange for the underlying securities should a borrower fail to meet its debt agreements.