San Jose Cops Rush Disability Retirement as Rules Tighten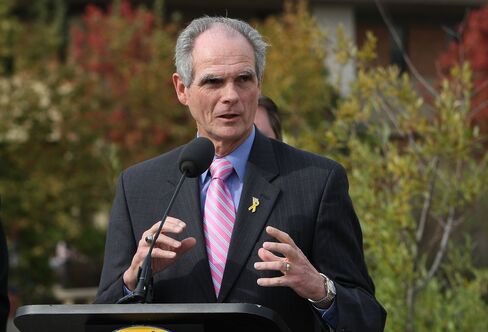 Police officers and firefighters in San Jose, California, are rushing to join a program that lets them claim disability and retire in their 30s and 40s -- and that allows them to get tax-free pensions while taking new jobs elsewhere.
The benefit also allows retired police and fire employees in California's third-largest city to change their pensions to claim the tax break.
"It's certainly double-dipping," said Mayor Chuck Reed, 64. "Disability retirement should be for people who are seriously injured and can't work. Those people obviously can still work and apparently weren't seriously injured."
Workers' ease of access to the program helps explain how San Jose, with a population of about 971,000, has seen retirement costs surge in the past decade to $245 million in fiscal 2012 from $73 million in fiscal 2002. Benefits consume more than 50 percent of payroll and account for more than 20 percent of the general fund, according to the city's website.
San Jose, home to technology giants including EBay Inc. and Cisco Systems Inc., is among communities throughout the most-populous U.S. state that are struggling to contain pension costs as the recession and housing meltdown erode sales and property tax revenue. Stockton and San Bernardino filed for bankruptcy protection this year, citing rising retirement costs, as those expenses consume a greater share of municipal budgets statewide.
'Considerably Higher'
So-called disability retirement is entirely legal and common in California and other states. Yet the number of former police and fire employees in the program in San Jose is "considerably higher" than in other large California municipalities, according to a 2011 report by San Jose Auditor Sharon Erickson.
An average of 58 percent of retirement payments made from fiscal 2001 to fiscal 2008 to San Jose's police and fire employees were for service-connected disability benefits, compared with a 37 percent average in Oakland. San Jose also surpassed Los Angeles, San Francisco and Fresno, the report found.
"People are trying to get their applications considered under the old system, which is very, very loose," Reed said in a telephone interview. "Anybody who wants it can make the application and it's almost always granted."
Michael D. Richmond took a disability retirement as a San Jose police officer at the age of 42 in 2001 and now works as a sergeant in the Santa Clara County Sheriff's Office. Timothy W. Skalland, a former San Jose deputy police chief, got a similar deal in 1997, at the age of 50, and went on to direct a police and fire dispatch agency in Shasta County.
Ballot Initiative
San Jose voters in June approved a ballot initiative, Measure B, that will limit public-safety disability retirements to those who can't do the job they did before or any other work in their department.
It also will replace the board of four current and retired police and fire workers and five other members, who now consider the applications, with an independent panel of medical experts.
"The problem lies not in the fact of whether people are injured or not, but where that line between an injury and a disabling injury is," San Jose Councilmember Pete Constant, a non-voting retirement board member and a former police officer on disability retirement, said in a telephone interview.
Court Challenge
The changes, which haven't taken effect and are being challenged in court by police and fire unions, have prompted applicants to speed up their efforts and more pensioners to seek to convert to the program.
There were 143 disability retirement applications pending review by the board overseeing the Police & Fire Department Retirement Plan, according to an Aug. 1 memo to the board from Debra Figone, San Jose's city manager. About two-thirds were for conversion of existing pensions, to qualify for tax benefits. The average backlog is about 100 applications, said David Vossbrink, a San Jose spokesman.
"There is a sense of urgency, coming from the uncertainty of how and when Measure B will be implemented," Vossbrink said.
Former employees applying for disability pension conversions can cite job-related injuries, even if they worked full-time until the day they retired. The tax break applies to the portion of existing pensions that equals 50 percent of employees' final compensation. In the case of a police retiree whose final annual average salary was $100,000 and is receiving a pension of $90,000, $50,000 would be free from income taxes.
Tax Free
"I'm not going to sit here and tell you we don't have officers who have been deceitful," Jim Unland, president of the San Jose Police Officers' Association, the department union, said in an interview. "I think they're the minority of the people that go before that board."
One reason San Jose has a higher rate of disability retirements is that standards to qualify are more lenient, Constant and Reed said. Applicants are reviewed by a doctor before going directly to the board, while other cities have a staff of workplace disability experts recommend to a board whether to approve or deny the application.
Unlike some other cities, San Jose's municipal code also limits options for placing candidates for disability retirement in less strenuous jobs. The inclusion of current and former police and fire workers on San Jose's board leaves too much room for biased decisions, Reed said.
Payments Doubled
San Jose's disability benefit payments to police and fire retirees doubled to $51.2 million in fiscal 2010 from $27.7 million in fiscal 2001, compared with $60.9 million the city paid in the same period to police and fire workers who retired without a disability, according to Erickson's report.
"The system is definitely broken," Reed said. "The system definitely gives people incentives to apply, makes it easy to apply and makes it acceptable to apply for disability retirements, even if you're not disabled."
The retirement board approved all 102 applications submitted by police and fire workers from 2006 to 2009, according to Erickson's report.
"Given the length of time it takes to have an application heard and finalized, many members with marginal claims probably choose not to go through the process," Harvey Leiderman, a partner at the law firm Reed Smith LLP in San Francisco acting as spokesman for the police and fire pension plan, said in an e-mailed response to questions. "That could leave a higher proportion of applicants who truly merit a disability grant."
Five independent members of the public serve on the board, "so it's not some rubber stamp," Unland said. Because of the requirement of consultation with a doctor, he said, "by the time it gets to the retirement board and approval, I would hope the vast majority are getting approved."
94% Approved
The police and fire retirement board approved 94 percent of applications for a disability retirement in the decade ending 2010, compared with 72 percent for the retirement board representing other city employees.
In February 2011, 67 percent of fire retirees and 41 percent of police retirees were receiving disability retirement payments, compared with 6 percent of other city workers, according to Erickson's audit.
"It has been used on many occasions to give people a little something because they're friends or buddies with people making the decision," Reed said.
Back Injury
Richmond, the former San Jose police officer, was granted a disability retirement in 2001 at the age of 42, based on injuries to his neck, back and knees, according to retirement board meeting minutes obtained through a California Public Records Act request. He had 15 years of service. The police department couldn't provide long-term modified duty for him, according to the board's minutes.
Today Richmond, 53, is a sergeant in the Santa Clara County Sheriff's Office. He earned $132,579 last year, according to salary data obtained through a public records request. He collects annual disability retirement benefits of about $54,300 from San Jose, city records show. San Jose is in Santa Clara County.
Richmond's responsibilities include detaining and interviewing suspects and investigating cases where criminal action is involved, according to a job description.
In a telephone interview, Richmond said he was injured in a car crash on the job and he wasn't well enough to return to work. He was given the choice of taking a disability retirement or leaving the force with the opportunity to return to the position if he healed, he said.
'Only Option'
"My only option because of my family and everything else, was to retire, so I did," said Richmond, a Los Gatos resident.
A medical procedure to his neck helped him recover and a few months after retiring, he asked for his job back. He was told that if he was no longer injured and didn't get rehired, the retirement board could take away his pension, Richmond said.
"I could have actually come out a double loser," he said. "I don't get the job and they take my retirement. That was not an option at that point, so I had to start looking for other employment."
"The fact that I draw retirement, I don't know, what is my pain worth?" Richmond said. "I wanted to go back to work. I never did not want to work. Ever."
The disability retirement isn't enough to live on, he said. Richmond said he didn't think he should forfeit his retirement pay from San Jose.
Knee Replacements
Skalland, 65, the former deputy police chief who worked for the city for 27 years, took disability retirement in 1997 at age 50, citing injuries that have required multiple operations, including replacement of both knees. The benefit allows Skalland to collect a portion of his roughly $121,000 annual pension tax-free.
He retired with a pension of about 61 percent of his pay, three years short of the 30 years needed to collect a benefit of 70 percent.
"I couldn't even get in and out of the patrol car with all the equipment," Skalland said.
Skalland went on to work as a general manager at Shasta Area Safety Communications Agency, police and fire department dispatchers in Redding, California, where he earned $79,500 annually before resigning in August 2005, according to data obtained through a Public Records Act request.
"When you have a disability retirement, you can't do a job similar than you got disability from," Skalland, who lives in Montgomery Creek, said in a telephone interview.
Desk Job
Skalland said he had checked with San Jose's Retirement Services Department and was told that while he couldn't do police work, he could take a desk job.
While his post as San Jose's deputy police chief wasn't physically strenuous, "they still had requirements that you had to be able to, in an emergency situation, go out on patrol," Skalland said.
"I was definitely injured and hurt on the job over 27 years and I struggled through that," Skalland said. "I played within the rules that were existing at the time."
Retired police and fire workers must report outside earnings until 20 years have elapsed since they entered the retirement plan. Their benefits may be reduced if their earnings exceed a certain threshold, according to Erickson's report. About two dozen disability retirees reported outside income in 2011, city records show.
Limited Alternatives
Police retirees say they are disabled when a physical condition prevents them from fulfilling the rigorous requirements of the job.
San Jose and its retirement boards are limited in their ability to place disabled workers in alternate positions, according to Erickson's report. The city's charter calls for providing a lifetime disability retirement if it can't offer a disabled employee a position within his or her job classification.
Police and fire unions are challenging the legality of Measure B in state court, and the city has asked a federal court to clarify legal issues to allow it to begin implementing the new rules, Vossbrink said. Both sides agreed that the measure won't be imposed until the courts act.
At a May 2011 retirement board hearing, former motorcycle officer Steven D. Barnes, then 56, requested a change in status from a regular retirement to a service-connected disability retirement, according to board minutes. He had retired in January 2009, four months after he fell from his motorcycle, injuring his back and his right hip, and stopped working.
Constant Pain
Barnes, who'd been on the force for 26 years, was in constant pain and limping months before the motorcycle accident, said his supervisor, Captain Jeff Smith, testifying on behalf of Barnes.
"Steve wanted to continue to be out riding," Smith said. "And towards the end it seemed like he was having difficulty even getting on the bike, putting his right leg over the bike."
A board member, Vincent Sunzeri, asked Barnes if he still owned a motorcycle and continued to ride it since retiring.
"Yes, I've had a motorcycle quite a long time," Barnes said at the hearing. "I can only ride for a short period of time. So it's not a lot of fun anymore."
His disability application was approved. He collected a pension of about $101,400 as of February, according to city data.
Barnes didn't respond to requests for comment relayed to him through the acting benefits manager with the city's Retirement Services Department. His lawyer, James Jeffers, didn't respond to messages seeking comment from his client.
Work-Related
An employee who can't fulfill job qualifications because of a work-related injury is entitled to a service-connected disability, said Leiderman, the San Francisco lawyer who's also fiduciary and general counsel to the Board of Administration of the Police and Fire Department Retirement Plan.
"You may still be able to ride a motorcycle, but if you can no longer chase down a suspect and climb up and over a chain-link fence, you are disabled as far as your department is concerned, and they are not going to want you back," Leiderman said.
Patrick E. Boyd, 63, a retired San Jose police sergeant with 28 years of service, went before the retirement board in June to seek a service-connected disability retirement based on shoulder and knee incapacity and prostate cancer that he attributed to exposure to diesel fuel and hydrocarbons on the job. He worked full-time until the day he retired, said his attorney, Jeffers.
Under California law, cancer in public-safety workers who can show they were exposed to cancer-causing agents is presumed to be linked to the performance of their duties.
Hard Worker
Some board members spoke on Boyd's behalf, saying they had known him for years and describing him as a hard worker. When the prostate-cancer assertion came under debate, the attorney said he'd withdraw that part of the claim. It was then approved. Boyd retired in January 2009 at age 59 and receives an annual pension of about $107,000 as of February, according to the city's records.
"I've been shot and stabbed and hit by cars and fallen off buildings," Boyd, a Gilroy resident, said in a telephone interview. "I stayed at work way longer than I should have."
The tax advantage of the disability retirement "is to make up for the pain and agony you're in," Boyd said. "You can't go out and work another job, especially in your chosen field."
Before it's here, it's on the Bloomberg Terminal.
LEARN MORE