Parties Raise Record Cash After 'Soft Money' Ban: BGOV Barometer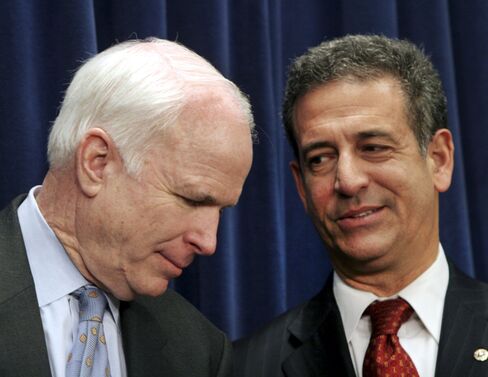 A decade after Congress barred the political parties from taking corporate, union and unlimited individual donations, the Republican and Democratic parties are raising more money than ever.
The BGOV Barometer shows the Democratic and Republican national committees raised $467 million from Jan. 1, 2011, through July 31, 2012, compared with $339 million during the same 19-month period four years earlier.
During the 2008 presidential election, the parties raised $688 million, more than the $640 million they brought in during the same period in 2000, when the parties could raise what was known as "soft money," unlimited contributions from corporations, unions and individuals.
"The parties seem to be doing fine," said Meredith McGehee, policy director for the Campaign Legal Center, a Washington-based advocacy group that supports stronger campaign-finance laws. "They couldn't rely on the soft money. It changed the incentives. The parties didn't disappear; they had to rejigger their fundraising and that was a healthy development."
The ban on soft money, the centerpiece of the 2002 campaign-finance law crafted by Senators John McCain of Arizona and Russell Feingold of Wisconsin, forced the parties to look elsewhere for money. So they did.
Changed Tactics
McCain-Feingold increased the amounts that contributors could give to the parties and indexed them for inflation to the point where an individual can give $30,800 this year. In addition, the parties went after small-dollar donors and cultivated bundlers, those who can tap their own networks of friends and associates to raise money for the party.
In 2000, the Democratic and Republican national committees raised less than a fourth of their money in donations of $200 or less. Eight years later, they brought in about one-third.
"The parties have been able to expand their base and have a much larger cadre of people willing to write checks," said Al Hoffman Jr., a Florida real estate developer who had stints as finance chairman of the Republican National Committee both before and after McCain-Feingold. "It's totally different now. You can raise more money because you build a big base of donors and committed workers who are willing to bundle. It takes more work, but your ability to raise money is testament to the efficacy of your cause and your values."
Internet Donors
On the Democratic side, party chairman and fundraiser-extraordinaire Terry McAuliffe, whose 2000 Salute to Bill Clinton brought in a record $26.5 million, built up his party's small-donor base.
"The Internet and small donor was brought to the table with the top-tier donors," said Democratic National Committeeman Robert Zimmerman. "That reflects the strong grassroots support the Democratic Party has."
As for the soft money, it initially migrated to groups such as Swift Boat Veterans for Truth and America Coming Together that were incorporated under Section 527 of the tax code. The Federal Election Commission later fined such groups more than $3 million, saying they were really political action committees and therefore took in donations larger than the $5,000 per year allowed under federal law.
Following the Supreme Court's ruling in Citizens United v. Federal Election Commission, which removed limits on independent corporate and union spending, the FEC created what are known as super political action committees, which can take in unlimited corporate, union and individual donations like the political parties could do a decade earlier.
Parking Cash
The two-year-old Citizens United decision also led to an increase in political spending by nonprofits incorporated under Section 501(c)(4) of the tax code such as Crossroads GPS and Priorities USA, which keep their donors hidden.
As he led the opposition to McCain-Feingold and then later tried unsuccessfully to overturn the legislation in court, Senate Republican leader Mitch McConnell of Kentucky argued that soft money donors would find somewhere else to park their political cash.
"He was very prescient with super-PACs now raising what we would have called soft money a dozen years ago," said Craig Engle, founder of Arent Fox LLP's political law group and a former McConnell aide.
Before it's here, it's on the Bloomberg Terminal.
LEARN MORE