Europe Services Shrink More Than Estimated as ECB Meets: Economy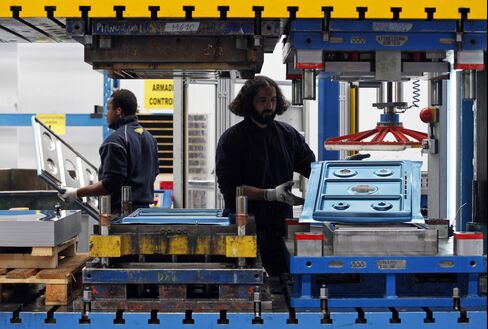 Euro-area services shrank more than initially estimated in August, adding to signs the 17-nation economy has slipped into a recession.
A gauge based on a survey of purchasing managers fell to 47.2 from 47.9 in July, London-based Markit Economics said today. That's below an initial estimate of 47.5 published on Aug. 23. A composite index of both services and manufacturing fell to 46.3 from 46.5, also below an initial estimate.
Europe's economy probably entered its first recession in three years in the second quarter as governments cut spending to plug budget gaps and global growth cooled. The latest signs of weakness come a day before the European Central Bank's Governing Council meets in Frankfurt, when it may cut interest rates and is expected to announce details of a bond-purchase program aimed at stemming the region's debt turmoil.
"The weakness in activity is likely to be one of the main reasons of concern for the ECB Governing Council," said Annalisa Piazza, an analyst at Newedge Group in London. "Domestic demand has started to ease also in the core euro countries, as spillover effects from the debt crisis emerged."
In Germany, a gauge of services fell to 48.3 in August from 50.3 in July, while a measure in France declined to 49.2 from 50, according to national reports today.
Separately, euro-area retail sales fell 0.2 percent in July from the previous month, the European Union's statistics office in Luxembourg said.
Draghi Action
The euro traded at $1.2547 as of 11:23 a.m. in London, down 0.2 percent on the day. It has gained 3 percent in the past month, after ECB President Mario Draghi said the central bank may intervene in the bond market to lower borrowing costs for some nations.
Investors are looking for Draghi to unveil details of the plan tomorrow. The ECB, which will publish new economic and inflation forecasts, will also lower its benchmark rate to 0.5 percent from 0.75 percent, according to the median estimate of 58 economists in a Bloomberg survey. In June, the central bank forecast that the economy will shrink 0.1 percent this year before expanding 1 percent in 2013.
"We expect the ongoing deterioration in the growth outlook to be reflected in a downward revision to the ECB staff forecasts," Janet Henry, chief European economist at HSBC Holdings Plc in London, said in an e-mailed note. She also forecasts a cut in the benchmark rate, "although we admit it is a close call."
U.K. Services
The Bank of England is also due to announce its latest policy decision tomorrow. It will keep its bond-purchase target at 375 billion pounds ($596 billion), according to all but one of 39 economists in a survey. A report yesterday showed U.K. services growth accelerated more than economists forecast in August, with a gauge rising to 53.7, the highest in five months, from 51 in July.
Also in the U.K., the British Retail Consortium said today that shop-price inflation accelerated to 1.1 percent in August from 1 percent in July. It also warned that droughts that have affected food harvests may put upward pressure on food costs.
The Polish central bank's Monetary Policy Council will probably keep interest rates unchanged at its monthly meeting that ends today, according to 24 out of 25 economists in a survey. The panel will announce its decision in early afternoon, followed by a news conference.
Australian Cooling
Elsewhere today, Australian economic growth slowed last quarter on weaker housing and rising imports, sending the local currency lower as traders bet the central bank will resume interest-rate cuts to prolong a 21-year expansion.
Gross domestic product rose 0.6 percent from the previous three months, when it increased 1.4 percent. Government spending rose 1.6 percent and household consumption advanced 0.6 percent. Justin Fabo, senior economist at Australia & New Zealand Banking Group Ltd., said the data "will not change the fact that the RBA has a bias to ease monetary policy further."
The central bank yesterday held its benchmark interest rate at 3.5 percent for a third straight meeting, citing "quite firm" consumption in the first half, commodity prices that have fallen "sharply" in recent months and a more uncertain outlook for China's growth.
Before it's here, it's on the Bloomberg Terminal.
LEARN MORE