Democratic Delegates Fired Up About 'Legitimate Rape' Comment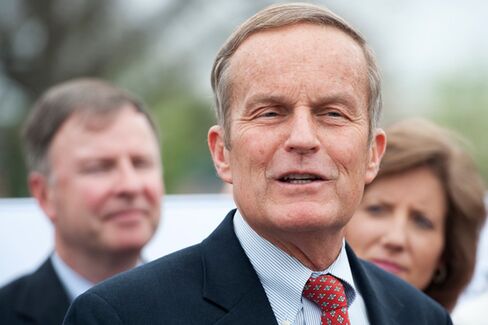 Though it's been almost two weeks since Republican Congressman Todd Akin said that women don't get pregnant in cases of "legitimate rape," delegates here in Charlotte for the Democratic National Convention haven't forgotten about it. If the convention chatter is any indicator, Democratic activists see the comment as a weapon to use not just against the Missouri Senate candidate, but against Republicans around the country.
As Businessweek's Sheelah Kolhatkar reported last week, Karl Rove was none too pleased with Akin's musings, saying the possibility of losing the seat was the biggest threat to Republicans' efforts to gain control of the Senate. "We should sink Todd Akin," Rove told a small cadre of donors at the Republican convention. "If he's found mysteriously murdered, don't look for my whereabouts!" Akin, who apologized for his remarks, in turn has accepted an apology from Rove.
In Charlotte, delegates say Akin's remarks will echo beyond one Senate race to the broader election. At a meeting of the Hispanic Caucus on Monday, delegate Jackie Burke spoke about turning out Latino voters in Florida. She said she initially was organizing because of immigration issues, but after the "'legitimate rape' comment," women's rights concerns have her fired up, too. The crowd cheered.
Waiting in line for a cold drink at the (refreshingly air-conditioned) Google lounge, Mike Golojuch, a delegate from Hawaii, said that women's issues will be important for Democrats, "especially after the things said last week." He saw Akin as speaking for more than just his own position, but for the Republican Party as a whole.
Democratic Party leaders are also keeping the issue front and center. House Minority Leader Nancy Pelosi told reporters that the Republicans' attempts to distance themselves from Akin were disingenuous and symbolic of what she saw as the GOP's efforts to distort their own record.
All this Akin bashing, and the convention hasn't even officially gotten started. No doubt you'll hear plenty more of it in the days ahead.
Before it's here, it's on the Bloomberg Terminal.
LEARN MORE