Vehicle Sales Seen Buoyed in U.S. as Bonus Incentives Grow: Cars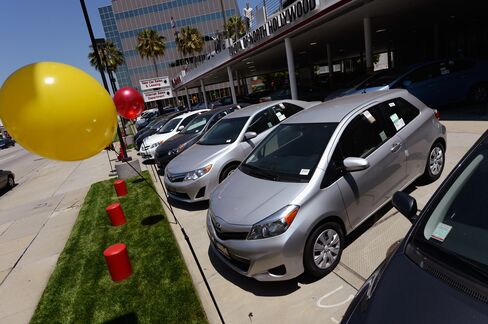 Car shoppers have long known that they can often buy at lower prices at the end of the month as dealers slash prices to meet sales quotas. Their chances for such deals have been especially strong as 2012 wears on.
Honda Motor Co., General Motors Co. and Toyota Motor Corp. are all using so-called stair-step programs to give rewards to dealers whose sales reach thresholds set by the companies. Programs such as Honda's, which started in March to boost Accord deliveries, sweeten incentives for dealers by as much as $1,000 per sale and extend bonuses retroactively for cars sold in previous months, too.
The temptation to win those bonuses can lead to steep discounts or generous trade-ins, often enticing dealers to lose money selling a car so long as they are able to make more from the automaker's program. It can be a costly way for automakers to do business and threatens to depress profits. Still, these programs achieve their goal: moving cars and making way for new inventory in dealership showrooms.
"When you're toward the end of the month, all dealers fight to hit their number," said Brian Hamilton, who owns stores selling GM, Chrysler Group LLC and Fuji Heavy Industries Ltd.'s Subaru brands in Nebraska. "If you've got 15 or 20 to go, some dealers just give up and don't participate, but some do some crazy things to make their number."
Extra efforts to meet monthly dealership goals probably helped U.S. light-vehicle sales rise 18 percent this month to 1.27 million, the average estimate of nine analysts surveyed by Bloomberg. Industrywide deliveries this year through July climbed 14 percent to 8.43 million, according to Autodata Corp. in Woodcliff Lake, New Jersey.
Pace Accelerating
The seasonally adjusted annualized rate of light-vehicle sales may accelerate to 14.2 million, the average estimate of 15 analysts, from 14.1 million in July and 12.5 million a year earlier. The average estimate of 35 economists in a separate Bloomberg News survey was for a 14.2 million pace. Economist estimates ranged from 13.9 million to 14.7 million.
Some dealers, including Mike Jackson, chief executive officer of AutoNation Inc., the largest U.S. auto-dealership group, are pushing back against the spreading use of stair-step incentives. The practice hurts them by alienating buyers who don't get the end-of-month deal. It also crimps new-car sales margins and reduces the value of used cars, he said.
Using stair-steps amounts to "a game of three-card monte" with customers because the incentives are hidden from consumers, Jackson said in an Aug. 20 interview. "At a certain point, it can make sense to pay the consumer to take the car," he said.
Wiggle Room
Sales managers have had hundreds of dollars of wiggle room in negotiating sales of Accord sedans at Hagerstown Honda in Maryland. Honda completes a stair-step program this month that began in March, which set Accord sales quotas for dealers and rewards them with bonuses that could reach as much as $1,000 per Accord sold for hitting all of their targets.
"It's helped the consumer get a little bit better deal," said Paul Ritchie, owner of the Honda dealership about 70 miles northwest of Baltimore. "When the customer needs another couple hundred dollars for their trade, we've got something to work with. It just makes deals possible."
Honda's six-month Accord program helped the Tokyo-based automaker with at least two objectives: winding down inventory of the 2012 model to clear way for the redesigned 2013 Accord, and kick-starting a recovery in the U.S. from inventory shortages and corresponding market-share losses caused by Japan's March 2011 tsunami.
Honda's View
Sage Marie, a spokesman for Honda's U.S. unit, declined to comment on the company's dealer incentive efforts. Honda's goal is to maintain residual values by avoiding customer cash rebates and direct sales to fleet customers, he said.
Honda probably will lead automakers in the U.S. with a 59 percent increase in deliveries for August, the average estimate of seven analysts surveyed by Bloomberg.
Toyota, which also has turned to stair-step programs to help rebound from sales lost to last year's disaster in Japan, may report a 40 percent gain, the average of seven estimates.
"Everybody has their reason" for introducing stair-step incentives, said Jackson, 63, who is based in Fort Lauderdale, Florida. "The Japanese will tell you that with what they went through with the tsunami and the disruption to production and the lost share that this is what we have to do now to get back in the game, but we won't do it forever."
Toyota, Chrysler
U.S. market share for Toyota City, Japan-based Toyota rose 1.6 percentage points through July to 14.4 percent and 0.4 percentage points for Honda to 9.7 percent, according to researcher Autodata.
"It's a carrot that the manufacturers hold out and we all run for it," said Hamilton, the Nebraska dealer.
Chrysler has used a three-tier program that awards bonuses to dealers for achieving sales in three given sales ranges, said Hamilton, who was named to a task force set up by the National Automobile Dealers Association in June to improve stair-step programs or do away with using them. GM's programs have been tied to customer-satisfaction data and other metrics in addition to sales, Hamilton said in a telephone interview.
Chrysler, based in Auburn Hills, Michigan, may lead U.S. automakers with a 9.9 percent gain in August sales, the average estimate of 10 analysts. Detroit-based GM's deliveries probably will rise 3 percent, according to 10 analysts.
Admirable Ford
Ford Motor Co. is "to be admired" for holding the line against stair-step incentives in recent years, AutoNation's Jackson said. The Dearborn, Michigan-based automaker may report an 8.5 percent increase in sales for August, the average of 10 analysts' estimates.
"Manufacturers believe that stair-steps work or they wouldn't do them, but they also know that they don't work as well as they may appear," Don Chalmers, a Ford and Lincoln dealer in Rio Rancho, New Mexico, said in a telephone interview. "When they end a program, there's always payback. The week or two after a program ends, the sales slow down significantly."
Stair-steps aren't the only short-term sales tactic that automakers have used this year that has drawn criticism from their dealers. Nissan Motor Co. in March asked dealers to boost vehicle purchases from the manufacturer to use in rental-service fleets in March.
The initiative helped Nissan notch 136,317 deliveries that month, the last of the company's fiscal year. The automaker hasn't exceeded 100,000 sales in any month since.
This month Nissan may reach that threshold again with a 12 percent increase from a year earlier, the average of seven analysts' estimates.
Korean Automakers
South Korea's Hyundai Motor Co. and Kia Motors Corp. may combine to sell 19 percent more vehicles in August than a year earlier, the average of five analysts' estimates. The latter of the two affiliates occasionally uses stair-step programs, said Ritchie, who owns a Kia dealership next door to his Honda store.
"I don't like stair-steps but I don't know any way to get around them," he said. "It's just part of marketing right now, part of the industry these days."
Volkswagen AG, which has used such incentives to help reach its target of more than 500,000 vehicle sales in the U.S. this year, may have increased combined deliveries of its Volkswagen and Audi brands by 46 percent in August, the average of four analysts' estimates.
"It used to be a few manufacturers that favored these programs, but now it's pretty much across the board," Jesse Toprak, an analyst at TrueCar.com and former finance and sales manager at several dealerships in the Midwest, said in a telephone interview. "When a consumer asks 'When's the best time to buy?' sometimes the old rumor that it's the last day of the month is kind of true."
The following table shows estimates for car and light-truck sales in the U.S. Estimates for companies are a percentage change from August 2011. Forecasts for the seasonally adjusted annualized rate, or SAAR, are in millions of light vehicles.
August had 27 selling days, one more than the year-earlier period.
GM     Ford   Chrysler   SAAR



Rod Lache                    1.0%    3.4%      16%     14.0
(Deutsche Bank)
Peter Nesvold                0.7%    9.7%     8.9%     14.3
(Jefferies)
Patrick Archambault          1.2%    7.8%     4.0%     13.9
(Goldman Sachs)
Joseph Spak                  2.4%    8.0%     9.0%     14.3
(RBC)
Brian Johnson                5.5%    7.0%     8.2%     14.2
(Barclays)
Chris Ceraso                 3.9%    8.7%     6.1%     14.3
(Credit Suisse)
Ryan Brinkman                 NA      NA       NA      14.0
(JPMorgan)
Adam Jonas                    NA      NA       NA      14.2
(Morgan Stanley)
John Sousanis                1.6%     11%      16%     14.4
(Ward's)
George Magliano               NA      NA       NA      14.1
(IHS Automotive)
Jeff Schuster                 NA      NA       NA      14.5
(LMC Automotive)
Alan Baum                     NA      NA       NA      14.3
(Baum & Associates)
Jessica Caldwell             6.4%    9.8%      12%     14.5
(Edmunds.com)
Jesse Toprak                 3.9%    9.5%      9.6%    14.2
(TrueCar.com)
Alec Gutierrez               3.4%    9.6%      9.6%    14.4
(Kelley Blue Book)

Average                      3.0%    8.5%      9.9%    14.2

     The following table shows selling-day adjusted estimates
for company car and light-truck sales as a percentage change
from August 2011.



GM     Ford   Chrysler



Rod Lache                   -2.7%    1.1%     12%
(Deutsche Bank)
Peter Nesvold               -3.0%    5.7%     4.8%
(Jefferies)
Patrick Archambault         -2.6%    3.8%     NA
(Goldman Sachs)
Joseph Spak                  -1%     4%       5%
(RBC)
Brian Johnson                1.6%    3.0%     4.2%
(Barclays)
Chris Ceraso                  8%     13%      13%
(Credit Suisse)

Average                      0.1%    5.1%     6.9%