S&P 500 Caps Longest Monthly Gain Since March on Bernanke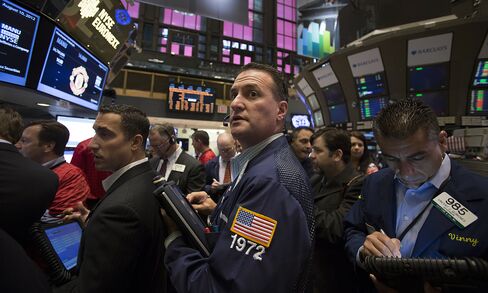 The Standard & Poor's 500 Index rose, capping its longest monthly rally since March, as Federal Reserve Chairman Ben S. Bernanke said he wouldn't rule out steps to lower a jobless rate he described as a "grave concern."
Gold producers had the biggest gains in the S&P 500 amid stimulus bets. Newmont Mining Corp., the largest U.S. gold producer, added 4.4 percent as the metal posted the biggest monthly advance since January. US Airways Group Inc. rallied 2.5 percent as it signed a pact with bankrupt American Airlines to evaluate a potential merger. Facebook Inc. fell 5.4 percent to a record low on concern that businesses are spending less to advertise on the world's largest social-networking website.
The S&P 500 increased 0.5 percent to 1,406.58 at 4 p.m. in New York, capping its third straight monthly gain. The benchmark measure for U.S. equities climbed 2 percent in August. The Dow Jones Industrial Average added 90.13 points, or 0.7 percent, to 13,090.84. Volume for exchange-listed stocks in the U.S. was 5.3 billion shares, or 13 percent below the three-month average.
"It's the strongest language on unemployment I remember Bernanke using," said Bruce McCain, who helps oversee more than $20 billion as chief investment strategist at the private-banking unit of KeyCorp in Cleveland. "That makes the next jobs report even more critical. If it deviates significantly from muddling along, they may well be forced to act."
Bernanke's speech at an annual forum in Jackson Hole, Wyoming, comes two weeks before he leads a meeting of the Federal Open Market Committee to decide whether an expansion of the Fed's record stimulus is needed to spur growth. Two rounds of large-scale asset purchases have failed to reduce the jobless rate below 8 percent more than three years into the recovery.
No Improvement
"We have seen no net improvement in the unemployment rate since January," Bernanke told the audience, according to a text of his remarks released in Washington. "Unless the economy begins to grow more quickly than it has recently, the unemployment rate is likely to remain far above levels consistent with maximum employment for some time."
Since the August FOMC meeting, data on housing, manufacturing and retail sales have exceeded expectations. Yet data today showed that business activity in the U.S. expanded at a slower pace in August, indicating companies may hold the line on production until sales pick up.
Bets on further policy actions have driven the S&P 500 near a four-year high in August. Trading slowed during the month, with volume for exchange-listed stocks in the U.S. below 4.5 billion shares for three sessions this week, the lowest levels excluding days surrounding holidays in Bloomberg data going back to 2008.
Biggest Gains
Nine of 10 groups in the S&P 500 rallied today as commodity, technology and financial shares had the biggest gains. The Morgan Stanley Cyclical Index of companies most-tied to the pace of economic growth increased 0.9 percent.
Gold producers helped send a measure of raw-material shares in the S&P 500 up 1.1 percent. Newmont Mining added 4.4 percent to $50.68. Freeport-McMoRan Copper & Gold Inc., the biggest publicly traded copper producer, gained 4.1 percent to $36.11. Gold climbed 4.5 percent in August on speculation that the Fed would signal further stimulus measures, lifting demand for the metal as an inflation hedge.
US Airways increased 2.5 percent to $10.66. The airlines will work "in close collaboration" with American Airlines' unsecured creditors committee in the process, the carriers said in a statement today.
Split Plans
SAIC Inc. jumped 3.4 percent to $12.21. The government technology contractor said it planned to split into two publicly traded companies. After the split, one company will focus on technical services and consulting. The other will provide technology for cybersecurity, data analysis and weapons programs.
Corning Inc., the world's largest maker of glass for flat-panel televisions, climbed 3.2 percent to $11.99. The company was raised to outperform from market perform at Oppenheimer by equity analyst Andrew Uerkwitz. The 18-month share-price estimate is $16.
Navistar International Corp. rose 2.4 percent to $21.98 after the U.S. Environmental Protection Agency set fines that allow the company to keep selling truck engines that don't meet pollution standards.
Splunk Inc. climbed 13 percent to $34.40. The maker of software that helps businesses analyze Web data reported a narrower fiscal second-quarter loss than analysts estimated and raised its full-year sales forecast.
Facebook Slumps
Facebook dropped 5.4 percent to $18.06. The company may post $5.04 billion in sales this year, EMarketer Inc. estimated, down from the market researcher's earlier projection for $6.1 billion as the biggest social network struggles to sustain advertising growth.
"Checks on near-term paid media spending remain challenged," Daniel Salmon, an analyst at BMO Capital Markets Corp. in New York, said in a research report today. He has the equivalent of a sell rating on the stock and cut his price estimate on Facebook's shares to $15 from $25.
Zumiez Inc. slid 9.4 percent to $29.19. The teen retailer specializing in skateboarding and other sports apparel projected third-quarter earnings that trailed analysts' estimates.
The August rally in stocks confounded bears who predicted the S&P 500 would repeat last year's summer slump. The index tracked its 2011 performance in the first seven months of the year. The relationship broke down at the end of July as European Central Bank President Mario Draghi pledged to do whatever it takes to preserve the euro and speculation grew that the Fed will stimulate the economy.
'Risk-Off Phase'
Albert Edwards, a London-based strategist at Societe Generale SA, said in a July 25 report that asked "is the S&P replaying 2011?" that the U.S. economy looks to have returned to recession. The same day, Bob Janjuah, global head of tactical asset allocation at Nomura Holdings Inc., predicted a "major risk-off phase" in the coming four months with global stocks falling by as much as 20 percent to 25 percent.
"If it hadn't been for Draghi's 'We will do everything' remark, the S&P 500 would've followed the 2011 script," said Manish Singh, the London-based head of investment at Crossbridge Capital, which has more than $2 billion under management. "The ECB has played the main role in making this year different."
The S&P 500 sank 5.7 percent in August 2011, and a further 7.2 percent the following month, data compiled by Bloomberg show.
"We expected returns to be quite decent in August and still do going forward," said Daniel McCormack, a strategist at Macquarie Securities Ltd. in London. "If you look at the background coming into the month, valuations were extreme and when that is the case you don't need much in the way of good news to get markets moving."
Before it's here, it's on the Bloomberg Terminal.
LEARN MORE