Romney Accepts Nomination Vowing to Renew 'Lost Hope'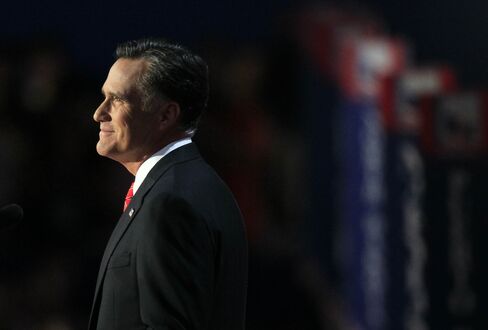 Mitt Romney accepted the Republican presidential nomination and reached out to disaffected supporters of President Barack Obama, framing the election as a choice between two visions of the role of government.
Romney sought to identify with the dreams and disappointments of U.S. voters amid high unemployment, presenting himself as a unifying figure with the expertise to create jobs and heal partisan rifts. He tailored part of his speech to win the votes of women with stories of how his mother and wife had shaped his life, saying their struggles were often harder than those faced by men and that he would be a president who "understands what they do."
Speaking to the Republican National Convention in Tampa, Florida, Romney -- who has battled perceptions of being aloof and out-of-touch -- used personal details, including an allusion to his Mormon faith, to offer himself as an acceptable alternative to Obama.
"'Hope and change' had a powerful appeal," Romney, the 65-year-old former Massachusetts governor, said, invoking Obama's 2008 campaign slogan. "But tonight I'd ask a simple question: If you felt that excitement when you voted for Barack Obama, shouldn't you feel that way now that he's President Obama?"
'Something Wrong'
"You know there's something wrong with the kind of job he's done as president when the best feeling you had was the day you voted for him," he added.
Romney is leaving Tampa today for Louisiana to view damage caused by Hurricane Isaac and to meet with the state's governor, Republican Bobby Jindal, as well as emergency workers. The White House hasn't announced any plan for Obama to go to the region.
Tobe Berkovitz, a professor of communication at Boston University, said Romney's acceptance speech "was as good as you can get from Romney. Solid and thematic. Several winner lines attacking Obama, none of which came across as mean."
Steve Hess, a senior fellow at the Washington-based Brookings Institution, said it was "exactly the wrong speech. It was a 'who am I,' when what the electorate needed from him was a 'what I will do,'" address.
Opposite Approaches
It also was a departure from Romney's prior campaign strategy, which was to frame the election as a referendum on the incumbent's record. Instead, he is setting up a choice between opposite approaches. That's a calculated risk for Romney as he begins the final two-month sprint toward Election Day on Nov. 6.
At its heart is a bet that voters' economic strain and dashed expectations of Obama's presidency will prompt them to embrace Romney's plan for scaling back the size of government and energizing the private sector through trillions of dollars in new tax cuts.
"I wish President Obama had succeeded because I want America to succeed," Romney said. "But his promises gave way to disappointment and division."
Romney has yet to fill in crucial details of his fiscal plans, an omission that has troubled some Republicans. He began to address that concern, saying voters are entitled to a clearer picture of his background and his proposals.
"To make that choice, you need to know more about me and about where I will lead our country," Romney said. "What is needed in our country today is not complicated or profound. It doesn't take a special government commission to tell us what America needs. What America needs is jobs -- lots of jobs."
Economic Troubles
Romney's approach opens him to criticism by Democrats, who argue his proposals will worsen the nation's economic troubles and conditions for the most vulnerable in society.
Jim Messina, Obama's campaign manager, said Romney's proposals "would take our country backwards," through tax cuts for the wealthy financed by the middle class, shifting Medicare to a "voucher program," and a "rollback of Wall Street reforms."
The speech marked a milestone for Romney, the former private equity executive who ran unsuccessfully in his party's primary in 2008 and battled through a crowded and divisive primary this year to claim the Republican nomination. Now Romney must capitalize on Republicans' animosity toward Obama and stoke the enthusiasm of a party that has been slow to warm to him -- all while reaching out to such undecided voters as women, Hispanics and young people in key states.
'Uniting'
He used the word "united" or "uniting" eight times during the 38-minute speech and spoke of his love for his family, choking up when he recalled the days when he and his wife, Ann, were raising five young boys.
With Romney and Obama in a tight contest as the Labor Day kickoff of the final stages of the campaign approaches, the president's re-election team challenged Romney's supporters who praised his candidacy on the final convention night.
The night featured a testimonial to Romney's executive prowess from Staples Inc. founder Tom Stemberg, whose company grew with the help of an investment from Romney's firm Bain Capital LLC. Obama's campaign asserted that Romney's focus at Bain "was creating wealth for investors, no matter the effect on the companies they acquired."
To answer Romney's promise in his speech to create 12 million jobs during his first term, Obama's aides pointed out that forecasters already estimate that many jobs will be created on the economy's current trajectory.
Romney also referred to his Mormon faith and the role of his church in his life, although he did not -- as aides suggested he would -- speak of serving as a bishop in Massachusetts.
Human Side
Still, Republican officials, pressing to show a human side to their nominee, arranged for three church members Romney helped during his tenure and a fellow lay leader to set the stage for his speech. While none of them said the word "Mormon," all described Romney as a compassionate man driven by deep faith.
"Mitt prayed with and counseled church members seeking spiritual direction, single mothers raising children, couples with marital problems, youth with addictions, immigrants separated from their families, and individuals whose heat had been shut off," said Grant Bennett, who served as Romney's assistant when he was a bishop in Belmont, Massachusetts, from 1981 until 1986.
Helping Family
Pam Finlayson recounted how Romney helped her family cope with the birth of a premature daughter, and then took time last year from planning his presidential campaign to offer condolences for her daughter's death at age 26.
"When the world looks at Mitt Romney, they see him as the founder of a successful business, the leader of the Olympics, or a governor," Finlayson said. "When I see Mitt, I know him to be a loving father, man of faith, and a caring and compassionate friend."
Romney received a warm reception and several standing ovations during the speech, including when he vowed to cut the deficit, balance the budget and repeal the 2010 health-care law. Still, some delegates said he must do more if he is to win in November.
"I was hoping he'd provide the excitement that will carry into November," said Joyce Cotten, a delegate from Pittsboro, North Carolina. "I see a lot of positives. Is it complete? No. He's not yet convinced a majority of the American people that he can, in fact, do it."
Still, Romney filled in biographical details some supporters said raised their comfort level and could appeal to those tuning in to the presidential race.
"It reassured me," Nicole Montna Van Vleck, managing partner of a Yuba City, California rice farm, said of the speech. "We needed the nation to know who Mitt Romney is, and he accomplished that."
Before it's here, it's on the Bloomberg Terminal.
LEARN MORE