Clint Eastwood's Surprise Speech Stirs Twitter Frenzy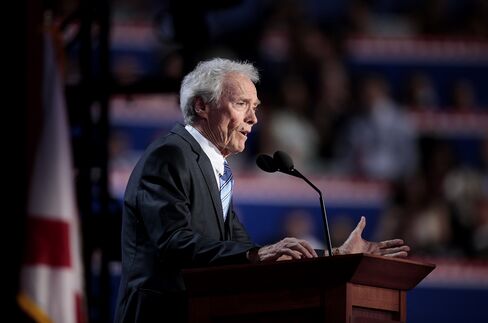 The surprise guest was indeed a surprise.
On the night Republican presidential nominee Mitt Romney had the chance to present a prime-time case for election, the first thing network television viewers saw as the stations tuned-in to the ongoing national convention at 10 p.m. was actor Clint Eastwood on stage engaged in a lengthy, rambling imaginary conversation with a foul-mouthed empty chair standing in for President Barack Obama.
"What do you want me to tell Romney?" the 82-year-old actor asked at one point.
"I can't tell him to do that," he continued, apparently in reference to a physically impossible sexual act, eliciting ripples of laughter from the delegates. "I can't tell him to do that to himself."
The opening skit was a departure from the usual tone of political conventions, which for decades now have been largely scripted events. It was immediately mocked on Twitter, with an @InvisibleChair account created within minutes and Mike Murphy, a Republican political consultant who is now a television writer in Hollywood, posting the message: "Note to file: Actors need a script."
"A great night for Mitt Romney just got sidetracked by Clint Eastwood," said former Republican Representative Joe Scarborough in a Twitter message. "Wow. That was bad."
Secret Speaker
The actor, whose role at the convention was kept secret until a few hours ahead of his appearance on the Tampa Bay Times Forum stage, mocked Obama on topics ranging from unemployment to Guantanamo and the war in Afghanistan. He ended by leading the delegates in a rendition of his most famous "Dirty Harry" movie quote: "Make my day."
He included a swipe at lawyers, forgetting that Romney is a Harvard Law School graduate. "Always weighing everything," he said. "They are always Devil's advocating this and bifurcating this and bifurcating that."
Delegates were spellbound by the comedy routine. When he declared, "We own this country," delegates gave him a standing ovation. When he said if a politician didn't get the job done voters should let him go, delegates chanted, "Let him go."
Before it's here, it's on the Bloomberg Terminal.
LEARN MORE