Abramovich Beats Berezovsky in Battle of the Oligarchs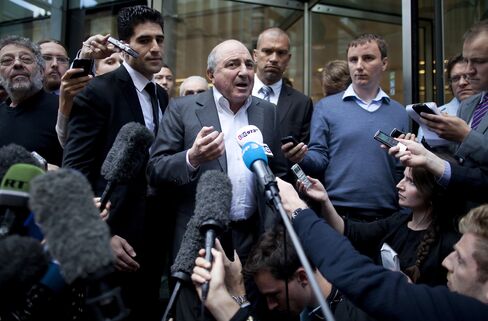 A U.K. judge rejected Boris Berezovsky's claim he lost about $6.8 billion because he was intimidated by Roman Abramovich into selling stakes in two Russian companies, calling Berezovsky unimpressive and unreliable.
Following a three-month trial in which both sides accused each other of dishonesty and greed, Judge Elizabeth Gloster ruled today that Abramovich didn't expressly or implicitly threaten Berezovsky to force him to sell interests in oil company OAO Sibneft.
"I found Mr. Berezovsky an unimpressive, and inherently unreliable, witness, who regarded truth as a transitory, flexible concept," Gloster said. "At times, the evidence which he gave was deliberately dishonest; sometimes he was clearly making his evidence up as he went along."
The trial exposed the business practices of a small group of extremely wealthy Russians who profited from the fall of the communism and privatization of many of the country's largest energy companies. Abramovich, the 45-year-old owner of London's Chelsea Football club, sold his stake in Sibneft in 2005 for about $10 billion to OAO Gazprom.
Berezovsky said after today's hearing that he was "amazed" by the ruling which, "tried to rewrite Russian history," and hadn't made up his mind whether to appeal.
Abramovich's honesty and integrity were attacked by Berezovsky and the "allegations had no merit," John Mann, his spokesman, said in an e-mailed statement.
Firmly Rejected
"We are pleased that the judge has firmly rejected all such allegations and has described Mr. Abramovich as a truthful and frank witness," according to the statement.
During the trial, which ended in January, lawyers for Berezovsky said their client received hundreds of millions of dollars from Abramovich before a final payment of $1.3 billion in 2002. Berezovsky claimed the money was for his share of Sibneft and aluminum assets which later became part of United Co. Rusal Plc. Abramovich denied the 66-year-old Berezovsky owned any stakes in the businesses and said he was paying for political protection, or krysha.
Gloster ruled the $1.3 billion was a "final lump sum payment in order to discharge what Mr. Abramovich regarded as his krysha obligations."
The disputed verbal agreements were made in a series of meetings at luxury hotels and ski resorts. The former friends and business partners split when Berezovsky, the co-founder of Logovaz News Corp. and former adviser to President Boris Yeltsin, fled Russia in 2000 as a result of a falling out with Vladimir Putin, now Russia's president.
Putin's Judgment
"Sometimes I think that Putin himself wrote that judgment," Berezovsky said of Gloster's decision.
Abramovich, who has an estimated net worth of $13.9 billion according to Bloomberg's Billionaires Index, made much of that fortune through the privatization of Sibneft after the fall of the Soviet Union.
On top of settling a personal feud between the two former business associates, Gloster's verdict is the first by a British court to give guidance on dealing with the large, undocumented influence payments by Russian businessmen.
The trial took hundreds hours of court time, cost millions of pounds in legal fees and included Rusal founder Oleg Deripaska as a witness.
Krysha Exists
Deripaska was pleased Gloster recognized the existence of krysha, according to an e-mailed statement from his spokesman, because it may help resolve a claim filed in the U.K. against him claiming a business partnership.
The ruling "illustrates why English choice of law and jurisdiction clauses remain a feature of international commerce," said John Reynolds, a litigator in London at White & Case LLP who is not involved in the lawsuit.
Berezovsky said following the decision that English courts, while less than fair, were "the best we have."
The case is: Berezovsky v. Abramovich, High Court of Justice, Queen's Bench Division, Commercial Court Case No. 09-1080.
Before it's here, it's on the Bloomberg Terminal.
LEARN MORE