Spain Considers Bankia Re-Capitalization Without EU Money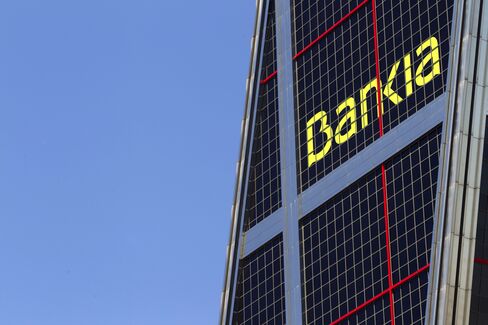 Spain is considering pumping its own money into Bankia group to re-capitalize the country's biggest nationalized lender rather than use the emergency portion of a 100 billion-euro ($125 billion) bailout from the European Union, two people with direct knowledge of the matter said.
This would allow Spain to put off forcing Bankia group's junior debt holders to bear part of the rescue cost, said the people, who asked not to be identified because the negotiations are private. European officials backed burden sharing in the talks because it would limit the need for public money, the people said.
"The EU is telling the Spanish government that if they don't produce this haircut, the money will have to put up by" Spain, said Alejandro Ruyra, an analyst at Kepler Capital Markets in Madrid, speaking on Bloomberg TV's The Pulse. "The question is, does the Spanish government have that much money?"
The EU agreed to set aside 30 billion euros of contingency cash as part of the July 24 rescue of Spain's lenders as they hemorrhage deposits, though the government said it hasn't yet officially requested the funds. Prime Minister Mariano Rajoy meanwhile said a decision on Spain's sovereign rescue is being delayed until it's clear what aid the country will receive under European Central Bank plans to help debt-ridden nations.
Biggest Mover
The cost of insuring junior notes of Bankia SA, the group's listed unit, rose more than any other European credit-default swaps on the news.
Contracts insuring 10 million euros of the lender's debt for five years cost 4 million euros in advance and 500,000 euros a year as of 1 p.m. in London. That's up from 3.5 million euros yesterday and implies a 68 percent chance of non-payment, according to CMA prices.
Credit-default swaps pay the buyer face value in exchange for the underlying securities or the cash equivalent should a borrower fail to adhere to its debt agreements.
Bankia SA jumped 5 euro cents, or 3.5 percent, to 1.39 euros, paring its decline this year to 61 percent and valuing the lender at 2.79 billion euros, according to data compiled by Bloomberg.
An official at Spain's Economy Ministry in Madrid denied any delay to the banking-sector bailout as a result of talks with the European Commission, the EU's executive arm. The initial payment hasn't been requested because it wasn't considered necessary, said the official, who asked not to be named in line with government policy.
Scheduled Payments
An official at the commission in Brussels, and Madrid-based officials at Bankia and the Bank of Spain, declined to comment.
An alternative to Spain using its own money to bolster Bankia group is to wait for the first scheduled payments under the financial-sector bailout due in November, borrowing more from the ECB in the meantime, according to the people. Spain's cash would only cover some of the 19 billion euros of capital the lender needs, so European money will still have to be used, one of the people said.
So-called burden-sharing for holders of Bankia group junior debt is controversial because a large portion of the notes, known as preferred shares, are owned by retail customers. The securities will still have to take losses at some stage because it's required by the terms of Spain's agreement with the EU.
Bankia group, which is reporting results after today's market close, was formed in 2010 from the merger of Spain's troubled savings banks. It has more than 3 billion euros of preferred shares, mostly issued by Caja Madrid in 2009, which last traded on Aug. 24 at 36.45 percent of face value, according to the Bolsas y Mercados Espanoles SA stock exchange.
Concern over the fourth largest euro-region economy's ability to fund the rescue of its banks and regional governments sent Spain's 10-year bond yield surging to a record 7.751 percent on July 25. The rate increased 11 basis points, or 0.11 percentage point, today to 6.70 percent.