Philippine Growth Beats Estimates as Spending Counters Risks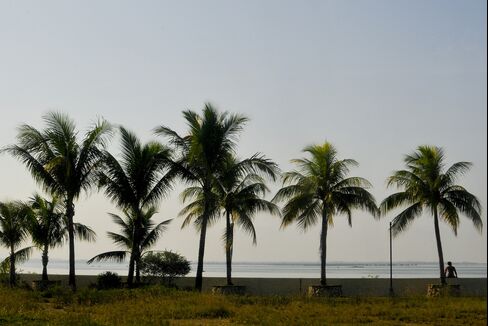 The Philippine economy grew more than economists estimated as higher public spending and consumption spurred the strongest six-month performance since the 2010 bounce-back from the global crisis. The peso gained.
Gross domestic product increased 5.9 percent in the three months through June from a year earlier, compared with a revised 6.3 percent gain in the previous quarter, the National Statistical Coordination Board said in Manila today. The median of 18 forecasts in a Bloomberg News survey was 5.5 percent.
President Benigno Aquino has increased spending and sought higher investment to develop local industries and reduce the nation's reliance on remittances, securing pledges from companies including Glencore International Plc and Gazasia Ltd. The economy also benefited from lower interest rates, as Bangko Sentral ng Pilipinas cut its benchmark to a record-low 3.75 percent this year to counter faltering global demand.
"The Philippines has definitely grown stronger," said Edward Teather, a Singapore-based economist at UBS AG. "With the economy appearing to have great momentum, we're looking at the central bank to hold rates for the rest of the year."
The monetary authority has "sufficient room" in its policy toolkit and will calibrate any further action to take into account the acceleration in government spending and weakness in global demand, Governor Amando Tetangco said in a mobile-phone text message after the report.
Peso Gained
The Philippine peso rose 0.1 percent to 42.295 against the dollar as of 10:42 a.m. in Manila, reversing earlier losses, according to Tullett Prebon Plc. It is the best performer among Asia's 11 most-traded currencies this year.
Emerging-market nations have stepped up efforts to shield their economies, with Brazil lowering its benchmark rate a ninth time yesterday. The People's Bank of China cut borrowing costs in June and July for the first time since 2008, and Thai central bank Governor Prasarn Trairatvorakul said yesterday there is room to ease monetary policy as the worst of the impact from Europe's crisis is yet to come.
The Philippines is ready to support growth and will continue to accelerate spending as the nation faces risks from a weaker global economy and a slowdown in China, Economic Planning Secretary Arsenio Balisacan said today, adding that leading indicators in the third quarter remain "respectable."
Aquino plans to increase state spending to a record this year as he aims to spur growth to as much as 7 percent in 2013 from a goal of 6 percent in 2012 to boost incomes. The economy expanded 6.1 percent in the first half, today's report showed.
Construction Climbed
The Philippine government awarded contracts to build about 9,300 classrooms this month as part of efforts to draw more than $16 billion of investment in infrastructure. Construction rose 10 percent in the second quarter from a year earlier and services expanded 7.6 percent, the report showed.
Aquino is also accelerating asset sales, with an aim of raising about 2 billion pesos ($47 million) each in 2012 and 2013 from privatization. Standard & Poor's raised the nation's credit rating to one step below investment grade in July, citing easing fiscal vulnerability as debt is reduced.
"The potential for an economic transformation in the Philippines is clearly visible," Aninda Mitra, a Singapore-based economist at Australia & New Zealand Banking Group Ltd., said before the report. "Domestic demand is holding up well, and it demonstrates that the economy is now less sensitive to global developments."
Aquino, who has pledged to rid the nation of corruption to boost investor confidence, appointed Maria Lourdes Sereno last week as the nation's first female chief justice after Renato Corona, the former top judge, was removed from office for concealing his wealth.
Remittances, which make up the equivalent of 10 percent of GDP, increased 4.2 percent to $1.81 billion in June, and the central bank forecasts an increase of 5 percent this year compared to 7.2 percent in 2011.
Before it's here, it's on the Bloomberg Terminal.
LEARN MORE