Isaac Drenches Louisiana, Moves North From Gulf Coast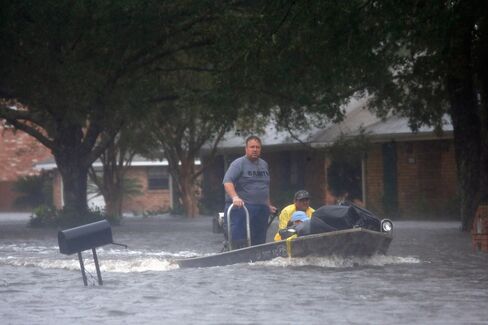 Heavy rain spread inland from the remnants of Hurricane Isaac, leaving behind flooding that forced thousands into shelters across southeast Louisiana.
As the slow-moving storm, downgraded to a tropical depression, moved away from New Orleans, utility crews began to restore power to more than 769,000 customers in Louisiana, Mississippi and Arkansas, Entergy Corp. said in a statement.
In New Orleans, where reinforced levees forestalled a recurrence of Hurricane Katrina's 2005 disaster, Mayor Mitchell J. Landrieu lifted a dusk-to-dawn curfew yesterday after cautioning residents during a press conference that "a lot of stuff can still happen." He announced that Southern Decadence, the city's largest gay event, and the Rutgers-Tulane football game at the Superdome, will go on as planned this weekend.
"Dodged a bullet this time," said Chris Pervatt, a waiter at a restaurant in the city's French Quarter. "It wasn't that big of a deal, just a heavy rain."
Isaac's center headed north into Arkansas and was expected to be near St. Louis, Missouri, by tomorrow afternoon, forecasters said. The storm's winds, near 80 miles per hour when Hurricane Isaac made landfall on Aug. 28, had fallen to about 35 mph late yesterday.
Officials ordered evacuations in Louisiana near the Tangipahoa River because of the potential for a dam break in Mississippi, Louisiana Governor Bobby Jindal said in a news conference yesterday. A flash flood watch was in effect for Pike County, Mississippi, and Tangipahoa Parish, Louisiana, because of the threat, forecasters said.
More than 6,000 people were in shelters, Jindal said.
Higher Ground
In St. Tammany Parish, north of New Orleans on the shore of Lake Pontchartrain, parts of Slidell were evacuated after a waterway known as Bayou Bonfouca topped a railroad embankment that acts as a levee, said Suzanne Parsons Stymiest, a parish spokeswoman.
David Lucas watched neighbors wade through waist-deep water in front of his century-old house in the city, relieved that his home and belongings were spared.
"The TV and the guns, I wanted to make sure they were up and high," said Lucas, 52.
On the edge of Slidell, water was up to the bumpers of cars at a Toyota dealership. Flooded exits from Interstate 10 were closed and pickup trucks plowed slowly through the water on access roads. Workers used bulldozers to push a house-sized pile of debris from the interstate.
Boat Rescue
In Plaquemines Parish, a region of 25,000 people southeast of New Orleans that ushers the Mississippi River into the Gulf of Mexico, 141 were rescued by boat after water overtopped a levee and flooded their homes, the governor said.
About 900,000 people in Louisiana, representing 43 percent of the state, were without power, Jindal said yesterday. About a third of the state's nursing homes were operating on generators, the governor said.
Insured losses from the storm may reach $500 million to $1.5 billion before Isaac dissipates, according to Eqecat Inc., a catastrophe-risk modeling company. In 2008, Hurricane Gustav, a more powerful system, caused about $2 billion in damage, the company said.
Rain still fell periodically over downtown New Orleans yesterday. White and orange sandbags in front of the Royal Sonesta Hotel weren't needed as levees kept water out of the city. Desire Bistro & Oyster Bar at the corner of Bienville and Bourbon streets opened with a limited menu that still managed to include barbecue shrimp and crawfish etouffe. And jazz began spilling into the streets of the French Quarter again.
Before it's here, it's on the Bloomberg Terminal.
LEARN MORE