Stocks Drop With Euro as Spain Delays Bailout Decision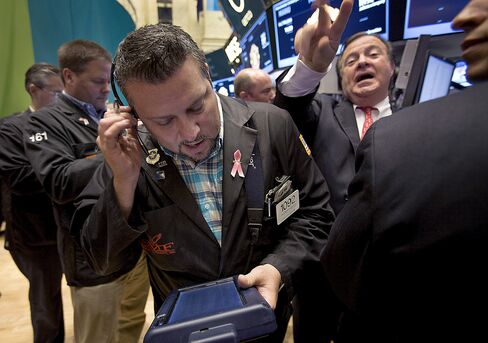 Global stocks fell for a seventh day, Treasuries rose and the euro slid as German and Asian data spurred concern the economy is weakening and Spain delayed making a decision on seeking a bailout until terms are clear.
The MSCI All-Country World Index slid 0.9 percent at 4 p.m. in New York, extending its longest losing streak in seven weeks. The Standard & Poor's 500 Index lost 0.8 percent and U.S. 10-year Treasury yields decreased three basis points to less than 1.63 percent. The euro slipped 0.2 percent to $1.2509 and Spain's 10-year yield surged 13 basis points. Oil fell 1 percent as Tropical Storm Isaac weakened.
German unemployment increased for a fifth month, retail sales in Japan fell more than estimated and South Korean manufacturers' confidence stayed near the lowest level since 2009. U.S. reports showed consumer spending rose less than forecast and inflation slowed as investors awaited Fed Chairman Ben S. Bernanke's speech tomorrow in Wyoming.
"The main focus is the softer news overseas," said Michael Strauss, who helps oversee about $26 billion of assets as the chief investment strategist at Commonfund in Wilton, Connecticut. "There's more of a reality check. Clearly the numbers in the U.S. have gotten a bit better."
Market Leaders
The S&P 500 erased yesterday's 0.1 percent advance and slid to the lowest level since Aug. 6 as gauges of technology, industrial and commodity shares fell at least 1 percent to lead declines today. Sears Holdings Corp. retreated 7.9 percent after S&P said the retailer will leave the benchmark S&P 500 on Sept. 4 because it has too few shares available for trading to be representative of American companies.
Intel Corp., Caterpillar Inc. and Cisco Systems Inc. dropped more than 1.5 percent to lead declines in 28 of 30 stocks in the Dow Jones Industrial Average, which tumbled 106.77 points to 13,000.71. Ciena Corp., a maker of communications-network equipment, tumbled almost 20 percent after reporting a wider-than-projected loss and forecasting lower revenue than analysts had estimated. Gap Inc. rose 2.7 percent as sales beat estimates.
U.S. consumer purchases grew 0.4 percent after being little changed in June, Commerce Department figures showed, compared with the median estimate of economists for a 0.5 percent gain in so-called nominal sales. Initial jobless claims were unchanged last week at 374,000.
A gauge of prices tied to consumer spending advanced 1.3 percent in the 12 months ended in July, the smallest gain since October 2009 and below the Fed's long-run goal of 2 percent, Commerce Department data showed. Excluding food and energy costs, the measure increased 1.6 percent in the past year, the least since September.
Four-Year High
The S&P 500 last week climbed to its highest level on an intraday basis in more than four years, then failed to close at that milestone. The index has fluctuated near the 1,400 level for three weeks as trading slowed toward the end of the U.S. summer and investors awaited the Federal Reserve's annual gathering in Jackson Hole, Wyoming, to gauge prospects for a possible third round of so-called quantitative easing through asset purchases.
Volume for exchange-listed stocks in the U.S. was about 4.5 billion shares today, near the lowest levels since at least 2008 excluding days surrounding holidays, data compiled by Bloomberg show.
1,500 Forecast
U.S. stocks rose yesterday as the government said the economy grew at a 1.7 percent annual rate in the second quarter, up from an earlier estimate of 1.5 percent, and the Fed's Beige Book business survey showed the U.S. continued to expand "gradually" in July and early August.
The S&P 500 may rally to 1,500 this year even as investors contend with rising risks created by modern market structure, said Laszlo Birinyi, president of Birinyi Associates Inc.
Stocks in the benchmark gauge for American equities may advance about 6 percent from yesterday's close as the bull market that began in March 2009 persists, the former Salomon Brothers Inc. equity trader said in a note to clients.
The Stoxx 600 Europe Index fell 0.8 percent for a third day of declines. WPP Plc dropped 1.6 percent after the world's largest advertising company cut its sales-growth forecast. Hays Plc sank 8.8 percent as the U.K. recruitment company said several markets will probably remain "very challenging" in 2013. Carrefour SA jumped 6.7 percent and Vivendi SA climbed 3.3 percent in Paris after earnings beat analyst estimates.
Spanish Decision
European shares extended losses as Spanish Prime Minister Mariano Rajoy said the nation will delay deciding whether to seek a sovereign bailout following a meeting with French President Francois Hollande. Spain's IBEX-35 Index lost 1.5 percent and Germany's DAX slid 1.6 percent.
Rajoy and Hollande, who held talks in Madrid today, pressed the European Central Bank to implement decisions from a June summit to reduce borrowing costs in Spain and Italy as euro-area policy makers struggle to enact an emergency plan.
"In the same way as when we asked for the help for the financial sector because we thought it was good for Spain, so that credit recovers and so that there would be economic growth and jobs, when it's known exactly what's on offer, I will take a decision," Rajoy told a joint briefing.
Emerging Markets
Developing-nation equities fell for a fifth day, the longest losing streak in seven weeks. The MSCI Emerging Markets Index sank 0.9 percent. South Korea's Kospi index dropped 1.2 percent after the Bank of Korea's confidence index for September was at 75 from 70 the previous month, the only readings below 80 since 2009. The Hang Seng China Enterprises Index of mainland companies slipped 1.4 percent. Russia's Micex Index slipped 0.5 percent while India's Sensex rose 0.3 percent.
The cost of options protecting against losses in emerging-market stocks has fallen to the lowest level in a year amid speculation the shares will rally as global central banks support economic growth.
Puts that profit should the iShares MSCI Emerging Markets Index decline 10 percent cost 9.6 points more than calls betting on a 10 percent gain, according to data on two-month options compiled by Bloomberg. The price relationship known as skew touched 7.6 on Aug. 14, its lowest level since July 2011. The fund that tracks equities in 21 countries has risen 3.8 percent this year through yesterday.
The Markit iTraxx Europe index of credit-default swaps linked to 125 investment-grade companies increased five basis points to 152, the highest in more than three weeks. The Markit iTraxx SovX Western Europe index of swaps on 15 governments climbed 2.1 basis points to 234. A rise signals worsening perceptions of credit quality.
The S&P GSCI Index of commodities slipped 0.3 percent today, as nickel, coffee, lead and silver decreased more than 1.5 percent for the biggest declines among 24 commodities. Oil slipped to a two-week low of $94.62 a barrel as producers worked to restore Gulf of Mexico output after Isaac passed.
Before it's here, it's on the Bloomberg Terminal.
LEARN MORE