The Music of Drought Outlasts the Experience of Hardship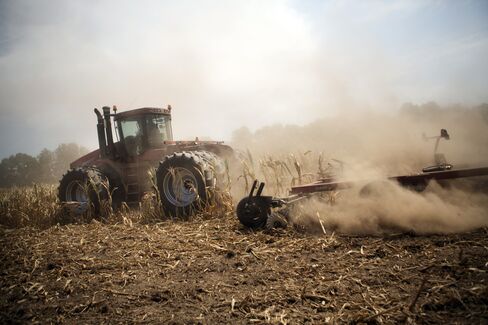 By Alan Bjerga
Major droughts in the U.S. Corn Belt occur roughly once each generation. They penetrate not only agriculture, but pop culture as well.
The last great drought before this year came in 1988. The disaster caused $78 billion of damage in today's dollars, and it ended a wave of '80s farm foreclosures that marked the worst farm economy since the Great Depression. John Mellencamp's music and Farm Aid concerts were hallmarks of that era. "Rain on the Scarecrow" and "Small Town" became radio-friendly Heartland Rock anthems played at county fairs and in major arenas. Those songs still get airplay today, and Farm Aid continues. The 28th Farm Aid benefit concert will be held in Hershey, Pennsylvania, in September.
The droughts of the mid-1950s came as the post-war boom pulled urban nuclear families into suburbs and farm families to cities. Old-timers can still remember AM radio shows like "The Grand Ole Opry" and "Ozark Jubliee," which were also broadcast on black-and-white television at their peak. Hank Williams Sr., who died in 1953, Eddy Arnold and Kitty Wells comforted both those who left farms for cities and those who remained (Wells passed away in July at the age of 92). You can still find their recordings in vintage record stores or on niche radio stations. The towns and the farm technology they sang about are still recognizable today in places like Mount Olive, Alabama, or Henderson, Tennessee -- the hometowns of Williams and Arnold.
The Dust Bowl of the 1930s, the most destructive drought of them all, has nearly faded completely from living memory (I caught up with one survivor this month). Subsistence farms were literally blown away, forcing migrations like the one John Steinbeck chronicled in The Grapes of Wrath. Woody Guthrie bore witness in songs like "So Long, It's Been Good To Know You." Those memories are as fragile as the shellacked 78-RPM records they are etched into.
No one has yet emerged as the bard of the 2012 U.S. drought -- but then again, the dust hasn't even settled.
Read Bjerga's story, "Dust Bowl Survivor Sees Parallels to Heat, Not Hardship."
Visit www.bloomberg.com/sustainability for the latest from Bloomberg News about energy, natural resources and global business.
-0- Aug/29/2012 19:09 GMT
Before it's here, it's on the Bloomberg Terminal.
LEARN MORE