Ryan Stage Mission Is to Excite Base While Relaxing Swing Voters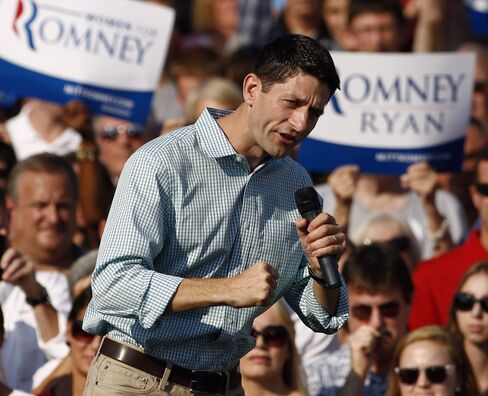 Aug. 29 (Bloomberg) -- The No. 2 guy on the ticket isn't supposed to steal the show.
Still, Mitt Romney knew when he picked Paul Ryan as his running mate that the 42-year-old congressman and House Budget Committee chairman from Wisconsin could excite some Republican conservatives who were skeptical about their presidential candidate.
Ryan takes the stage tonight to address the Republican National Convention in Tampa, Florida, with a dual mission: He needs to provide that spark, along with his big ideas about cutting the budget, to energize the party's base. At the same time, he must do no harm with independent voters, who may be comfortable with Romney's more moderate record as a former governor of Massachusetts and are alarmed at Ryan's calls for deep cuts to programs such as Medicare.
"The base knows who Ryan is and is happy with him -- nothing will affect that," said Jim Pinkerton, a Republican strategist and a co-chairman of RATE Coalition, an organization working to overhaul the tax code. "He has to prove to the American people that he's not the extremist that the liberal mainstream media is trying to paint him to be."
Grassroots Appeal
Ryan yesterday issued a broad appeal to grassroots supporters, including Tea Party activists, asking in an e-mail for $3 donations "to advance an agenda of economic growth, job creation and fiscal discipline."
He arrived in Tampa with his wife, children, mother and other relatives at about 12:30 p.m., said an aide traveling with him who spoke on condition of anonymity. Ryan spent the afternoon at his hotel working on his speech, said the aide, who declined to preview themes or goals of the speech.
The Ryan buzz in the convention hall on the eve of his appearance was overwhelmingly positive as delegates said they were eager to hear him pitch tough spending cuts, court young voters and women, and refute President Barack Obama's portrayals of Ryan's plans as hurting seniors.
"You're going to see this place erupt," said Sandra Bryan, 61, of Blythewood, South Carolina. "He has that enthusiasm. You want to listen to what he has to say."
Bruce Thompson, 58, of San Diego, said Ryan's "youth is a big plus," beyond his embodiment of Romney's message on the need for fiscal discipline. "It's time we have the next generation of leadership coming into the party."
Bank Bailout
Not all the delegates were sold. Some Tea Party activists said Ryan is too tied to the Republican establishment and cited his support of the 2008 bank bailout and other initiatives as flying in the face of the small-government image he's selling.
"Paul Ryan is an improvement over Mitt Romney but he's far from acceptable," said Blake Buffington, 58, a retired accountant from Las Vegas and a Ron Paul supporter.
Some Ryan fans acknowledged his vulnerabilities with swing voters and said the convention speech presents a showcase for him to put them at ease.
"I felt he was by far the best choice but that it was too risky and Romney wouldn't pick him," said Jeremy Litster, 35, of Boise, Idaho. "It took a second of a deep breath" to digest Romney's choice, he said, because "the media crucifies" Ryan. "But, totally, he's absolutely the best decision."
Fellow lawmakers gathered in Tampa said Ryan is proving an asset to Romney.
House Speaker John Boehner of Ohio said the selection will "help put us on offense" by forcing Obama to talk about spending and economic issues.
Kevin McCarthy of California, the House majority whip, said Ryan and Romney "click together. I think he adds to the ticket excitement, but he also adds to Romney and it makes him even better."
Senator Ron Johnson of Wisconsin said Ryan "absolutely" can inspire Tea Party activists because he "was the first person really to forward a serious, robust plan for how to get our debt under control" in Congress. "I sprang from the Tea Party. I had a great deal of respect for the courage he displayed."
To contact the reporters on this story: Margaret Talev in Tampa at mtalev@bloomberg.net; Hans Nichols in Tampa at hnichols2@bloomberg.net