Republican Groups Tag-Team Obama Attack to Protect Romney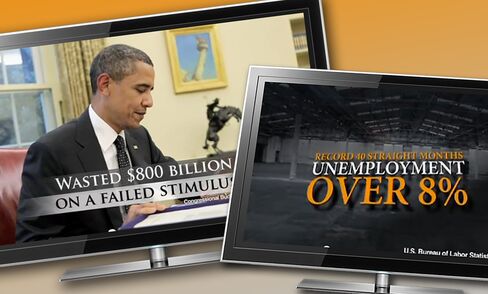 President Barack Obama's campaign has run television ads in Richmond, Virginia, almost every day since early April. Republican challenger Mitt Romney didn't air his first Richmond ad until May 18, suggesting Obama had a six-week head start.
He didn't.
Republican-leaning outside groups, including super-political action committees and nonprofit groups that can accept donations in unlimited amounts, filled the void, taking turns airing ads attacking Obama on issues from energy to economic stimulus.
From April 11 to May 17, the president and Priorities USA Action, a super-PAC supporting him, put 853 ads on Richmond TV; Romney's allies countered with 618 commercials in the swing state's capital.
Not only are these groups well-funded, they are well-coordinated. During regular meetings at the American Crossroads offices in Alexandria, Virginia, Crossroads President Steven Law gathers representatives from the groups to strategize during a 60- to 90-minute brown bag lunch. They share polling and advertising data, with the goal of spending efficiently.
Avoiding Duplication
"If American Crossroads knows that the Chamber of Commerce is going to be on the air on the first week of September, they would know to not buy the first week of September and maybe to buy the second week of September," Jonathan Collegio, a spokesman for American Crossroads and Crossroads GPS, said in an interview. His group and others collaborate so "you're not making duplicative expenditures for the same commodity," he said.
While the law bars such groups from working directly with candidates -- including Romney's campaign -- the outside entities may work with each other. In addition, it's legal for one person to work at multiple groups and to hire the same media consultant, which can ensure consistent messaging.
Mentzer Media, an ad-buying firm, and McCarthy Hennings Media Inc., an ad-making firm, work for at least three major Republican-leaning groups: Restore Our Future, a super-PAC backing Romney; Americans for Prosperity, a nonprofit group founded by billionaire industrialists Charles and David Koch; and American Crossroads, a super-PAC formed with help from Karl Rove, former President George W. Bush's political adviser.
McCarthy Hennings is led by Larry McCarthy, the creator of a 1988 "Willie Horton" ad, which showed a menacing picture of a paroled, black convicted murderer and accused Democratic presidential nominee Michael Dukakis of being soft on crime.
Romney Tag-Team
About 15 to 20 groups belong to the anti-Obama tag-team. Some grew out of a series of 2010 court decisions and regulatory rulings that relaxed restrictions on how corporations and individuals can fund elections. The Republican National Committee's struggles to raise money during the midterm elections also spurred them to work together closely.
The 2010 midterm elections, during which the groups spent $79.3 million, became a trial run for them for this year's presidential race. The outcome two years ago: Republicans seized control of the House, and shrunk the Democrats' majority margin in the Senate.
This year, the Republican fraternity has blunted Obama's attempt to gain an early edge.
From April 10 to Aug. 20, the groups aired presidential ads more than 140,000 times -- exceeding the 121,000 run by Romney and the RNC, according to New York-based Kantar Media's CMAG, which tracks advertising. The Obama re-election campaign and the Democratic National Committee ran about 236,000 ads during the same period, while outside groups supporting the president aired 25,000 spots, the data shows.
Case Study
To get a glimpse of how it works, Richmond offers a case study.
Former Pennsylvania Senator Rick Santorum's April 10 suspension of his primary bid made Romney the presumptive Republican nominee and started the general election phase of the race. With his funds depleted, Romney focused on raising money while his allies stepped in to protect the soon-to-be party leader.
On April 11, Crossroads GPS, another group working with Rove, began a 10-day run on Richmond television stations with an ad attacking Obama's energy policies. Four days after Crossroads GPS left the air, American Future Fund, an Iowa-based nonprofit that promotes free-market policies, ran ads attacking Obama for the failure of Solyndra LLC, the bankrupt solar-panel maker that received a $535 million U.S. Energy Department loan guarantee in 2009.
Anti-Obama Ads
On April 27, one day before American Future Fund rotated off the air, Americans for Prosperity introduced an ad attacking Obama's 2010 economic stimulus law. That commercial was on air through May 13. The next day, American Future Fund returned with a new anti-Obama ad attacking the president for campaign contributions from employees of Wall Street financial firms. On May 17, one day before that ad shifted off the air, Crossroads GPS began airing a new anti-Obama spot.
The Republican groups also are blanketing the airwaves in Senate races that will decide the chamber's control, now 53-47 Democratic.
Their targets include first-term Democrat Sherrod Brown of Ohio, seeking re-election in a state where polls show a close presidential race. In the Cleveland market, the Chamber of Commerce was on the air attacking him May 9-23, followed by the 60 Plus Association, a Republican-leaning advocacy group representing seniors, from June 6 through June 13.
Message Coordination
Crossroads GPS targeted Brown with a negative ad airing June 13-27. American Commitment, a nonprofit group founded in April, took its turn with a spot that started June 29. When that went off the air on July 11, Crossroads GPS jumped back on, with an ad that ran until July 21.
Not only do outside groups work together to "ward against over-saturation of the market," they also strive for consistency in messaging, Robin Kolodny, a political scientist at Temple University in Philadelphia, said in an interview.
"When independent groups truly do come up with their ads and their scripts and their points independently, they can sometimes slightly contradict each other or make the public more confused about their message," she said. "If I were coordinating, that would be the main thing I would coordinate about."
A review of recent ads shows the Republican groups are making that a priority. A Republican National Committee ad that aired earlier this month reminded voters that even if they like Obama, they have the power to "make a change."
Voter Regrets
Airing at the same time was a spot from Americans for Prosperity that showed former Obama supporters saying the president hasn't delivered the "hope and change" he promised four years ago. "I don't feel that I helped my grandchildren by voting for President Obama, and I regret that," says a gray-haired man at the end of the commercial.
The Romney campaign began airing an ad in mid-June that said 23 million Americans were looking for work and the unemployment rate was above 8 percent for 40 consecutive months, before segueing to footage of Obama saying at the White House on June 8 that "the private sector is doing fine.
Five days after the Romney ad began running, Restore Our Future put up its own commercial, called ''Doing Fine.'' It cited the same unemployment figures as the Romney ad and used the footage of Obama's White House comments.