Rajoy Delays Spain Bailout as Regions Line Up for Aid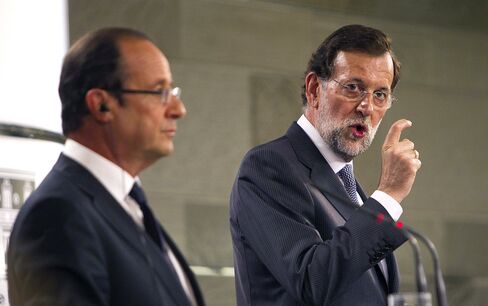 Prime Minister Mariano Rajoy delayed seeking a second rescue for Spain while pledging to continue bailing out its regions as Valencia requested more money to settle bills and cover debt.
Rajoy spoke today following a meeting in Madrid with French President Francois Hollande. Catalonia, Valencia and Murcia this week claimed more than half of an 18 billion-euro ($23 billion) fund announced by Rajoy last month to help the regions face bond redemptions and finance their deficits in the second half.
A Valencia official who declined to be identified in line with government policy said the region will seek another 1 billion euros from the central government mostly to pay education and health bills.
The country's regions risk overwhelming a plan to tackle the euro area's third-biggest budget deficit. They were responsible last year for most of Spain's overspending, which remained nearly unchanged from 2010 at 8.9 percent of gross domestic product.
Rajoy reiterated Spain won't seek a second bailout until European leaders make aid conditions clear. Spain locked in as much as 100 billion euros in international aid for banks last month. The yield on Spain's 10-year benchmark bond rose 13 basis points at 5:44 p.m. in Madrid, widening the gap with similar German maturities to 5.27 percentage points.
'No Surprise'
Rajoy said the regions' situation is "no surprise" and that there is no risk the 18 billion-euro fund may not be enough, because the government anticipated bond redemption needs through the end of the year. Rajoy said the state has been helping the regions overcome a liquidity squeeze since his government came to power and it will continue as long as necessary.
"Everything depends on Andalusia now," said Juan Rubio-Ramirez, an economist at Duke University in Durham, North Carolina. "If Andalusia asks for aid, it could be a similar amount to Catalonia and that means the fund may not be enough." Rubio-Ramirez co-authored a report this month forecasting the regions may run deficits as high as 4 percent of GDP this year, compared with 3.3 percent last year and a target of 1.5 percent for 2012.
Unpaid Bills
Andalusia, one of the four largest contributors to Spain's GDP along with Madrid, Catalonia and Valencia, doesn't rule out making a request, a local official who declined to be identified said by telephone. Along with Castilla-La Mancha, Andalusia, Valencia and Catalonia in June tapped 68 percent of the 17.7 billion euros of loans set up by the government for the regions to settle their backlog of unpaid bills.
The four also used more than two-thirds of another mechanism that prevented regional defaults in the first half, an approximately 5 billion-euro credit line from the Spanish government's bank Instituto de Credito Oficial. The region with the highest deficit last year, Castilla-La Mancha, hasn't yet decided whether to tap the new fund.
Catalonia may not be able to pay bills until it receives aid, news agency Efe reported, citing spokesman Francesc Holms. With their debt rated junk by at least one rating company, Valencia and Catalonia started losing access to capital markets in 2010, prompting them to rely on selling securities known as patriot bonds to their residents.
The regions have a combined debt load of 145 billion euros, which has doubled since 2008 to the equivalent of 14 percent of gross domestic product. Redemptions will amount to about 15 billion euros in the second half of this year, according to data from the Budget Ministry.
Before it's here, it's on the Bloomberg Terminal.
LEARN MORE