Gross Says QE3 Likely Even if Bernanke Doesn't Provide Hint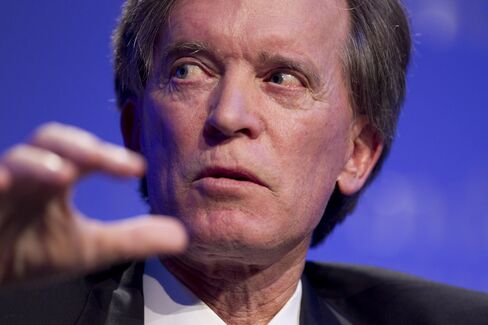 Pacific Investment Management Co.'s Bill Gross said the Federal Reserve will add to monetary stimulus even if Chairman Ben S. Bernanke fails to indicate additional measures during a speech in two days.
Policy makers will announce more so-called quantitative easing "relatively soon," Gross, who runs the world's biggest bond fund, said in an interview on Bloomberg Television's "Street Smart" with Trish Regan.
The Fed signaled last week it's ready to take further steps to spur the economic recovery. Many policy makers said additional stimulus probably will be needed soon unless the economy shows signs of a durable pickup, according to minutes released Aug. 22 of the central bank's most recent meeting, on July 31-Aug. 1. Bernanke is scheduled to speak on Aug. 31 at the Kansas City Fed's economic-policy conference in Jackson Hole, Wyoming.
"They have a dual mandate," Gross said, referring to the Fed's directive of price stability and maximum employment. "Unemployment is still above 8 percent and it's obvious that the Fed isn't comfortable, nor is the nation or the economy with 8 percent unemployment going forward."
Until the unemployment rate is in the low 7 percent range and inflation has risen above the Fed's 2 percent target the fed is going to "ease quantitatively," Gross said from Pimco's headquarters in Newport Beach, California.
Earlier Rounds
The central bank bought $2.3 trillion of debt from 2008 to 2011 in two rounds of what's become known as quantitative easing, or QE. It has also kept its benchmark interest rate at zero to 0.25 percent since December 2008 and has pledged to hold it there until at least 2014.
Bernanke said in a letter dated Aug. 22 to Representative Darrell Issa, a California Republican who chairs the House Oversight and Government Reform Committee, that the Fed has the ability to take additional steps to boost the economy.
Even if the Fed does do more to boost economic growth, the measures "will produce limited results," Gross said. He expects the yield on the 10-year note to finish the year around its current level of 1.65 percent.
"It's obvious that with each step the effects have been more and more limited, and from this point forward Ben Bernanke knows that the economic effects on equity and bond markets are going to be limited," he said. "I don't see the yield changing until the Fed suggests they might raise interest rates and until the Fed stops buying 10-year Treasuries."
Gross has been predicting more easing by the Fed, betting that policy makers will consider additional purchase of securities such as mortgages to keep borrowing costs low for consumers. Mortgages, at 51 percent in July, are the largest holdings in his flagship Total Return Fund.
The $270 billion Total Return Fund managed by Gross gained 7.8 percent during the past year, beating 97 percent of its peers, according to data compiled by Bloomberg. The fund gained 0.65 percent in the past month, beating 90 percent of its peers.
Before it's here, it's on the Bloomberg Terminal.
LEARN MORE